Transport
Going greener- rail transport delivers sustainability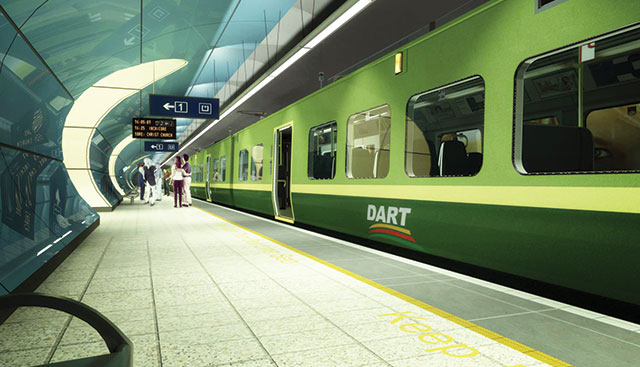 Railways in Ireland and internationally has always delivered an environmentally sustainable mode of transport. Iarnród Éireann is working to further enhance the green credentials of taking the train.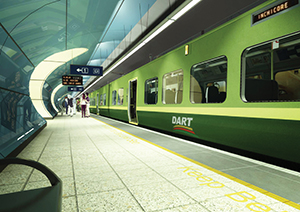 Transport in Ireland – particularly commuting – sees large numbers of single occupancy cars in use. Congestion, air and noise pollution, health and lifestyle issues and accidents are the result.
However, public transport provides a sustainable alternative, and railways are one of the most sustainable forms of transport for many reasons:
•   Trains are a fuel efficient method of transport;
•   fuel usage and emissions per passenger / tonne kilometre are low.
•   electric railways such as the DART represent the cleanest form of powered transport; emissions relate only to the energy source used for generating power.
•   Trains can move large numbers of people in comfort into and out of cities, and between cities;
•   it is fast and generally free from congestion delays.
•   traveller productivity is enabled, as the traveller does not have to drive and can work while travelling.
•   The land footprint per passenger is very low, compared to car transport;
•   this leads to less construction work.
•   Rail vehicles are very durable, returning very long service lives for the materials and energy invested in them;
•   it is not unusual to operate vehicles for 40 years, covering millions of kilometres over their lifetime – the original DART fleet from 1984 for example continues to operate safely and reliably every day on our network.
•   Noise emissions from railways are less intrusive than road transport;
•   the noise from road tyres is the most significant noise polluter.
•   It is eminently suited to moving heavy freight loads overland;
•   it is particularly good for large tonnage and long distances.
This mode of transport – sustainable by design – has continued to focus as an industry on reducing emissions further. Progress made by railways in the past decades have resulted in average emissions falling by more than a fifth, significantly above alternative modes.
Energy Efficiency in Iarnród Éireann
Iarnród Éireann has made huge inroads in the area of Energy Efficiency over the past number of years, to the extent that Iarnród Éireann has already passed the Government's target of 30 per cent improvement to be achieved by 2020.
Iarnród Éireann is achieving a reduction in total energy consumption of 272 GWh per year, compared to the baseline; this equates to 27 Million litres of diesel oil per year saved, which represents a 36 per cent reduction. This is not an achievement which results from a reduction in economic activity as train kilometres operated have marginally increased over this period.
This is an exemplar performance, and it continues with further projects to achieve more savings, but even greater savings can be achieved with the electrification of the railway.
The DART expansion project is a series of projects which would develop and expand the DART network in the Greater Dublin Area, building on one of Ireland's great public transport success stories, the DART. The programme includes:
•   the DART Underground line, a high-capacity second DART line running underground through the heart of Dublin city;
•   electrification of the northern commuter line from the existing end of the DART network in Malahide on to Drogheda;
•   electrification of the line from Heuston to Hazelhatch and completion of the four-tracking of this line between Inchicore and Park West;
•   electrification of the line from Connolly to Maynooth, together with removal of level crossings and resignalling;
•   expansion of fleet and depot facilities.
This will result in a high-capacity integrated rail network across the Greater Dublin area which will meet the transport needs of our communities and our economy, and prevent chronic congestion which would damage both.
It has the potential to treble the capacity of the rail network passing through the heart of Dublin, and connect all rail modes – DART, Commuter, Intercity, Luas and forthcoming Metro – to from a truly integrated network. It would also expand the most sustainable form of land transport – electrified rail – from 43 per cent of rail journeys in Ireland to over 70 per cent of rail journeys.
The project is currently being reviewed by Iarnród Éireann and the National Transport Authority to provide a lower-cost technical solution whilst retaining the essential rail connectivity. Design and planning is being advanced to ensure construction can commence after 2020, as pressure on our urban transport capacity accelerates.
Protection of the Environment
Environmental sustainability does not just stop at fuel consumption and emissions. Iarnród Éireann is responsible for maintaining the national rail network (in excess of 2,000 km) which traverses a diverse network of natural habitats and landscapes including rivers, coastal areas, peat lands, wetlands, semi natural grasslands and estuaries. The railway network can be an agent of good or harm, as it can provide vital corridors for wildlife within urban and agricultural landscapes but can also act as a vector for the expansion of invasive species infestations.
Iarnród Éireann is a participant in several programmes designed to improve the environment, or at a minimum, ensure that there is no deterioration in the environment. Iarnród Éireann is an active participant in several areas:
•   the All-Ireland Pollinator Plan initiated by the National Biodiversity Centre; level crossing sites are particularly suitable for bees;
•   an ongoing programme for the identification and treatment of invasive species of plant life and animal life;
•   an ongoing programme for the safe use of necessary pesticides and weed killers.
Great care is taken in planning works, particularly in Special Areas of Conservation, to ensure that Biodiversity is sustained, and improved, if such improvement makes sense in the overall context of the works in hand.
In operations and in the way we interact with our surroundings, sustainability cannot be taken for granted. Initiatives in our national rail service will ensure that customers for passenger and freight rail services will continue to go greener than ever before.

For more information on Iarnród Éireann visit www.irishrail.ie