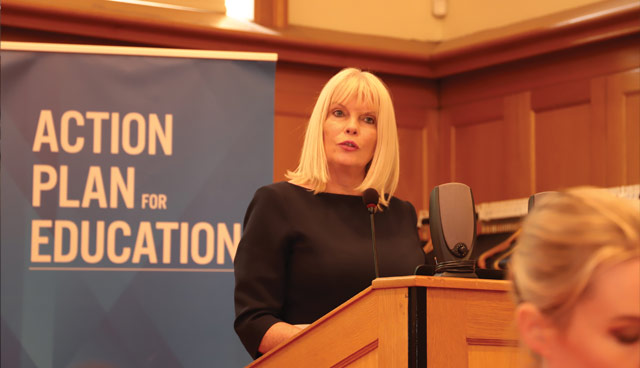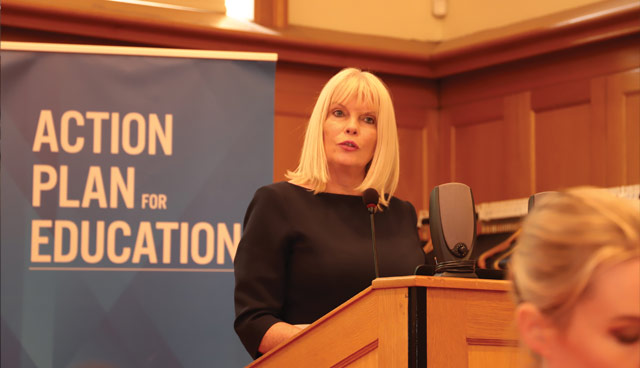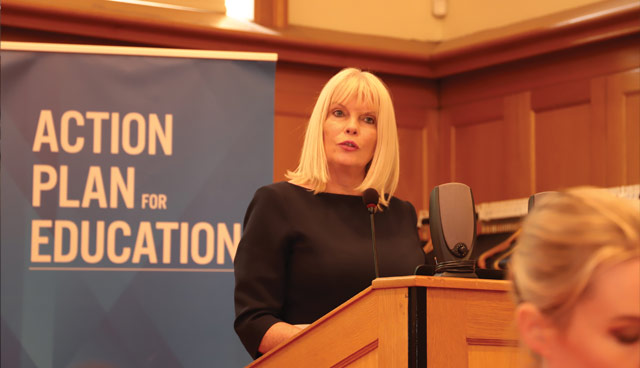 Following the 2016 National Review of Gender Equality in Irish Higher Education Institutes and the "exceptionally slow" progress that has followed a Higher Education Authority (HEA) Expert Group report, Minister of State for Higher Education Mary Mitchell O'Connor TD has introduced a Gender Action Plan that will create 45 female-only professorships.
Research by the HEA shows that in 2017, 51 per cent of lecturers within the university sector were female, while females accounted for only 24 per cent of professors. The HEA's data shows a drop in the female proportion per position as the position becomes more senior, with 38 per cent of senior lecturers and 32 per cent of associate professors being female. Speaking at the launch of the plan, Mitchell O'Connor said that these statistics had "kept me up at night." In her foreword to the plan, the Minister wrote that percentile changes had been "consistently low" since 2013, when female professors accounted for only 18 per cent of the professors in Irish higher education.
These female-only roles are part of a larger governmental push to address gender imbalance in higher education, across disciplines and business unit level. Fifteen of the roles will be created each year for the next three years, with the first 15 likely to be in place for September 2019. The plan is projected to cost €800,000 in its first year, €2.4 million in its second year and up to €6 million in its third.
Pointing to larger international efforts to rebalance gender quotas in higher education, Mitchell O'Connor wrote that, "the path towards gender equality is neither linear nor guaranteed," citing countries such as Norway, which has "made considerable efforts to improve their gender equality", yet had not achieved even a 30 per cent share of female professors as of 2017.
Mitchell O'Connor established the Gender Equality Taskforce to draw on the work of the HEA Expert Group. The Taskforce's research showed that the adoption of a flexible cascade approach, where the demographic aims for people recruited or promoted to a career level is based on the proportion of each at the level directly below, on its own, as was suggested by the Expert Group, would take 20 years to deliver gender balance – 40 per cent female – at the professor level.
"It is imperative that higher education institutes fully recognise the extent of gender inequality in their organisation, and that the presidents and senior management take ownership and show leadership in addressing this issue…"
Actions recommended by the Gender Equality Taskforce to "bring about sustainable organisational change and to empower a culture of gender equality", in all higher education institutions (HEIs) include: the establishment of a Centre of Excellence for Gender Equality; all HEIs setting their own short, medium and long-term goals for gender balance in senior academic and professional levels, management and support staff; and all HEIs submitting detailed plans and providing progress reports annually.
HEIs will be incentivised to achieve gender progress through funding mechanisms, with block grant funding now linked to performance on this front through the Strategic Dialogue process and the System Performance Framework. At the launch, the minister said that up to 10 per cent of a HEI's funding could be affected by the plan's "carrot and stick approach".
The Centre of Excellence for Gender Equality will be founded by the Department of Education and Skills and placed under the control of the HEA. Its duties will include ensuring that HEIs are making progress on gender equality, fostering collaboration between HEIs, centralising support for HEIs and reporting to the Minister on the progress being made.
The taskforce also recommends that all HEIs apply for an Athena SWAN Charter Institutional Bronze Award by 2019. All seven universities currently hold a Bronze Award from the Athena SWAN Charter, established to encourage and recognise commitment to the advancement of women's careers in science, technology, engineering, maths and medicine (STEMM) higher education and research, and the taskforce recommends that they retain their Bronze status until they are awarded Silver status. It is recommended that the HEA assume responsibility for the timing and requirements for Athena SWAN applications given that the charter has become more demanding in its requirements since the publication of the Expert Group report. The taskforce will then determine a HEI's eligibility for funding based on its award status.
Writing in her introduction to the plan, Chair of the Gender Equality Taskforce Marie O'Connor said: "[It is] imperative that HEIs fully recognise the extent of gender inequality in their organisation, and that the presidents and senior management take ownership and show leadership in addressing the issue by examining their own context and culture and reviewing in detail their own disaggregated data on gender across all parts and levels of the institution." O'Connor cited the fact that there has never been a female university president in the State's history and only two of the 14 institutes of technology (ITs) have female presidents. Only 30 per cent of the highest paid university employees across the professional, management and support staff sectors were female in 2017, with their IT counterparts accounting for just 18 per cent; each a rise of just 1 per cent since 2016.
O'Connor also wrote of gaps in available data relating to professional, management and support staff, research staff and staff on contracts, gaps which meant that the plan was forced to focus on the State's seven universities and 14 ITs. The gaps are to be addressed through refinement of quarterly returns to the HEA, which will allow for the collection of more minute disaggregated data, to be used to create more wide-ranging benchmarking at sector levels. Benchmarking for the initial plan was achieved by including at least one-third of the 31 initiatives that had been part of successful Athena SWAN Charter Silver and Gold awards. HEIs carried out self-audited reviews of recruitment and promotion practices using a toolkit created by the Equality Challenge Unit (ECU), being asked to use a traffic light system: green for initiatives having been fully rolled-out, orange for a partial roll-out and red for no roll-out.
The data available showed not only a lack of females being promoted to professorships, both associate and senior, but also a severe gender imbalance in applications. From 2007 to 2017, the 628 male applicants more than doubled the female amount of 293. With a promotion rate of only 28 per cent for the 61 females that applied for senior professorships, Mitchell O'Connor says that her goal of 40 per cent of professorships being held by females by 2024 will now be met by "a pathbreaking positive action measure – the plan to create new and additional gender-specific senior academic leadership positions in our universities and ITs".