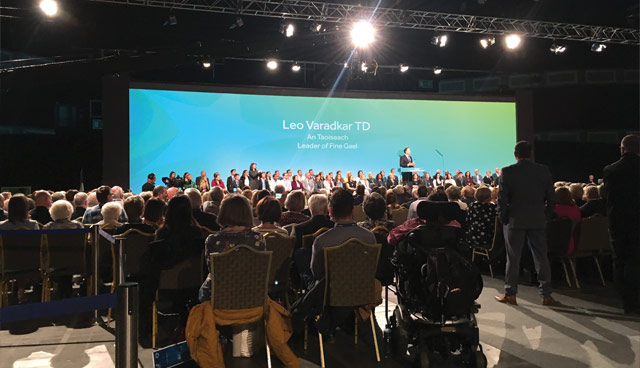 At its 79th Ard Fheis, Fine Gael launched the second iteration of its "rolling political programme", this time titled 'Taking Ireland Forward Together'. Ciarán Galway attends and gauges the mood of a party that has retained a firm grip on power now for almost eight years.
The 'Taking Ireland Forward Together' document is an update on last year's 'Building a Republic of Opportunity'. Describing the programme as a "living, breathing political plan", Communications, Climate Action and Environment Minister Richard Bruton affirms: "Fine Gael is a party that listens to people, that encourages debate and discussion around the big issues of the day. We look forward to collaborating with members to debate this document and renew Fine Gael's values."
Doorstep
At a media doorstep, alongside Social Protection Minister Regina Doherty, the Taoiseach indicates that his party is "fairly ready" for an election, however, he insists that he does not want the Dáil to fall before the Termination of Pregnancy Bill passes into law.
On the confidence and supply arrangement, he suggests that while minority government has worked better than he had anticipated, a Fine Gael majority government could do more. "The country is very much on track," he says, adding: "It is my view that a majority government led by Fine Gael would be able to get more done. We have seen, for example, in the Dáil over the last couple of months, important legislation being held up."
That being said, in the context of Brexit, Varadkar rules out a pre-Christmas election, maintaining: "My primary interest is not going to be electoral advantage at the moment; it's looking after the interests of the country that we are charged to lead. There's uncertainty that exists around Brexit and the focus of the Government has to be around that. I don't have any plans to seek a dissolution of the Dáil this side of Christmas."
Proceedings
The main proceedings comprise sessions on 'Ireland at the centre of Europe', 'making life easier for families' and 'building for the future'. Similarly, 'parallel meetings' throughout the day tackle a variety of topics, including: justice and security; ageing with opportunity; diversity and inclusivity; rural Ireland; and climate change.
A breakaway session on the North, chaired by Deputy Fergus O'Dowd, focuses on 'building stronger relationships' and is attended by Ulster Unionist Party leader Robin Swann and party colleagues Steve Aiken and Danny Kinehan. Likewise, the SDLP is represented by former leader Alasdair McDonnell. During his speech, in the context of Brexit, Swann asserts: "Comments from this party [Fine Gael] were a deliberate poke in the eye of unionism." This provokes Justice Minister Charlie Flanagan to defend the Brexit performance of the Taoiseach and Tánaiste.
During the warmup session before Varadkar's address, Minister Michael Ring – with a degree of gusto that a Soviet political commissar would be proud of – delivers a characteristically fiery assault on Fianna Fáil. The rabble-rousing Ringer urges his audience not to forget "what state they [Fianna Fáil] left this country in". This is followed by Minister Regina Doherty's blistering attack on Sinn Féin, a party she describes as "not normal".
Tánaiste Simon Coveney then enters the fray, calling for a display of unity behind Varadkar's leadership. "I know that this party has a reputation for being polite and mannerly and a little contained sometimes at events like this one. But not today, please. I am asking you to make a statement," he implores. "After eight years of Fine Gael government, this country is a better place and we should be proud of that."
Leader's address
Then, backed by the sound of Kongos' 'Come with Me Now', the party leader slowly makes his way through the adoring crowd and to the stage, where he is flanked by a mass of seated female Fine Gaelers.
Peppered throughout the speech, are Varadkar's responses to several policy questions which those assembled on the stage around him had supposedly asked earlier in the day. "One of our members, Lorraine, wanted to know… Earlier I spoke to Kevin from Leitrim… I also spoke to Tom from Limerick… Lynda told me… Earlier today, I asked Vera."
The leader expresses pride in the party's history, both as a Cumann na nGaedheal and as Fine Gael. "We founded the State and created its institutions… we rescued our economy on more than one occasion when it was sabotaged by others," he says. "And now it is our mission to take Ireland forward again."
Varadkar also uses the opportunity to take a swipe at his opposition rival, Micheál Martin, who, he implies, struggles to control his own front bench.
Replete with a smattering of cúpla focal, the central tenet of the address is an appeal to the party's middle-income-earning base via tax cut pledges. "Some people see a tax cut as the State giving you money," he states. "We see it as the State allowing you to keep more your money – the money you earn."
"Some people see a tax cut as the State giving you money. We see it as the State allowing you to keep more of your money – the money you earn."

— An Taoiseach, Leo Varadkar
Making reference to his often-derided characterisation of the 'archetypal' worker as "those who get up early in the morning" and appealing to hardworking taxpayers ("the beating heart of our country"), the party leader pledged to reverse the "unfairness" of paying a top rate of 40 per cent on an income of €35,000, well below the €46,000 average full-time salary.
To the delight of delegates (and opposition parties), he commits his party (if returned to government) to increasing the threshold for the top rate of tax to €50,000 for a single person and €100,000 for a two-income couple over the next five budgets. While anticipated to cost €3 billion, it must be remembered, this is the same Fine Gael which, in 2016, had promised to abolish the USC.
In contrast with Budget 2019, which had recently prioritised spending over tax cuts at a ratio of 11:1, Varadkar insisted that Fine Gael is different. "We could've 'splashed the cash' in a giveaway budget, but we didn't. Why? Because we aren't Fianna Fáil or Sinn Féin – we're Fine Gael."
The Taoiseach struggles to capture imaginations with his set-piece addresses. This speech is no different. Promising to lead Ireland to a "a place where hard work pays off, and the Government is on your side," he carries the televised segment – delivered to a sparsely populated City West convention centre – to a lacklustre climax. Sister Sledge's 'We Are Family' erupts from the speakers, bringing the Fine Gael loyal to their feet and the 79th Ard Fheis to a close.