Issues
Fianna Fáil report questions UHI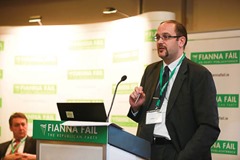 Fianna Fáil has questioned the Government's proposed introduction of universal health insurance after commissioning an independent report by University College Cork economist Brian Turner.
The party's Health Spokesman, Billy Kelleher, said: "This report suggests that there is simply insufficient evidence from international systems to suggest that a change in the funding mechanism, along the lines planned by the Government, would produce benefits sufficient to justify the disruption that such a change would cause."
Universal private health insurance with managed competition was introduced in the Netherlands in 2006. The model influenced Fine Gael's manifesto proposals in 2011. OECD data indicate that Dutch health care spending per capita increased by 46 per cent between 2005 and 2010.
"There are very serious alarm bells ringing now about the direction in which Fine Gael and Labour are taking the Health Service," Kelleher said.
He maintained that a tax-funded system, controlled by the Government, would have a number of benefits over a multi-purchaser, insurance-based system and pledged to bring forward "radical proposals" on creating a fairer health system.
Fine Gael's manifesto commitment is to "gradually dismantle" the HSE and replace it with universal health insurance from 2016. The State would insure children, students and medical card holders, and subsidise those on low incomes.