Issues
Fianna Fáil new front bench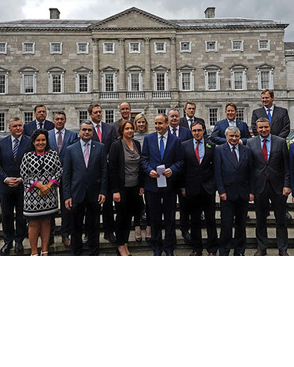 A "blend of experience" and "new energy" is how Fianna Fáil leader Micheál Martin described his new 22 person frontbench team for the 32nd Dáil.
Seven first time TDs have been elevated to party spokespeople by party leader Micheál Martin, who has given himself the brief on Northern Ireland.
First time TD Jim O'Callaghan has been rewarded for winning back the seat for Fianna Fáil in Dublin South East with a role as spokesperson on justice and equality, replacing Niall Collins, who has been shifted to the brief of jobs, enterprise and innovation.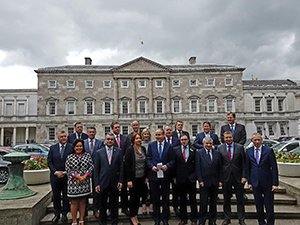 New Galway East TD Anne Rabbitte is taking over the portfolio of children, while Dublin South West TD John Lahart will become spokesperson for Dublin.
TD for Mayo, Lisa Chambers, has been named as spokesperson on defence and Cavan/Monaghan's Niamh Smyth will take on the role on arts and heritage.
Martin has created two new roles in a spokesperson on mental health and a spokesperson on disability, which will be filled by James Browne and Margaret Murphy O'Mahony respectively.
Amongst the other changers and movers, Catherine Ardagh has been named as the party's leader in the Seanad, freeing up Darragh O'Brien to take on the shadow foreign affairs brief.
There was no change in the portfolios of housing, health and finance, where Barry Cowen, Billy Kelleher and Michael McGrath all keep their positions respectively. Willie O'Dea also remains in the social protection role.
Former senator Thomas Byrne, who took back his seat in Meath East, will be the party's spokesperson on education, while Robert Troy has been handed transport.
Former Minister of state for labour affairs and public service transformation, Dara Calleary, has moved from shadowing enterprise to public expenditure and reform.
Éamon Ó Cuív is the party's spokesperson on regional development, rural affairs and the Gaeltacht, Charlie McConalogue will take on agriculture, food and the marine, while Timmy Dooley will be communications, environment and natural resources spokesperson.
The reshuffle means three high profile casualties in Laois TD Seán Fleming, Carlow/Kilkenny's John McGuinness and Cavan/Monaghan deputy Brendan Smith all not being handed new posts.
Laying out his position, Martin pressed home that anyone set to chair a committee in the new government set up, would not be on his front bench team.
"In choosing this team, I have sought to blend experience and new energy, drawing on the diverse talents of our newly enlarged Dáil party," he said.
"We will be a responsible and constructive opposition party, supporting Government initiatives which we believe to be in the best interests of the nation, but resolutely opposing those we do not. Where we oppose, we will be bringing forward what we believe to be better and fairer alternatives and working to build consensus in this new Dáil."
Martin added that potential now existed for a parliament where "good ideas can flourish and where good law, no matter where it originates, can be supported by a majority of representatives on a cross party basis and can be enacted".
"Fianna Fáil has played a central role in creating the opportunity for a new approach to politics in this Dáil and in this country," he said.
"Building on our work to date, I am determined that the Fianna Fáil party will play a central role in this new reformed Dáil and will drive forward our vision of an Ireland for all and work to implement the manifesto commitments our mandate is based on."