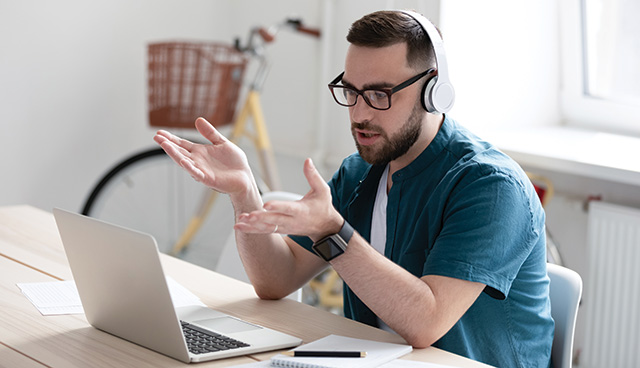 Amazon Web Services (AWS) hosted a virtual round table discussion to capture the insight of expertise of practitioners from across the higher education sector, examining the catalytic impact of Covid-19 and digitalisation on teaching, learning, assessment, and research.
What are the major challenges posed to teaching, learning, assessment, and research in higher education by the Covid-19 pandemic?
Willie Donnelly
The central challenge is uncertainty. Third-level education thrives on certainty and is structured in terms of the academic year. It is a challenge to manage the delivery of the curriculum to our student cohort alongside plans to bring back students, while there is still uncertainty over the potential impact of future variants of the virus. The second major challenge is the composition of our student cohort. The institutes of technology traditionally have a higher percentage of mature students, students who come from disadvantaged backgrounds, and students with special needs. Providing a customised educational experience to each of those student cohorts online, equivalent to the on-campus experience, has been a huge challenge.
Mary Meaney
The pace of change has been a challenge. Two years ago, if you had asked me if we could have made changes at the pace that we have been able to deliver them, I would have been doubtful. While we have managed to deliver the academic content, run our assessments, and kept research turning over, the experience from both a staff and a student perspective, but particularly from the students', has been severely impacted. Anecdotally, many students have been sitting in their parents' attic or spare room for the past year and that is really something we're going to have to try to address when we come out of this.
Kerstin Mey
The experience of education now has no geographical boundaries. Inevitably, with the online delivery of learning – and I accept the need for the social experiences of students – the competition grows. We must dispel the myth that online delivery, that is bespoke and per institution, is cheap. It is very resource intensive. We will inevitably see new alliances and redistribution of content development in higher education nationally and internationally. Secondly, with the shift of working patterns and the shortage of housing in general, regionally we will see increased competition for accommodation as students and remote workers return and migrate to the regions amid constrained housing supply. That is something we must prepare for during this academic year, particularly alongside the increased student numbers.
Pól Ó Dochartaigh
One of the biggest challenges has been attempting to develop expertise in all sorts of technologies in a very short period, before then delivering teaching in multiple formats. That has been really resource intensive for the staff. The pandemic experience is often dependent on family circumstances, especially for those forced to home-school their own children. Some staff have taken a hit in terms of career development because, inevitably, their research has suffered. Meanwhile, those without caring responsibilities have more time than ever before to conduct research. We as institutions must ensure that we do not end up with staff disadvantaged by that. However, I think the biggest challenge for teaching, learning and assessment has been on the one hand trying to deliver everything online while maintaining the integrity of the assessment processes. Frankly, we have struggled to find ways to be confident of the integrity of assessment processes that are done online.
Ronan Byrne
Keeping all students connected has proved a significant challenge. The pandemic has highlighted gaps where students cannot access suitable fixed or wireless broadband coverage. HEAnet has tried to ameliorate this broadband coverage challenge by extending the reach of our eduroam WiFi service to public libraries and other rural locations. While noting the progress of the National Broadband Plan, we would encourage the telecommunication companies to bridge these broadband gaps across all areas. Thanks to the July Stimulus, HEAnet was able to support the bulk purchase of 16,700 laptops last summer, but there is still anecdotal evidence of students doing assignments on mobile phones and driving to the nearest town to get connectivity. Unfortunately, the impact remains unknown in terms of the students who have fallen out of the system. I think it's fortunate this pandemic did not happen 15 years ago, as we wouldn't have had the networks and ICT tools to keep operating as we do today.
Jude Sheeran
Our system of higher education, which has been in place for a thousand years or so in the UK, still requires most undergraduate students to be on campus. Some institutions were more ready than others when the outbreak of Covid-19 closed campuses all over the world. However, even the most advanced, which were able to continue their critical work in education and research, were unable to replicate campus life and the cocurricular programmes, life skills and friendships that would have otherwise developed.
"Digital revolution, for AWS and many of our customers, is about better and faster outcomes, operational efficiency, security, reaching more students and delivering the institution's objectives."

Jude Sheeran
---
To what extent has the pandemic catalysed a digital revolution in higher education?
Jude Sheeran
I listen to leaders of universities, colleges, and research institutions from all over the world, almost every day. Digital revolution, for AWS and many of our customers, is about better and faster outcomes, operational efficiency, security, reaching more students and delivering the institution's objectives. I have no doubt at all that the Covid crisis has led to the more and faster execution of innovation worldwide from student recruitment and teaching, learning and assessment to alumni networks, lifelong learning, and everything in between. I have not seen much evidence of regression back to the way things were. Covid forced governments, employers, universities and students to think more about digital technology in education than perhaps ever before. For example, the European Commission has published its Digital Education Action Plan 2021–2027, which aims to learn from Covid and the widespread adoption and use of technology in education.Digitalisation is not a replacement or an alternative, rather it is a means of augmenting the long-established and critically important experience of higher education for better, faster, and safer outcomes. 'Catalysed' is the right word. Worldwide, vice chancellors, presidents, provosts, and registrars are saying that for the last few decades, they have been asking their technical teams to deliver capabilities that they want or need, on behalf of their students and other stakeholders, only to be told that it would be too expensive, too risky, or impossible. When Covid hit, some of these asks were delivered in weeks. Now, there is more appetite for innovation and a growing awareness that much more is achievable much faster than previously thought.
Willie Donnelly
When we look back at the onset of Covid, we received notification that we had to close the institutes and transfer our courses online with little warning. As such, bearing in mind that we had limited flexibility in the timeline for the curriculum we needed to respond very quickly. Great credit must go to the academic, technical and support staff in all the institutes of technology for their subsequent response. At WIT, we were fortunate in that we had already developed a digital template and a few exemplar online programmes. Changes in the design and delivery of that curriculum which would normally have taken five years to deliver was instead completed in a matter of months. What is hugely impressive about the pivot is witnessing how people within the arts and humanities, as well as business, have transformed the way that they use digital infrastructure. Online delivery is not simply about making notes available online, rather it is about rethinking how knowledge is delivered to students. The pandemic definitely acted as a catalyst for change; we had no choice but to support students. While we are currently working under emergency legislation and in agreement with each of the unions, it is perhaps time to move onto a more structured approach to the delivery of blended third level education.
Kerstin Mey
What has been catalysed is a much more personalised and flexible style of learning, benefiting our diverse student body. This has materialised through the provision of content online, a simultaneous move to more continuous assessment rather than a primary focus on set examinations, and the use of learning analytics to support students in a meaningful way as they progress through their higher education and, ultimately, succeed. This can be tailored to the different learning styles in a much better way than was previously the case. At the same time, we have identified tensions between staff who were socialised in an analogue way and the learning expectations of digital natives attending the university. There has been a decisive effort made to narrow that gap and this must be sustained to ensure relevance in how learning is being delivered.
Mary Meaney
I fully echo Kerstin's point in relation to diversity. The feedback we have received from students with disabilities has been hugely positive in relation to the universal design approach now being applied to interaction, particularly the recording of lectures. One of the major revolutions I have observed is the enhanced confidence of staff and students in engaging with technology. If we had not encountered this pandemic, this lack of confidence among staff would have prevailed. During the Covid crisis, they had no choice, and many discovered the effectiveness of engaging with students in a digital environment. That is hugely positive. However, there will be need for further training. Simultaneously, while many of us knew that it was no longer necessary to physically visit a library, enhanced access to information in a digital format has inverted the learning experience for many academics. There is a huge array of high-quality digital resources that can be collaboratively interrogated by academics and students.
"The diverse modes of delivery will be something that will remain relevant. This will not be achieved without investment or CPD, but I think that we have determined that not everything must be delivered in a face-to-face manner."

Mary Meaney
---
Ronan Byrne
While perhaps an expectation of millennial students, the speed of adoption of ICT tools by academic staff has been tremendously impressive. Lecturers and others very quickly adapted to delivering lessons over video calls and sharing content via a variety of ICT platforms. Previously, many of us have attended digital transformation planning events where the adoption of ICT skills was regularly viewed as a significant future barrier to that transformation. That barrier now appears easier to address in the light of how we've adopted ICT tools during this Covid chapter. More broadly, from a business management perspective, there were certain functions, such as finance, that were considered inert, and which did not easily lend to a remote working model. Again, the pandemic experience has disproven the validity of that particular obstacle. Moving into the research arena, one matter worth highlighting has been the revolution in terms of advancement of open science and the sharing of datasets in pursuit of Covid-19 vaccination development. The pace of evolution of Covid vaccination development, and potentially for many other diseases, is hugely impressive. It is a revolution that will hopefully fast-track improved healthcare and societal outcomes for many people.
Pól Ó Dochartaigh
Unlike most students now entering higher education, many staff are not digital natives. We must treat this challenge with caution and comprehensively resolve it. Most academics went into their roles assuming that change would be relatively slow, effectively working as their own lecturers had done. For instance, we moved from handwritten overhead projections to PowerPoint, which was cognate with many aspects of Word and therefore was relatively simply to learn. In reality, the space has been revolutionised in little over a year and all sorts of people have acquired enough knowledge to use the tools which, if they had 15 years or less left in their career, they might have sidestepped entirely. While it has been a brilliant adaptation, they are not necessarily utilising these tools in the most effective way or, as made possible through proper training, unlocking their full potential. If we are expecting our staff to undertake the teaching and acquire the skills required to use the modern technologies well, something will have to give in the context of resource constraints. There is a danger, therefore, that if we do not resource this properly and in a manner that is fair to staff, what will give is their own research profile and career opportunities. There are great opportunities and great potential, but I do not think we should for one second underestimate the extent to which this will require additional resources if we are to deliver the digital revolution in higher education in a coherent and sustainable way that does justice to our staff as we as to students.
What lessons from the Covid experience will remain relevant, post-pandemic?
Mary Meaney
The diverse modes of delivery will be something that will remain relevant. This will not be achieved without investment or CPD [Continuing Professional Development], but I think that we have determined that not everything must be delivered in a face-to-face manner. Many staff have realised that it is not all about the proctoring and the online aspect, rather it is about integrity. The different assessment methodologies will remain relevant. We have also learned that one size does not fit all. Our aspiration in terms of our strategy is around diversity and complementarity, but also to attract a diverse student population. There are ways in which we can reach students we have previously failed to reach, but equally there are students who are now being excluded for different reasons, including access to internet services.
Kerstin Mey
Our physical learning environment is very important and must be adjusted to take account of the shifts in education. That will require rethinking and investment alongside investment in digital infrastructure. The two must go hand-in-glove. Secondly, we need to rethink the way in which we develop our learning offers. It is not feasible to expect every member of staff to be a professional web designer, a designer of digital learning objects or augmented reality. We will witness what we have already seen; an increase in the employment of learning technologists and learning developers, that we will see a division of labour much more strongly articulated, as is apparent in the creative industries. This is something that will require significant resources and institutions should collaborate. For instance, does every single institution need a bespoke Mathematics 101, or could there be content that we produce through collaboration? This could create efficiency and high-quality content.
Jude Sheeran
It seems to me that the three enduring lessons are that more digital innovation than it might seem is achievable; that better and faster outcomes are available to learners and researchers; and, lastly, for nations like Ireland there is an enormous opportunity to reach millions of students that they are not reaching today.
Willie Donnelly
The blended learning environment was very suitable to the CPD needs of industry. That is one key area in which we have engaged with industry. For many courses, there is a major shift away from physical attendance on the campus. The traditional 'I'll do a master's or an advanced business degree' has shifted to people in industry feeling that their time is precious and becoming more interested in doing micro awards which they are willing to complete online. The consolidation of micro awards into larger awards is something that we are going to increasingly see. Meanwhile, one of the student groups that we have not focused on in the discussion so far is the postgraduate cohort. I feel that postgrads have suffered the most isolation during the last year because at the heart of postgrad studies is the physical engagement between the postgraduate supervisor and the student but also, particularly in the scientific and engineering field, between the student, supervisor, and industry. These important links have been broken due to the industry and academic shutdown leaving many postgraduate students unable to progress and complete their studies.
"There is now a need for industry to examine how to bridge the gap in research and innovation and investment in universities and institutions to develop a more enhanced research and innovation framework."

Willie Donnelly
---
Ronan Byrne
I do not believe any student is enjoying the current educational scenario. The very vocal appeal to get back onto the campus just shows how much they are missing it. Simultaneously, the pedagogy needs to catch up on the fast-tracked shift to online assessment and blended learning. In terms of a revolution, it will be interesting to observe how student accommodation evolves into the future. Similarly, one point that should not be underestimated, whether people are in education or not, is how we envision working or studying from home. Remote working has not received a fair trial over the last year, as the pandemic has necessitated looking after children, caring for elderly relatives, and other such challenges, which would not ordinarily be the case when working from home. Being cognisant that we are still in the pandemic, the new challenge for those at the frontline is working in a non-binary mode. Formerly, we were just working remotely, now we have students on campus and another cohort potentially off-campus. In terms of revolution, there are valid considerations to play out in relation to vaccination requirements and freedom of movement which pose significant challenges for education and business alike.
Pól Ó Dochartaigh
There is a growing awareness that whatever comes after this will be some combination of what we are doing now and what we did before. It is still too soon to determine with any certainty. At the beginning of Covid, there was a sense of 'okay this pandemic will be over soon, and we can go back to normal'. In reality, we will not be going back to normal, we will move into a new normal. We still have not worked that out and we cannot work that out because we do not know what the parameters will be. Though they do not all need to become experts, academics must develop some level of expertise on the technical side. That is one of the big challenges for us. Overall, higher education is about the student experience and academic staff sharing expertise; the methods of doing that will evolve but the core principles will remain the same. This is about shaping our young people, not just for industry, but for our society as a whole. Fundamentally, what we are attempting to achieve has not changed.
How can industry best support higher education in navigating the post-Covid landscape?
Ronan Byrne
From a broadband and infrastructure perspective, I have already mentioned the evident gaps in the system. That means there remains a potential for students to drop out of the education process. Even in urban areas, service issues persist, so adequate quality of service must be provided by telecommunications operators. Likewise, while collaboration tools have improved over the last 18 months, they can be further enhanced. The new way of working must be simplified as much as possible for the user. There has been very significant uptake in the volume of adoption of ICT tools such as video conferencing, so with my procurement hat on, I would encourage vendors and suppliers in the market to consider more cost competitive pricing and volume discounts to make their continued adoption sustainable.
"I do not believe any student is enjoying the current educational scenario. The very vocal appeal to get back onto the campus just shows how much they are missing it."

Ronan Byrne
---
Jude Sheeran
Firstly, I think that industry can share more about what it has learnt, for example, in leveraging data for better outcomes. Secondly, while we have talked a lot about skills, employers need skills that are not being produced in sufficient numbers across many economies. Industry can do more to help. My organisation coordinates a programme has committed to training 29 million people in cloud skills by 2030 and runs a program called AWS Educate, which provides courseware and training to faculty members, enabling them to integrate cloud content into their curricula.
Mary Meaney
Firstly, internships and placements have been significantly impacted by the Covid pandemic. We have had a number of students who have been able to undertake placements, however many more have not. TU Dublin has worked hard to ensure that its students met their learning outcomes via alternative avenues. Industry can support higher education by considering how to expand this type of interactive learning experience, somehow mitigating the experience of the past two academic years. Secondly, I think there is a role for industry in the development of content. I am not naïve enough to think that our unions will like this, but I do believe that there is a role for industry in providing access to information, particularly as industry provides feedback on a very regular basis with regard to skills that they require. There is an opportunity now for industry to put its money where its mouth is and develop content that we can incorporate into our academic programmes.
Willie Donnelly
What we have learnt from this Covid experience is that we can bring industry experts from around the world into the classroom. For instance, we can have a presentation from an [industry] representative located anywhere in the world. In terms of the design and delivery of programmes in the future, I think we can develop a new relationship based on cocreation of courses. Ireland has a particular challenge in terms of industry's investment in research and innovation. There is now a need for industry to examine how to bridge the gap in research and innovation and investment in universities and institutions to develop a more enhanced research and innovation framework.
Pól Ó Dochartaigh
The universities and the technological universities have broadly similar needs. Our sector needs to get its act together and begin to identify what the broad sectoral need will be for higher education. Industry can then consider this need and attempt to find appropriate organisations to then collaborate on its fulfilment. Post-Covid, it will be crucial that higher education institutions act coherently rather than dispersing as individuals. Post-Covid, we need a sectoral approach to our ambitions.
Kerstin Mey
We must work with industry to explore learning across a lifespan, particularly as many skills have a very short lifespan. This skills lifespan can be fewer than 12 months within the IT sector. As such, we must work with both industry and government with regard to a social contract for higher education that supports student engagement and upskilling. We need a fruitful dialogue to determine the skills required and competency development in the long-term, especially with fundamental transferable skills. I know this is a slight contradiction, but we must strike a balance between the immediate-term and the long-term in order to develop the talent than can master the professional and personal challenges that lie ahead.
"What has been catalysed is a much more personalised and flexible style of learning, benefiting our diverse student body."

Kerstin Mey
---
What is your organisation's post-pandemic vision for higher education?
Kerstin Mey
The vision is to look towards developing a flexible and accessible learning offering in collaboration with industry, with communities, and with government. It is also to enhance our research impact using the tools and skills we have developed over the pandemic, including improved collaboration in terms of sharing of data, to play our role in society and the economy.
Mary Meaney
From a TU Dublin perspective, it would be to enhance excellence in practice-based education. That is core to our mission and, amid the pandemic, much of that has suffered in terms of hands-on experience and access to world class facilities. I think we have focused very much on that student experience and that value add in the engagement with the on-campus experience.
Pól Ó Dochartaigh
Flexibility is the key word. Universal design for learning is at the core as we develop our academic strategy for the next few years. It will be learning from the flexibilities we were trying to develop and have been forced to develop at a more rapid pace. Consolidating this will ensure that our students are instilled with a greater resilience and a greater awareness of the flexibility they will need when they graduate. Sometimes our courses are too rigid due to professional accreditation and fail to identify the needs of the students. We as institutions need to cultivate flexibility within our own staff before then developing it within our students. There is not a straight path ahead in front of us, rather it will be under constant review.
"Flexibility is the key word. Universal design for learning is at the core as we develop our academic strategy for the next few years."

Pól Ó Dochartaigh
---
Willie Donnelly
We are hoping to be designated as a technological university next year and there are high expectations for the new technological university in the southeast and its role in the economic development of the region. That is reflected in our vision, which is very much looking at the concept of cocreation with stakeholders to deliver the type of education the southeast needs, mapping that onto the best educational experience internationally through our international connections but also not losing the commitment we have to our student base. The experience of Covid and the migration to online and blended learning has given us an opportunity to make that real and given us options for delivery. Higher education has a central role in Ireland in the economic, social, and cultural wellbeing of our regions. What we can learn from the Covid experience is that there are many ways of delivering on this role without losing sight of our core principles around the fundamental role of education in human advancement.
Ronan Byrne
Our role is to provide shared ICT services that support the new blended learning paradigm; this will encompass infrastructure, connectivity, access to devices, and procurements that leverage cloud technologies for flexible delivery of content. One procurement lesson from the pandemic relates to the sector procuring collectively via aggregated orders. This collective strength better enables improved value and expedited delivery. As we have seen throughout this pandemic, infrastructure and ICT tools are essential to the continued operation of the education system for institutions and students alike. This has highlighted the importance of sustained investment in the underpinning technology. Technology has enabled new ways of working, and more efficient ways of working, which will hopefully persist in some hybrid form beyond this pandemic experience.
Jude Sheeran
We see education becoming more available, more personal, and more of a lifelong endeavour. We are documenting amazing results for some of our more progressive customers with regard to personal education whereby digital technology is only really beginning to bring it to life. We see much more personalised education, powered by machine learning and data analytics, coming to the fore and bringing about better, faster outcomes.
Round table participants
Ronan Byrne, CEO, HEAnet
Ronan Byrne is the CEO of HEAnet. Ronan's career at HEAnet extends back to 2004 and he has overseen many large-scale programmes over this time, including the development of the Schools Broadband Network, migration of the institutes of technology from ITNet, the establishment of the Edugate National Federated Identity Service, delivery of a 100Gb network backbone, and building a high performing brokerage services unit that delivers more than €7 million savings for the education sector annually.
Willie Donnelly, President, Waterford Institute of Technology
Willie Donnelly was appointed President of Waterford Institute of Technology (WIT) having held the position of Head of Research and Innovation at the Institute for the previous 10 years. Prior to entering academia, he worked for 15 years in the telecommunications and utilities industries. He founded Walton Institute (Formally TSSG) at WIT in 1996. Donnelly is the Irish representative on the European member state Future Internet Forum and Chair of the European Concertation Board for the Future Internet PPP program. He is a founding member of the European Digital Enlightenment Forum which is an expert level think-tank providing guidance to Europe on Digital Policy. Donnelly established the WIT ArcLabs Research and Innovation Centre in 2005 a unique research and innovation platform combining world-class research, entrepreneurial training and business development, and high potential start-ups which has led to the creation of more than 500 jobs in the region.
Mary Meaney, Registrar and Deputy President, Technological University Dublin
Mary Meaney is the Academic Registrar and Deputy President of the Technological University of Dublin. Previously, Meaney was President of Institute of Technology Blanchardstown and was instrumental in the formation of TU Dublin, Ireland's first technological university. Meaney is a board member of the Central Applications Office and a member of the Registrars' Standing Group of the Irish Universities Association. Meaney graduated with a BSc in Analytical Science and a PhD in Analytical Chemistry from DCU before going on to lecture chemistry in DCU.
Kerstin Mey, President, University of Limerick
Over the past 25 years, Kerstin Mey has built a track record of successfully initiating and implementing pioneering academic and research initiatives and cultural projects in higher education. As an experienced leader and senior manager, she led major infrastructure and culture change programmes and set up a range of strategic external partnerships. Mey currently serves as Interim President of University of Limerick, Ireland. She held academic positions in universities in Germany and the UK before she joined University of Limerick as Vice President Academic Affairs and Student Engagement and professor of visual culture in 2018. Previously, Mey worked as Pro-Vice Chancellor and Dean of Media, Arts and Design at the University of Westminster, UK. She was appointed to the Austrian Science Board 2012–18, providing advice on third level education.
Pól Ó Dochartaigh, Deputy President and Registrar, National University of Ireland Galway
Pól Ó Dochartaigh is Deputy President and Registrar of NUI Galway and current Chair of the CAO Board. He was previously professor of German and Dean of the Faculty of Arts at Ulster University. He holds a BA in German from Cardiff University, a BA in Irish Language and Literature and a Postgraduate Certificate in University Learning and Teaching from Ulster University, and a PhD and DLitt in German from Nottingham University. Ó Dochartaigh has worked on the legacy of the Holocaust, the German involvement in Celtic Studies and, more recently, on Jews in Irish literature and history. A native of Belfast, he is a member of the Royal Irish Academy, a fellow of the Royal Historical Society, a fellow of the Higher Education Academy, a former President of the Association for German Studies in Great Britain and Ireland and a former Chair of the Royal Irish Academy's Committee for Modern Languages.
Jude Sheeran, Principal, International Education and Research Technology, Amazon Web Services
Prior to joining AWS Jude was CEO at Eduserv, an AWS EdTech partner that provided services to higher education and research in the UK and sixty other countries. Earlier in his career, Jude was a tutor and an administrator in higher education, most recently at New York University in Abu Dhabi, UAE.