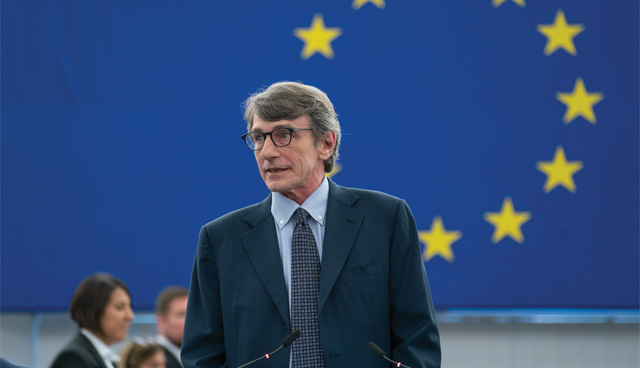 Focus on the EU's environmental performance has tended to revolve around the national targets of member states, however, as the European Parliament has demonstrated, the EU's various institutions must also be accountable in environmental performance.
In December 2019, the body responsible for setting out the European Parliament's (EP) working rules, the Parliament's Bureau, outlined environmental targets for the parliamentary term to 2024.
In 2004, the Bureau launched the Eco-Management and Audit Scheme (EMAS), an environmental management system, recognising its duty to make a positive contribution to sustainable development, not only through its role in legislative procedure but also in its day to day operations.
The Parliament signed its first environmental policy pledge in 2004 and joined the voluntary EMAS in 2007. In 2016 it became the first 100 per cent carbon-neutral EU institution.
The European Parliament employs thousands of people including not only directly elected representatives but also a huge secretariat, officials recruited by competition from all the EU countries. It also operates across three distinct venues. The Parliament's official seat and the venue for most of its plenary sessions became Strasbourg, parliamentary committees generally have their meetings in Brussels and the Parliament's secretariat are based in Luxembourg.
Environmental performance of organisations is a significant issue and the EU recognises that climate emergency awareness was a major factor for citizens in the recent European elections.
Prior to launching its new targets for 2024, the EP could already point to some significant achievements. The EP has reduced its carbon emissions by over 37.7 per cent since 2006 and uses 100 per cent 'green' electricity in all three places of work, consumption of which has decreased by almost 15 per cent since 2012.
At the same time, it has reduced the consumption of gas, heating oil and district heating by 20.6 per cent from 2012 to 2018, per full time employee and waste recycling has increased by almost 70 per cent.
In transport, the Parliament has switched its use of charter flights between Brussels and Strasbourg to high-speed trains and it has a target of a full-electric car fleet by 2024. Complementing the reduction in transport emissions is the introduction of e-bikes and scooters to grow the bicycle fleet. 
European Parliament President, David Maria Sassoli, has suggested that the Parliament acts as an exemplar to the EU's other institutions.
"The European Parliament has been very active in reducing its environmental impact over the past few years… and we invite the other EU institutions to follow suit in jointly offsetting irreducible direct and indirect carbon emissions as soon as possible. However, we have to go further to live up to our commitment of continuously improving our environmental performance."
The new targets for 2024 include increasing the carbon footprint reduction to at least 40 per cent from 2006 levels (currently 37.7 per cent) and reducing carbon emissions from the transport of people by 30 per cent from the same base year.
The EP aims to reduce energy consumption by at least 20 per cent from 2012 levels and halve paper consumption over the parliamentary term compared to what was used in 2010-2014.
Targets also cover a reduction and management of waste, water consumption, renewable energy and green public procurement.
Vice President of the European Parliament, Heidi Hautala, who is responsible for the EMAS scheme, says: "The European Parliament, an international institution employing many thousands individuals, is well placed to lead the transition towards a sustainable, climate-neutral, and resource-efficient European economy and society. We have already started to minimise our environmental impact and to promote the sustainability. But as time is running out, it is equally imperative that the EP regularly reassesses the targets and measures in order to raise its level of ambition. I see today's decision of unified environmental targets of 2024 as an important step towards comprehensive sustainability reporting by the Parliament."