Issues
EU fairness questioned in Cyprus crisis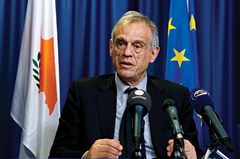 The EU's handling of the Cypriot financial crisis has serious consequences for consumers and smaller European countries, according to Fianna Fáil leader Micheál Martin.
"Everyone in Europe should take it as a failure that four years into the financial crisis, we can still have the ECB threatening to effectively close down a country's banking system unless it immediately agrees terms," Martin told the Dáil. He pointed out that capital controls, which had previously been prohibited in the single market, were now being re-introduced.
Taoiseach Enda Kenny has said that the bail-out process will be "exceptionally challenging" for the Cypriot people and acknowledged the "real strain" and "very genuine anxiety" that this involved.
An initial EU-IMF bail-out for Cyprus (for €10 billion) included a minimum levy of 6.75 per cent on all bank deposits but was voted down by the Cypriot Parliament after widespread protests.
The revised rescue package also provides for €10 billion, paid by tax rises, privatisations and a bank levy on deposits worth over €100,000. The island has the EU's lowest corporation tax rate (10 per cent) but this is now likely to increase under international pressure.
Cyprus is the second smallest EU economy but its large financial sector was damaged when Greek borrowers failed to repay loans to Cypriot banks. The situation is complicated by allegations of money laundering, linked to some Russian investors, which meant that the German Government was reluctant to intervene in the bail-out.