Issues
enet and SSE connect to launch new fibre network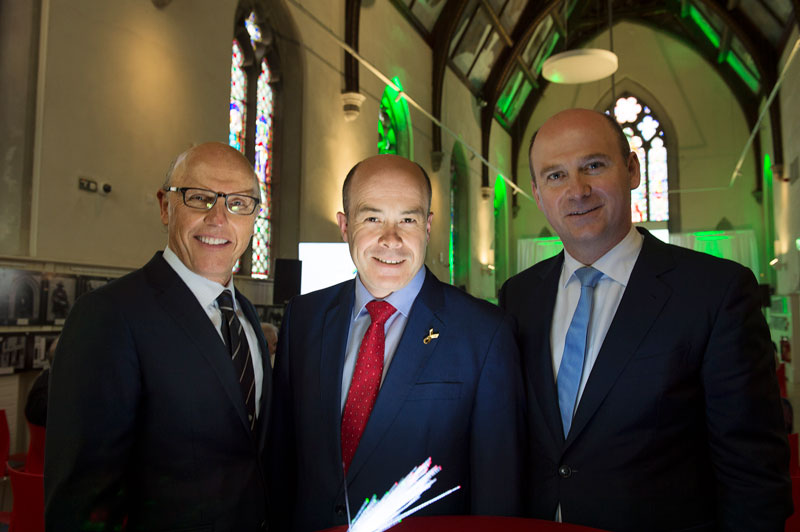 Minister for Communications, Climate Action and Environment, Denis Naughten TD has unveiled plans by enet-SSE, a new commercial joint venture between Ireland's largest open-access fibre network provider enet and energy utility SSE, to commercially bring superfast fibre broadband connectivity to 115,000 homes and businesses in regional Ireland.
The enet-SSE roll-out plans were unveiled in September by Minister Naughten at a launch event in Ballinasloe, County Galway. The new 1 Gig fibre-to-the-premises broadband network roll-out will bring superfast connectivity to 115,000 premises in two phases between now and 2019, and will support around 700 contractor jobs at peak delivery.
In the coming months, enet-SSE crews will commence the first phase of deployment delivering the new fibre-to-the-premises broadband network to 18,000 premises in nine towns in the West and North West. This first phase, which will complete within 12 months of commencement, will connect Ballinasloe, Roscommon Town, Manorhamilton, Bundoran, Ballyshannon, Donegal Town, Ballybofey, Stranorlar, and Buncrana to a superfast fibre broadband network in 2018.
Upon successful completion of this phase, the remaining balance of the 115,000-premise network is expected to be completed by late 2019. The first phase represents a joint investment of €20m, with a total potential investment of more than €100m upon completion of the full project.
Unveiling the new fibre network plans from enet-SSE, Minister Denis Naughten said: "This announcement is a significant boost for businesses and families in Ballinasloe and Roscommon Town and across the North-West of the country. I want to thank enet and SSE for their commitment and investment.
"I am determined, as Communications Minister, that every premises in Ireland can access high-speed broadband as quickly as possible through a combination of commercial and State-led investment. The venture I have announced will significantly contribute to achieving this. The roll-out will deliver world-class superfast high speed broadband to 115,000 premises which will ensure communities are sustained and business can flourish in towns and rural Ireland.
"The commitment by enet and SSE to invest over €100 million upon completion of both phases of this network will support more than 700 construction jobs and a knock-on boost for local suppliers.  As a wholesale, open-access fibre network available to all of Ireland's retail broadband providers, customers will have choice and competition."
enet-SSE is a new commercial joint venture between enet-owner Granahan McCourt Capital, the Dublin-based technology, media and telecommunications investment group, and SSE, Ireland's second largest energy utility and the country's leading developer and investor in cleaner energy infrastructure.
enet already operates the second largest fibre network in Ireland incorporating 94 Metropolitan Area Networks (MANs) operated on behalf of the Irish Government. The nine towns being connected by enet-SSE in the first phase of delivery already have MANs connectivity and enet-SSE's Fibre-to-the-Premise investment will utilise the infrastructure that's already in place.
Since its acquisition of enet in 2013, Granahan McCourt Capital has already invested over €100 million, including a dark fibre backhaul infrastructure transiting the rail and gas network and three proprietary metro networks including a 100km fibre ring in Dublin, along with one of the largest licensed wireless networks in the country.
David McCourt, founder of Granahan McCourt Capital and chairman of enet, has world-leading experience in designing, building and deploying large-scale telecoms infrastructure to the value of over $30 billion. Speaking at the launch, McCourt said partners enet and SSE will deliver on their promises and get the job done in the interests of Irish citizens.
"We are delighted to be partnering with SSE, which as a FTSE 100 company and one of the largest and most respected energy companies in Ireland and the UK, offers extensive telecoms and infrastructure experience and substantial resources to employ.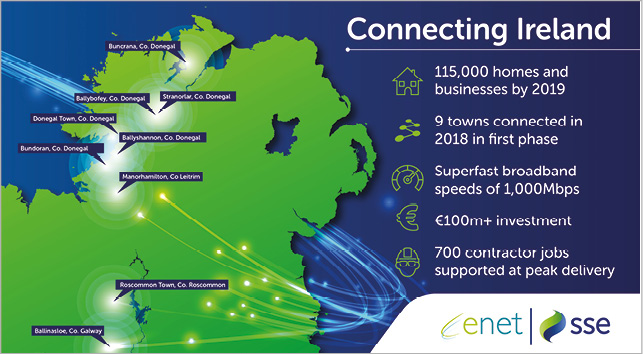 "This investment is extremely positive news for regional Ireland and further evidence of our commitment to invest money where it matters to solve Ireland's biggest connectivity needs, which are essential to future-proofing its digital revolution. By jointly deploying our expertise and combined resources, we will extend world class connectivity to some of the most underserved areas of the country," David McCourt said.
David McCourt said enet-SSE's plans will play a vital role in helping to transform and revitalise the regional Irish towns which the new network will connect. "The provision of world-class connectivity infrastructure needs to be viewed as a vital utility, yet many residents and businesses across Europe remain left behind. enet-SSE aims to fix this. Operated as a wholesale, genuinely open-access fibre network, our network will be available to all of Ireland's retail broadband providers, giving consumers in these regional Irish towns choice and keeping prices competitive."
Stephen Wheeler, Managing Director of SSE Ireland, said the new enet-SSE commercial relationship will bring huge benefits to regional Ireland. "We are very excited to be working with enet and Granahan McCourt Capital on such a key project for Ireland, through the delivery of superfast fibre connectivity to 115,000 homes and businesses.
"At SSE, our renewable energy projects have allowed us to make a positive difference for communities across rural Ireland over the last decade, particularly through investment in local jobs, enterprises and communities. Now, working through our new venture enet-SSE, we're delighted that we will be delivering vital communications infrastructure that will make a real difference for regional communities, providing people living and working in these towns with the superfast broadband they need, and supporting contractor jobs and the local supply chain during network roll-out.
While SSE is well-known in Ireland for being one of the country's leading energy utilities as well as for being the leading developer and investor in cleaner energy infrastructure, it also has an established track record in telecoms and broadband.
"As one of the broadest-based utility companies operating across Ireland and the UK, we have immense experience in delivering essential services to homes and businesses," Stephen Wheeler continued. "This includes around 15 years' experience in telecoms and broadband in Great Britain, where we have developed and operate almost 14,000km of high capacity national and metropolitan fibre optic networks."
So why has SSE, which provides greener energy to around 800,000 home and business customers in Ireland and has invested over €2 billion since 2008 in growing its energy Wholesale, Retail and Enterprise operations here, now decided to embark into the delivery of wholesale broadband? "At SSE, our core purpose is to provide the energy and essential services that people need. Energy consumers are becoming more and more connected. As such, playing our part in delivering a world-class telecommunications network for Irish consumers is a natural next step for SSE in Ireland.
"This project excites us because at SSE in Ireland we have a proud track record of world-class project management skills to deliver large scale infrastructure. As we continue to grow our business here, we're excited about this opportunity to use our experience via enet-SSE to commercially develop broadband infrastructure for the evolving telecoms market here. So now is the right time for SSE to be partnering with enet to bring a world-class telecommunications network to regional Ireland."
For more information
w: www.enetsse.ie