Environment
Ending the discharge of raw sewage nationwide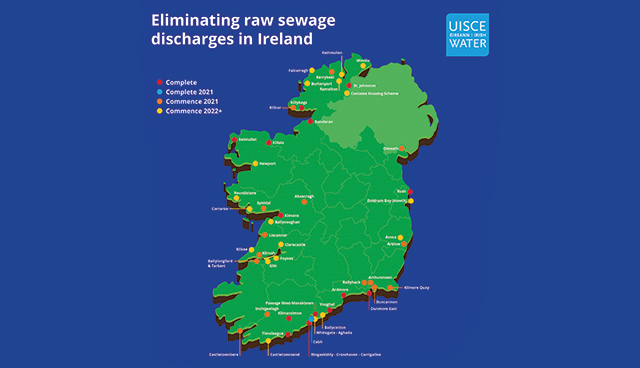 Irish Water is working to eliminate raw sewage discharges in Ireland. Finbarr Burns, Asset Delivery Business Operations Manager and Michael Tinsley, Wastewater Portfolio Delivery Manager at Irish Water speak to eolas on the progress that is being made on the decades-old practice of discharging raw sewage into the environment.
Since 2013, the Environmental Protection Agency has identified 50 areas around Ireland where raw sewage was historically being discharged into the environment. Burns discusses the progress that Irish Water has made since its establishment in 2014: "Irish Water has eliminated over half of the raw sewage that has been discharging into our rivers and seas for decades. We have already built new wastewater infrastructure in 16 towns across Ireland where treatment had never existed before, improving water quality, and benefitting local communities. By building this new infrastructure we have stopped the unacceptable discharge of raw sewage from the equivalent of 100,000 people."
Irish Water has plans in place to remove the rest by prioritising the areas where it can make the biggest impacts first. Tinsley adds: "This year alone we will start works in at least 14 areas around the country where raw sewage has been entering our seas and rivers, with 10 more starting in 2022. The 2021 starts will include Arklow, which is the largest town in the country with no wastewater treatment."
Progress is being made with a significant investment of over €650 million. "We are on track to removing the majority of raw sewage discharges by the end of 2025," continues Tinsley.
The benefits of this investment can be seen in towns and communities across the country. "We have invested €250 million to date in eliminating the discharge of raw sewage, prioritising the areas that have the biggest benefits first. These 16 towns have seen benefits including improved water quality in our rivers, lakes and seas; benefits to the local communities including swimmers, surfers and the local tourism industry, as well as protecting our marine life and promoting economic and social development," explains Burns.
Although substantial progress towards ending this unacceptable practice has been made, there are still challenges ahead. "As there is no wastewater treatment in these areas, we are effectively retrofitting infrastructure into well-established towns. While there's agreement that this practice needs to stop, it is often a complex process to reach agreement on where new wastewater infrastructure should be built and to acquire the necessary land. We have engaged extensively with communities all across the country and will continue to do this as we progress these essential projects. On behalf of all the team in Irish Water, I would like to thank these communities all across Ireland who engaged with us in moving these vital projects forward," concludes Tinsley.
W: www.water.ie
Twitter: @irishwater
Facebook: IrishWaterUisceÉireann
LinkedIn: Irish Water