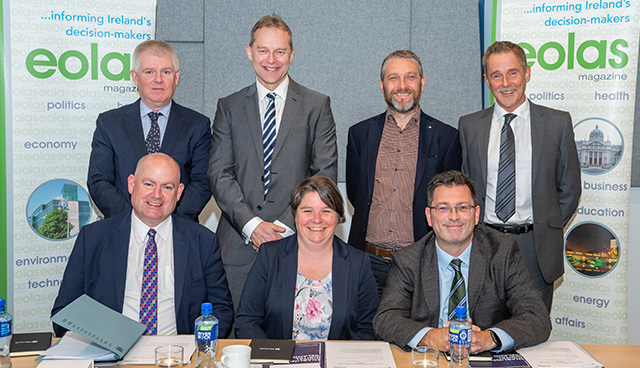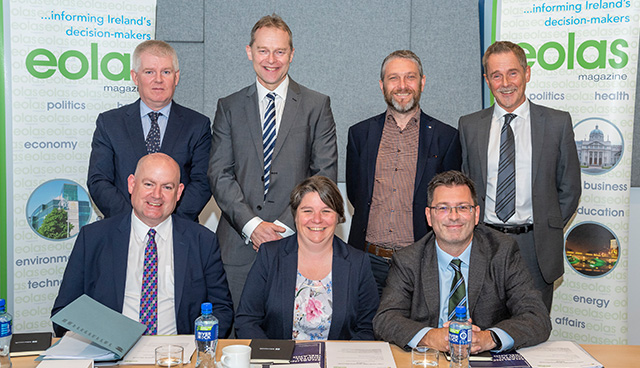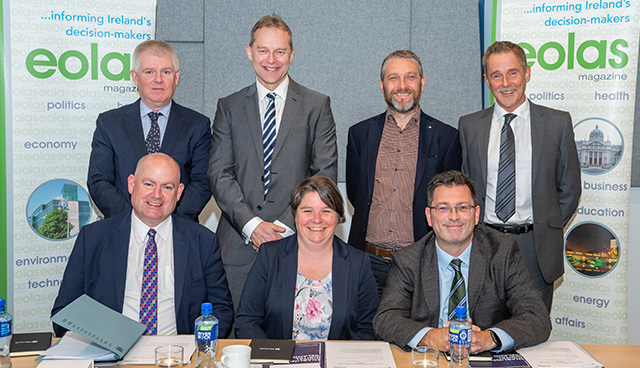 Microsoft Ireland hosted a round table discussion on how to enable 'Digital Ireland' and how benchmarking can identify Ireland's strengths and weaknesses in its journey to become a leading digital nation.
Can a benchmark against the 'Digital 5' countries help assess Ireland's strengths and weaknesses in its journey to become a leading digital society?
Kieran McCorry
Microsoft and the Office of the Government Chief Information Officer (OGCIO) collaborated on 'Enabling Digital Ireland' and the primary objective was to benchmark Ireland's digital competence and digital maturity and to identify opportunities where Ireland could take a leadership position. While there is not a recognised process for benchmarking countries in terms of their digital maturity, the Fletcher School at Tufts University has a digital evolution index (DEI). It applied this to specific countries across three axes: digital enablement for citizens, for institutions and from an economic perspective. There are five leading digital nations in terms of the DEI, called the D5; the UK, New Zealand, Israel, Estonia and South Korea. Fletcher has distilled some of the characteristics of these leading nations into a set of parameters to benchmark against. The results for Ireland were quite positive and we were rated 16th in terms of digital evolution alongside the Netherlands and Germany. However, Ireland was not as well placed in terms of its momentum – the rate of change of its digital evolution – coming in at 47th place. The exercise identified a set of recommendations that we think the State should look at, with Government leading the way for industry to follow. The benchmark against the D5 can help assess Ireland's strengths and weaknesses.
Fiona Penollar
A strength of Ireland is that we are willing to step up and to benchmark ourselves against others. We are always willing to learn and to contribute. It is important that we do that, but it is also important to put any lessons from the benchmarking exercise into an Irish context. For example, from a passport perspective Estonia and New Zealand are at the opposite ends of the spectrum on how to approach identity issues. It is important to include the Irish situation, the Irish mentality and experiences to bring an Irish flavour to any benchmarking exercise.
Tom Gilligan
Ireland's strengths include a very talented workforce and one that is very hungry for IT learning. We have an increasing appetite to use digital services, as seen with the online motor tax which is increasing year on year. We are very open as a society to new digital innovation and technologies. On weaknesses, access to next generation broadband is an issue, particularly in the West of Ireland. Another is keeping up with the pace of change as IT is becoming more and more complex. I believe we need the structures in place to meet the challenges and opportunities laid out in Project Ireland 2040 which foresees our population growing by another million people and benchmarking against the 'Digital 5' will certainly help us realise our ambition.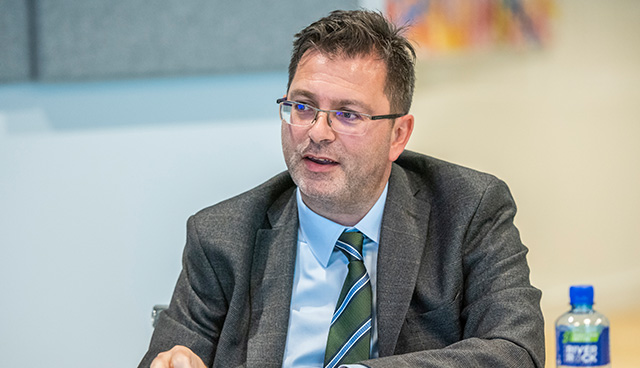 "We need a closer working relationship between the public sector and industry so that each respective entity plays to its strengths." Kieran McCorry
We should look to Estonia, a D5 country, as a benchmark example of what can be achieved, with a population of only 1.3 million and 99 per cent of its government services are now digital.
Finn de Brí
We must benchmark but we need to be careful how we do that. We need a measure of where we are and to look at the value propositions that may unfold when we dig a bit deeper. We constantly need to look at other countries to see what they are doing but we should not follow them by rote. It is important we look for our opportunities and look at our own strengths and weaknesses. And play to our own strengths and find a niche in the digital world for ourselves. Essentially, we are trying to change a culture by changing Ireland from saints and scholars to digital saints and scholars. That cultural change is going to be a huge challenge, as anyone who has tried to change the culture of an organisation, never mind a country, will know. Key elements of changing that culture are education and building trust and sharing a vision of what a digital Ireland looks like.
Barry Lowry
We were keen to work with Microsoft and the Fletcher School, as such benchmarking is a good way of finding out how we compare to other countries and what are our relative strengths and what are the challenges. We have been part of the EU Digital Economy and Society Index (DESI) for several years and were ranked very well in that. However, the Fletcher School assessed things in a slightly different way with different criteria. Our overall performance and findings were somewhat the same but there were some nuances. For example, the Fletcher School puts us behind the UK whereas DESI finds us in front of the UK. Secondly, who was involved was a factor. If you set aside Estonia, who we have a very close relationship with, the other four are not part of Europe – or in the case of the UK, will soon not be part of Europe. The UK and New Zealand are similar to us in terms of culture and language and that is important for issues such as national identity cards, where they are culturally acceptable in Europe but not here. In terms of data privacy and data sharing the UK and New Zealand are closer to how our people think. What is unique to the Fletcher approach is the idea of measuring momentum and we are ranked 47th. That would suggest we don't take investment in technology as seriously as some other countries. That's broadly true as Ireland was probably hit harder by the economic crash than any other economically or digitally advanced country. Therefore, our government has different challenges and investment priorities, for example housing. However, digital is really infrastructure for the future and the report gives us some evidence that will help government fine tune its thinking on technology investment.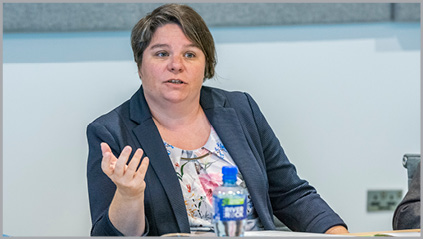 "Working across departments is the real challenge. It's not a technical challenge; it's a mindset challenge that we must overcome." Fiona Penollar
Michael Redmond
Benchmarking has its value. It is generally a good thing to do. There are certainly things to learn from the D5, or D7 as it is now. The real value of the benchmarking exercise is what we do with it. Firstly, we shouldn't beat ourselves up about it. If we are 47th on the momentum scale, we should learn from that; forgive ourselves; and then find out what the other countries are doing in that space. We certainly need to invest in technology. If we are going to get the value of this benchmarking exercise we must invest in those areas highlighted for improvement.
What steps can we take to build trust with citizens across the public sector, helping Ireland move towards becoming a digital leader?
Barry Lowry
There are four things we need to take care of. Firstly, digital services must work and in a very user-centric way. Secondly, they must be safe. The public has had a real jolt about digital safety, especially when they see very prominent banks and retail companies having data breaches. That worries people because they assume that these companies will approach safety and cyber security even more seriously than the public service as digital fundamentally underpins their business. Thirdly, it has got to be absolutely transparent. Transparency is a core aspect of Digital Government because when people see the data you are holding and how you are using it, they get a sense of confidence and GDPR has a role in this. The final aspect is that citizens need to have confidence in their own ability. My mother's digital journey wasn't even a question of trusting government, she didn't trust herself online. One of the themes that emerged from the benchmarking was that while Ireland has a large proportion of people who are extremely competent in digital, we have got a disproportionate number of people with no competence at all. That is a challenge for government and there are only two ways to deal with that; one is through Assisted Digital schemes and the other is training interventions to give people more confidence to use all online services.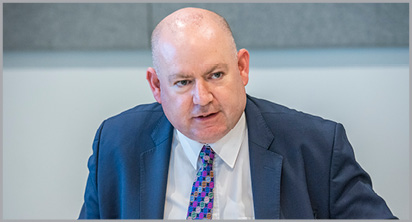 "My vision for local government is to have as many services digitised as possible and delivery of services 24/7." Tom Gilligan
Kieran McCorry
The key is making services easier and safer to use and being open and transparent. I recently came across a decomposition of the notion of trust, breaking it down into privacy, security and accountability. Ireland is making good progress on the privacy and accountability aspects with GDPR and the Data Sharing and Governance Bill. The public sector and industry need to work together on the security aspect. The public has had a significant jolt in the post-Cambridge Analytica era. It is not just about data breaches of banks and retailers, but the very fabric of democracy is in peril.
I would also add one other element; communication. People need to understand that their data is secure and is being looked after. Fletcher talks about 'trust friction', a balance between security and authentication mechanisms when using online services that can turn people off technology. It must be secure and easy to use.
Michael Redmond
From our experience over the last couple of years, we have seen how much the public wants to trust us. A couple of years ago we were building the technology for the individual health identifier and we ran a privacy impact statement. It was a very active campaign with television adverts and stakeholder groups. One of the questions asked was do you trust the Health Service with your data? That got a 27 per cent response. In a follow-up question we asked do you trust eHealth Ireland with your data? That got an 85 per cent response. That showed people want to trust us. An important aspect of trust is that you must earn it and you cannot betray it in any way. For government and the public sector, actions speak louder than words when it comes to trust. We need to show citizens that services are not only accessible but trustworthy. Putting the service in the citizen's hand is key as they are used to being in control whether it is an app or booking a flight.
Kieran McCorry
We need to be cognisant of the trust paradox. This is the mismatch between people's attitude towards large organisations, which is often 'we don't trust them' versus their actions which are sometimes the opposite. Openness, transparency and communication is key to building trust with the public.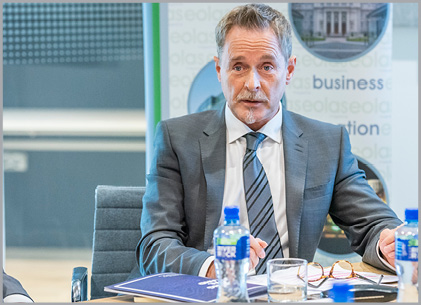 "Essentially, we are trying to change a culture by changing Ireland from saints and scholars to digital saints and scholars." Finn de Brí
Fiona Penollar
Communication is key. We need to show and explain to people why we are going down this digital path. It might seem obvious, but we need to explain that and show them examples rather than general concepts. For example, with passports we are going down the online route for ease of access and the use of technology also allows us to free-up time to focus on protection of identity which is what people want. The technology is just there to help us, and it is not an end in itself.
Tom Gilligan
A recent survey of OECD countries on how much citizens trust their government showed Switzerland at 80 per cent and Greece at 13 per cent. I believe one of the key ways to establish trust is to make data more readily available. Another way is to be transparent about the data, particularly around policy making. In some countries they adopt a crowd sourcing approach by engaging citizens to gather data and information which helps guide public policy. If you want to collect someone's information you need to tell them why and what for and be transparent. People want to trust, but once that trust is broken it can be very hard to win it back.
Finn de Brí
Open data is important for all organisations. In the Oireachtas by making data open we have exposed a lot of our data. It is part of the trust between our politicians and our citizens. We have exposed everything our members do in the chambers, in the Dáil, the Seanad and all the committee rooms. This includes their sponsorship and contributions to Bills, their voting records and work on committees. Until now much of this work was opaque to the citizen. It now gives citizens a very basic trust in our democracy and they can see what they are getting for their votes.
What does the panel regard as being the key challenges that need to be overcome to enable Digital Ireland and how would they address these?
Barry Lowry
We need to ensure we have a compelling case for change. The government has launched the National Digital Strategy, which is going through a consultation phase and there is a real excitement around it. One aspect of leadership I particularly like is the idea of inviting people to co-create a compelling vision of the future. By bringing people in and engaging with them we will build an emotional momentum and then the business case and money will follow. But we must use the money wisely. When talking to senior people they will often quote an example of an IT project that went disastrously wrong. You have got to earn the right to ask for more investment by driving benefits from what you have already been given.
Fiona Penollar
It's important that those of us in the public sector don't sit back and think that it's grand and the OGCIO and his office has it all under control. A shared responsibility is important and that will bring momentum. We need a coherent responsibility not only across departments but within departments. It's bringing all those small steps together that will achieve momentum. One key challenge is that the public sector is often siloed. Working across departments is the real challenge. It's not a technical challenge; it's a mindset challenge that we must overcome.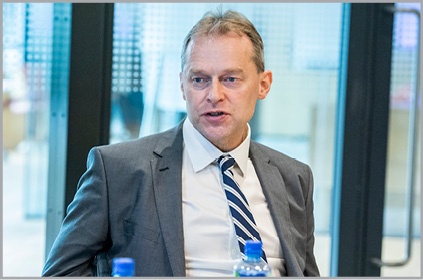 "You have got to earn the right to ask for more investment by driving benefits from what you have already been given. " Barry Lowry
Kieran McCorry
Cohesiveness across government is important. I would also highlight some of the recommendations in the report, such as being digitally driven, digital first and cloud first, being adopted in a joined-up way. We are getting there but we need to be more ambitious and aggressive but not reckless. There are some bigger picture developments such as Project 2040, which includes the Disruptive Technologies Innovation Fund, that will drive digital change.
Tom Gilligan
The greatest challenge is keeping up with the pace of change. Other challenges include the complexity of IT and bridging the talent gap. Although a lot of organisations have an ICT strategy they don't prioritise it and this needs to happen. By increasing our investment, we can enable Digital Ireland to help tackle many national challenges such as severe weather events.
Michael Redmond
Looking at health there is not an awful lot of online digital access for the citizen. There are some bright spots with the increased investment in this area over the coming years. That gives us a huge opportunity to plan for a major transformation. In healthcare there is a huge historical deficit in ICT investment. We have 1,400 systems across the health sector and most of them are not connected. We need to jump a couple of generations to achieve a more connected health service. For us the challenges are to connect the health service digitally and to digitally connect with the citizen. These are two different things but are complementary.
Finn de Brí
The challenge of Digital Ireland is what will it look like in 20 or 30 years? It's not just about putting the citizen online, it's about a digital economy. How do we make ourselves a niche player in the world-wide digital economy. For example, it might be data centres. We already have a growing data centre sector due to our ambient temperatures. We could really go for developing the sector with planning and legislative changes. We have good renewable energy resources which is also a factor in data centre location. We should look to developing the wider digital economy and find our niche.
Is the panel confident that the National Broadband Plan (NBP) will be rolled out in time to enable a consistent digital experience for its citizens nationwide?
Michael Redmond
Broadband is a key enabler for Digital Ireland. In healthcare it facilitates things such as a Skype call between clinicians in Donegal and Cavan. The NBP has had procurement problems but we have been through a similar process before with the electrification process in the 1940s, when we got the same access to every home in the state. We need to decide if broadband is a utility for every home? And if so make it happen.
Barry Lowry
The NBP is not about giving someone in a rural setting the same access to Netflix as someone in the city. It is however critical for many services. For example, small rural schools without an IT capacity can be connected to those with expertise. It will take about 10 years to roll it out and so we need to identify the priority steps – public share locations such as primary schools, health centres, libraries, community centres should be prioritised.
Tom Gilligan
The NBP is about citizens having greater digital access and being able to do their work in a place that is convenient to them. From an infrastructure perspective high-speed broadband can be as important as roads and housing. In Westport, a new Enterprise Centre was recently opened, and people now occupy hot desks rather than travelling to Galway City or further afield to do their work. The NBP is essential and will help connect our communities both urban and rural.
Finn de Brí
Broadband is a public good like housing, streetlighting, access to roads and bus services. It is something everyone should have. It will be a staged investment as some routes will be easier to invest in.
Kieran McCorry
If we want to fulfil our digital society ambitions we need access to good quality broadband. There needs to be prioritisation and realism to what can be done in a given period. We need to be tech-savvy as to how we reach the more remote areas and be cognisant that technology is changing so fast. It may not simply be fibre but 4G/5G or using other parts of the broadcast spectrum, such as TV whitespace. On education we have a physical location here in One Microsoft Place called DreamSpace and it is used to its full capacity. Our ambition is to make the DreamSpace experience available virtually and remotely; high quality broadband is essential for this.
If you could only do one thing to have greatest impact to enable Digital Transformation of Government Services, what would that be?
Michael Redmond
We need to invest in our people and to professionalise our ICT workforce to a level that makes it attractive for young digital professionals. Today's young people will move about a lot in their career and we need to offer them options in the public sector. They might perhaps work for a couple of years' experience with Microsoft before moving into health and then moving on elsewhere. We need to make sure that digital public sector projects are part of that mix.
Barry Lowry
I hope it would be that the same energy and passion goes into the implementation of the National Digital Strategy as is going into its creation. As part of that it would be nice to see the concept of Digital Ireland becoming apolitical, without people looking to knock it but to realise that this is for the benefit of Ireland Inc. and will help Ireland realise its potential of being the number one digital country in Europe.
"We need to invest in our people and to professionalise our ICT workforce to a level that makes it attractive for young digital professionals." Michael Redmond
Finn de Brí
The digital transformation of the Dáil has been my passion for the last two years. The OGCIO has supported us in that but there is one thing that would help the whole public service with its digital transformation. Getting the heads of IT to undertake transformation is a challenge as they are focused on keeping the lights on and keeping their budget tight and doing what they do well. They do not have the capability of doing transformation on top of that. My suggestion is to have cadres of people who can come in and embed themselves in organisations and make those changes. They should bring a budget and help develop a strategy to make the necessary changes – and then leave, as the Romans did. We have used this approach in our digital transformation programmes and it has been very successful.
Tom Gilligan


Having the public and private sectors collaborating closer together will help accelerate the drive towards digital transformation. The pace of change is so quick that no one organisation has all the necessary skills. My vision for local government is to have as many services digitised as possible and delivery of services 24/7. People want to interact in the evening as well and not just during the day. Local Government is about putting people first and collaboration through investment and partnership will achieve this.
Fiona Penollar
The most important aspect of digital transformation is that everyone steps up to the plate and takes responsibility. It is not just an ICT project. It is important to emphasise why we are doing it; to offer citizens 24/7 services. That's why we are doing it, not just to move ourselves up the benchmarking rankings. We are doing it for the citizens of Ireland.
Kieran McCorry
Focus. Health is in the business of delivering better health outcomes. The Passport Office delivers passports. Local government delivers services. Technology companies deliver technology solutions. We need a closer working relationship between the public sector and industry so that each respective entity plays to its strengths.
Round table hosted by