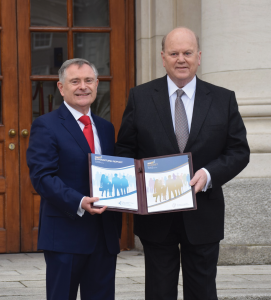 eolas magazine takes a look at what Budget 2016 has in store.
Unsurprisingly, in the run up to a general election, the budget announced by Fine Gael's Michael Noonan TD and Labour's Brendan Howlin TD will prove popular with the many Irish citizens set to gain financially from the policies announced. This good news budget comes at a time of growth. GDP rose 6.2 per cent last year, the deficit is down to 2.1 per cent of the GDP and over the course of the year the government has managed to collect an extra €2.3 billion in tax when compared with last year.
Looking ahead, the budget also predicts that 43,000 more people will find work in 2016 and the unemployment rate will fall to 8.1 per cent. With things looking up and an election on the horizon just what has been offered in this budget?
Headline announcements
By far the most costly measure for the Government is the reduction of the Universal Social Charge rate. The limit at which a person will start paying the charge has been increased to €13,000 and if a person is earning between €18,600 and €70,000 the rate will be cut from seven per cent to 5.5 per cent. It is estimated this will cost the government €772 million in a full year and will put an extra €12 in the hands of a low income worker earning €19,000 and an extra €120 euro in the hands of dual income couples earning €120,000.
Those with children will also benefit from the plans announced in Budget 2016 as free childcare for children between the ages of three and five has been announced thanks to the extension of the early childhood care and education scheme. Child benefit, a sum of money payable to parents of all children under 16 years of age, or under 18 if the child remains in full time education will be increased by €5 a month to €140 euros per child. Families with a new baby will also receive an additional boost with the news that fathers will now get two weeks paid paternity leave and the free GP scheme for children has also been extended to children under the age of 12.
For the elderly and those left to care for them, the old age pension is to rise by three euro a week and the home carer credit limit will be increased to €1,000. The self-employed and home owners will also feel better off with the news of an earned income tax boost of €550, an end to the private levy on pension funds and the news that the local property tax will remain frozen until 2019.
The budget certainly provides a boost to middle-Ireland with many set to feel slightly richer thanks to the policies announced. The only real hit is on those who smoke, as the price of a packet of cigarettes is set to rise by 50 cents. It's hard not to view this budget as one perfectly targeted towards would-be voters but has it done enough to tackle Ireland's greatest social problem, the housing crisis?
Housing problems
It would be unfair to suggest that Budget 2016 neglected Ireland's housing crisis altogether, with the announcement that 20,000 homes are to be built over the next five years on sites controlled by NAMA, primarily in the Dublin area. In the past year around 3,300 homes were built and the sites should provide about 4,000 homes next year, three quarters of which will be in the "starter home" price range of €300,000 or below. However, of the houses delivered so far many of them have been criticised as unsuitable for social housing.
Undoubtedly this will help some first time buyers struggling to get a foot on the market and meet the Central Bank's 20 per cent deposit requirement. However, it is estimated that Dublin needs about 10,000 new homes each year to meet demand and with NAMA required to provide only 10 per cent of what they build next year as social housing, the initiative has been described as a "major missed opportunity" by the head of policy at Ireland's largest social housing association Clúid.
Simon Brooke believes that NAMA should be required to include 20 per cent of its builds as social housing and a further 20 per cent of houses should be supplied with affordable rents to meet the needs of those who cannot afford to buy or pay market rates. Brooke points out that if this were the case, up to 8,000 affordable homes could be provided for next year instead of the 2,000 expected at present. Brooke is also critical of the fact that of the 17,000 social housing units to be provided next year, 14,000 will be owned by private landlords. This he says renders the Housing Assistance Payment as little more than boost to the coffers of landlords who will ultimately receive this "subsidy."
Notable by its absence from Budget 2016 was any measure relating to rent certainty. There are growing tensions between the Minister for the Environment Alan Kelly TD and Finance Minister Michael Noonan TD over how best to deal with this issue with Noonan known to be cautious about linking private sector rent increases to the Consumer Price Index, fearing it could negatively impact investment in the sector. It is expected that a compromise will be reached that will waive development levies for those who build homes and agree to sell below market value along with tax incentives for landlords who take in tenants with a long-term housing need but these measures didn't make it into the budget.
Similarly, the €17 million boost to the homeless budget has been classed as little more than a provision to pay for the cost of increased emergency accommodation and according to Focus Ireland's director of advocacy, Mike Allen "it does nothing to address the cause of homelessness and keep people in their homes."
Criticisms
As expected the opposition have criticised the budget with Fianna Fáil Finance Spokesperson Michael McGrath labelling it as a "shortcut to popularity" and one that will only serve to create deeper divisions in society. While Sinn Féin's Finance Spokesperson Pearse Doherty stated his belief that inequality will be seen as the hallmark of this government as it is the wealthiest in the state who benefit most from reduction in the Universal Social Charge decrease.
While acknowledging that the budget offered something for everyone including a welcome rise in the minimum wage to €9.15 an hour, Social Justice Ireland (SJI) has lamented the fact Budget 2016 ultimately serves to widen the financial gap between rich and poor. SJI point to the fact that a single unemployed person will gain €95 a year while those who earn over €75,000 will gain nearly ten times as much.
With all this considered it is clear to see that unlike in 2010, this "politically costed" budget is sure to find favour with those likely to vote in the next election.
€61m
Self-employed: The introduction of an earned income tax credit of E550
€82m
Childcare: Extension of the Early Childhood Care and Education Scheme
€772m
USC: Increase in bands for the universial social charge, and cut in rates
€72m
Child benefit: An increase of E5 per child per month