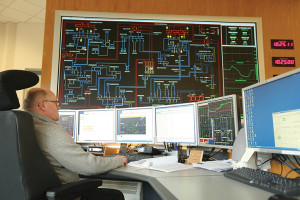 EirGrid has reiterated the importance of its grid development strategy while introducing new alternatives for planned major infrastructure projects. eolas considers the Grid25 review.
EirGrid has published a new draft strategy for the development of Ireland's electricity transmission grid. 'Your Grid, Your Views, Your Tomorrow' is the latest review of the company's Grid25 national strategy and is currently open to public feedback. The revised strategy is based on three key strands: transparent engagement with communities; using new technologies; and a commitment to make the existing grid work harder before building new transmission infrastructure. New estimates for the programme place costs at a range between €2.7 billion and €3.9 billion, depending on which project options are implemented. A previous review had anticipated a total cost of €3.2 billion while the original estimate for Grid25 was set at €4 billion.
Grid25 was initially published in 2008 as EirGrid's long-term strategy for developing the grid and provided details of the investment required in order to secure electricity needs for the future. However, given the shifts in economic performance since 2008, the strategy has been updated to reflect the current climate. The downturn has resulted in reduced demand forecasts for 2025 and beyond.
At the same time, there is a continued requirement to develop existing infrastructure. Over 60 per cent of transmission lines within the system have been in place for over 35 years and the lifespans of particular grid assets are coming to an end. Maintenance and replacement of infrastructure is essential.
The draft strategy pledges to utilise appropriate technologies to extract more from the existing grid network, avoid placing additional burdens on communities and prevent further cost to industry in efforts to meet electricity demands. This means running the existing grid to its maximum potential before new transmission infrastructure is selected as the optimal solution. Since its inception, the Grid25 strategy has resulted in 337km of new circuits and 1,281km being uprated to increase capacity without additional infrastructure.
A revisiting of the strategy has meant that several major EirGrid projects have come under renewed scrutiny. The draft strategy finds that there is a continued demand for the North/South interconnector between Woodland, County Meath, and Turleenan, County Tyrone. Cross-border electricity suppliers are currently unable to trade electricity at peak times, which prevents cheaper surplus energy generated on one side being available to consumers on the other side. EirGrid again recommends a 400kV overhead line as the most appropriate solution for the project.
On the other hand, alternatives are being considered for the Grid Link project in the South East and the Grid West project. A fresh analysis of Grid Link confirmed the need to reinforce the grid between counties Cork and Kildare. However, changing demand forecasts, upgrades to existing lines and advances in technology mean that this boost may not necessarily require new infrastructure.
Series compensation could be introduced (a European first) to enable increased power transmission on existing lines. This could enable a compromise with residents who had previously vociferously opposed the construction of additional grid assets. EirGrid has stated its intention to continue to evaluate all three options open to Grid Link before these are submitted to the independent expert panel in autumn, followed by a public consultation.
Likewise, a third potential option has been identified for Grid West which would produce a combination of a 220kV overhead line and partial use of underground cable (up to 30 km) in place between Mayo and Roscommon, rather than a direct current underground cable and a 400kV overhead line.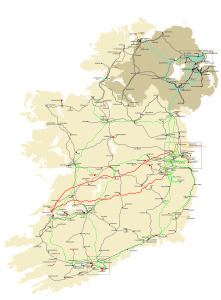 An independent review found the updated Grid West report to be objective in comparing both the overhead and underground options, particularly with regards to their technical, economic and environmental impacts. The expert panel has now provided its opinion to Energy Minister Alex White and the report is expected to be opened for public consultation in the coming weeks.
Benefits
Electricity transmission infrastructure has two core long-term benefits for the economy. It facilitates the power capacity which will support new investment and jobs, and it ensures cost-effective competitiveness. EirGrid affirms that the draft strategy will provide sufficient capacity to meet demand forecasts in all regions.
Key drivers of the grid development strategy include EU energy policy and local economic context. EU policy focuses on creating low carbon and energy efficient economies. Investing in increased grid capacity and operational technologies will facilitate a reduced reliance on imported energy and increasing the ability to generate electricity from renewable sources. In terms of the economy, the IDA's attraction of high-tech FDI and an increase in other high-usage customers has created a demand for additional capacity in regions such as Greater Dublin. EirGrid maintains that investment in the transmission network will support bids for further FDI and subsequently facilitate economic growth.
At the launch, EirGrid Chief Executive Fintan Slye stated: "We published Grid25 in 2008 based on the economic information and growth forecasts available at that time. As we all know, Ireland has withstood significant challenges in the intervening period." He continued: "EirGrid must ensure the necessary grid is in place to ensure that Ireland remains competitive – fostering economic growth, attracting new investments and supporting indigenous jobs." When the final strategy is published later this year, EirGrid intends to integrate its objectives with the Government's Action Plan for Jobs and the IDA's Regional Development Strategy.
Following the decision to reassess its consultation process, the state-owned company has reiterated its commitment to working with local communities in order to build support for new infrastructure. Additional EirGrid staff will be located around the country and a series of independently chaired regional discussion forums will be held in coming months. A community gain fund has also been proposed to compensate affected communities and homeowners. Welcoming the draft strategy as "crucial" for economic recovery, Minister White stated: "Following public consultation and a review of future energy needs and technological possibilities, the draft strategy presents a fresh approach that will be welcomed by many. It will strengthen the electricity grid while ensuring that new infrastructure will be built when a clear need is identified and when all options have been fully explored." He added: "I encourage everyone to review the proposals put forward by EirGrid and submit their comments on the draft strategy."
Similarly, ESB released a brief statement welcoming the publication of the draft strategy and stated: "The availability of sufficient electricity grid capacity, in a timely and affordable manner, is a key enabler of Ireland's economic development. The grid development strategy provides an opportunity for open, public engagement on how infrastructure, which is critical to meeting the future electricity needs of society and the economy, will be provided."