Technology
eInvoicing: A building block for the digitalisation of Procure to Pay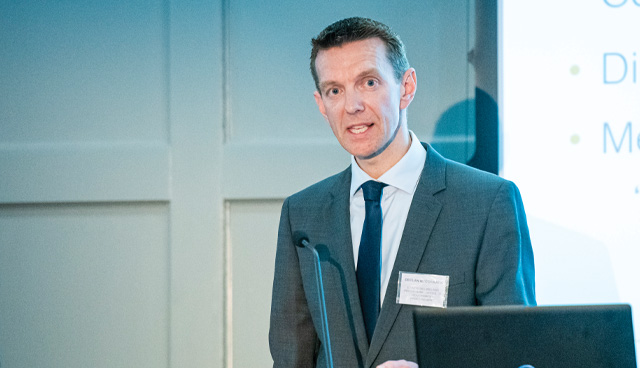 In 2020, the public sector reached an important milestone towards the greater use of digital to do business, in the form of electronic invoicing (eInvoicing) in public procurement.
Declan McCormack, eInvoicing Ireland Programme Manager in the Office of Government Procurement (OGP), outlines the importance of collaboration, communications and above all, suppliers, in the next stage of this digitalisation journey.
Procurement accounts for approximately €15 billon of public money per annum. The timely and efficient receipt and processing of invoices for the supplies, services and works, that businesses provide to the public sector is vital to the management of the public finances, the delivery of public services and the operation of businesses within the economy. Submitting electronic invoices is now a real and widespread option for suppliers to the public sector.
Since April 2020, all public bodies must be able to receive and process electronic invoices (eInvoicing) in accordance with the European eInvoicing Directive (2014/55/EU). This Directive applies to invoices that relate to public procurement contracts within all EU member states. Over the last two years, the eInvoicing Ireland initiative has helped public bodies understand how they can prepare for and meet this legal requirement and to understand the broader benefits of digitalisation.
Achieving widespread support for eInvoicing, via the Peppol network, is a significant step, given the diverse invoice-processing landscape in the public sector. Responsibility and operations for invoice processing are highly devolved across more than 8,000 public bodies, with many disparate implementations and processes. Each public body is expected to avail of a shared services solution or establish their own eInvoicing capability.
Collaboration to establish a standardised model for eInvoicing, across the whole of the public sector was vital in order to accommodate the decentralised nature of invoice processing. "While the initiative is led by the Office of Government Procurement, the eInvoicing Ireland programme is very much a collaboration with business and technology services leaders from across our public sector partners, in health, central government, local government and education. This collaboration and moving forward together has been the programme's real strength," explains McCormack.
While there is an obligation on public bodies to be able to receive and process, it remains optional for suppliers to choose to submit their invoices electronically in accordance with the European eInvoicing Standard. There is no legal obligation for suppliers in that regard.
Informed suppliers are key to driving uptake
The focus is now moving to raising awareness among suppliers as more public bodies seek to increase the volume of invoices being submitted electronically, as eInvoices. Several initiatives are underway across the public sector, as the main finance shared services functions and a number of individual public bodies, look to suppliers to help them jointly reap the benefits of the digitalisation of invoice processing.
However, businesses will be no strangers to requests to engage with client initiatives to adopt new digital-based practices aimed at creating efficiencies. In many cases, these initiatives are primarily focused on benefits for the client organisation rather than the supplier. Also, the diverse range of approaches and technologies suppliers are asked to adopt by their client-base can on the whole be costly and undermine any potential benefits for the suppliers.
McCormack believes: "The national eInvoicing approach aims to be supplier-centric, facilitating a common method of submitting eInvoices to all public bodies, providing a 'connect once and connect to all' option for suppliers to reach their public sector clients."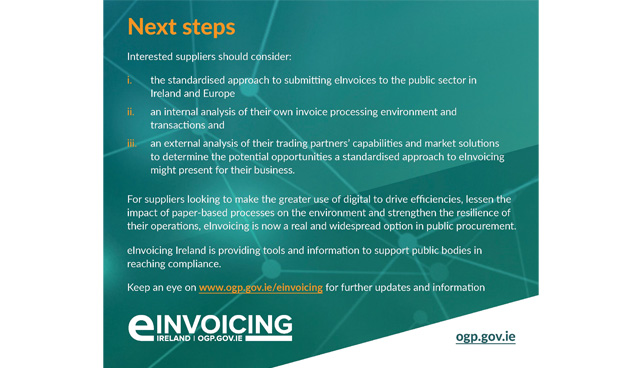 McCormack also acknowledges that a limited awareness among suppliers, of the eInvoicing model in public procurement is a key challenge to driving uptake. "Support by all public bodies for the European eInvoicing Standard, and the use of the Peppol network for delivery of eInvoices, simplifies the choices for suppliers and helps to reduce or avoid costs when they are considering investing in doing business digitally with public sector clients at home and internationally. This is a message we need to continue to communicate with the help of our sector partners, to help businesses make an informed choice on eInvoicing," he explains.
"There is a strong appetite across our partners in the public sector for enduring collaboration on this digital journey. A common priority is to address the supplier awareness challenge through clear and consistent messaging and broader engagement with the supplier community. As we move into 2021, there will be a focus on increasing communications with suppliers. Sharing information explaining the benefits and option that exists to submit invoices electronically to the public sector, the experiences of others, and the practical steps to make it happen."
An example of this is the eInvoicing Ireland Supplier Factsheet which has been recently made available online at the OGP's eInvoicing Ireland website (See Figure 1).
In conclusion, McCormack recognises it is not sufficient to assume a 'build it and they will come' philosophy to the adoption of eInvoicing. "eInvoicing is a building block, an enabler for the public sector and businesses to embrace
digitalisation. It is vital that we provide the information and supports that demonstrate a consistent and practical approach to digitalisation with benefits to the public sector and business alike," he says.
Office of Government Procurement eInvoicing supports for public bodies
To facilitate public bodies in reaching compliance with the eInvoicing Directive, the Office of Government Procurement established a National Framework Agreement for the provision of eInvoicing and Peppol networking services to the public sector in Ireland. The eInvoicing Ireland Steering Committee, comprising senior representatives from the four OGP sector partners across Central and Local Government, Health and Education, informed the establishment of the Framework. The comprehensive Framework, with three separate Lots, offers services and solutions which are compliant with the European Standard on eInvoicing as prescribed by the eInvoicing Directive and caters for the diverse range of needs and requirements across all public sector bodies.
The eInvoicing service providers on the Framework are connecting public bodies to the Peppol network and offering solutions and services to enable basic compliance with the Directive as well as a more fully integrated approach to eInvoicing, facilitating 'straight-through processing'. In this way the eInvoices can be transmitted directly into back office systems as structured digital data fields and then processed for payment, allowing goods receipting, tracking and spend analysis, whilst minimising the need for manual intervention. eInvoicing and straight-through processing are helping businesses pay and receive money faster and more efficiently.
For further information
Please log onto www.ogp.gov.ie/einvoicing or contact: einvoicing@ogp.gov.ie
Accessing the Framework

For anyone looking to access the OGP eInvoicing Framework, please log onto the OGP Buyer Zone via www.ogp.gov.ie and select/ search as follows:
Category: Managed Services
Keyword: 'PEPPOL' or 'eInvoicing systems'
OGP Clients must register to gain access to the Buyer zone available to all public service buyers accessing live contracts/frameworks.