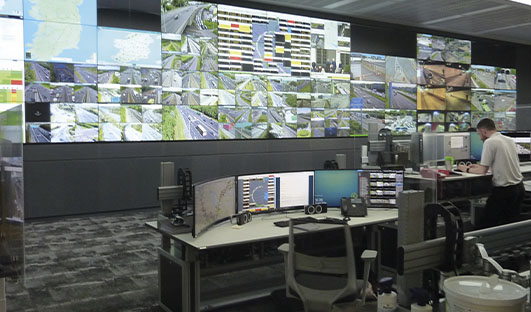 For more than 50 years, Egis has designed, built, and managed hundreds of flagship urban and transport projects worldwide. We offer you deep technical expertise and a partnership to last the lifespan of your project, and beyond.
We have the unique ability to deliver all forms of urban transport projects and manage them through their lifecycle, from upstream studies to upgrades or renewal. By working with you in the long term, we help you to ensure that your assets are operationally, financially, and environmentally efficient throughout their lifespan.
Although we are a large global company, we offer you a personalised service combined with an ethos of responsibility and positive environmental impact.
"Competences are the first thing we look at to choose our engineering partner, and Egis won over all the others based on its expertise and capabilities as integrator on large metro and light rail transit projects," reads an extract from our latest customer satisfaction survey.
Our expertise has been gained from managing the world's most complex projects, covering metros, tramways and light rail transit, cable cars, people movers, buses, and stations.
Mobility design is undergoing radical changes, from the need to prepare for climate change to multimodal infrastructure and services.
As 'Mobility as a Service', low-carbon solutions, green mobility and people-friendly cities become more important, existing infrastructure and services need to be reshaped.
The right solution is different for every city and region, so we are able to define the most appropriate mobility services in your urban or interurban environment, by capitalising on Egis' international footprint.
Our key areas of expertise:
• institutional and organisational support;
• transport policy and planning;
• modelling and transport economics;
• traffic engineering and traffic management;
• smart mobility systems and equipment;
• speed enforcement;
• urban tolling and free flow tolling;
• smart parking and traffic management;
• booking and payment technologies;
• multimodal hubs;
• hypervision and regional/national control centres; and
• low emission zones and congestion charging.
Egis awarded a five-and-a-half-year contract to deliver the UK's largest clean air zone.
In support of Greater Manchester's aim to drive the growth of a healthy and sustainable city-region, Egis have been awarded a new contract to help deliver the largest clean air zone in the UK.
The clean air zone will operate seven days a week, 24 hours a day. It will be enforced by a network of Automatic Number Plate Recognition (ANPR) cameras, with vehicles liable to pay the charge using an online portal with discounts and exemptions available for some vehicle types.

T: +353 1 469 1200
E: info@egis.ie
W: www.egis-projects.ie