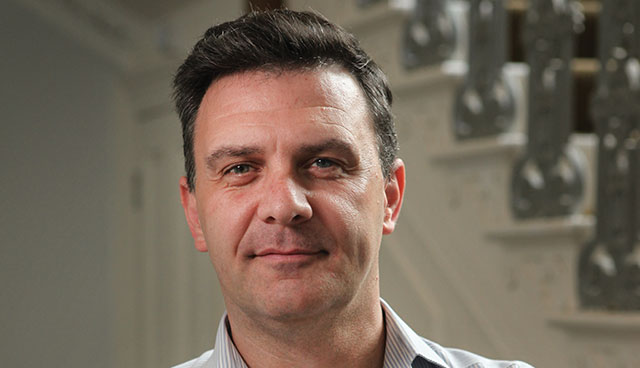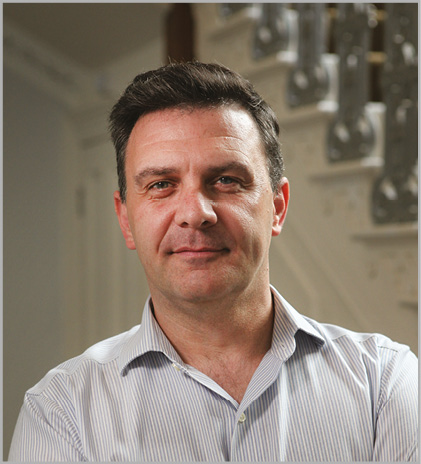 "For me, talent management is about how an organisation attracts, retains and develops talent. That would be the headline definition." Ciarán Galway discusses talent management with Tristan Aitken, UCD's Director of Human Resources, at the Belfield Campus.
Outlining the difference between the old Personnel administration model and the role of HR today, Aitken describes a picture of the enforcers of the rules, which is obviously quite narrow thinking. "Whereas now, if you look at what a HR function should be delivering for an organisation, is an ability to impact positively across the whole organisation," suggests Aitken.
Within this context, the UCD HR Director interprets talent management as a growing concept, driven by a recognition that organisations are now consistently locked in a war for talent. Citing recently published Gartner research, Aitken outlines that across 500 multinational organisations globally, the shortage of talent represents the single biggest concern for both the CEOs and HR directors.
"It comes down to supply and demand. As an organisation becomes very clear on what its ambitions and objectives are in order to deliver a strategy, it begins to appreciate that there are specific skills, specific qualities that are required and those skills are in shorter supply than the existing demand – hence the 'war' for it," he explains.
For Aitken, a key feature of talent is the balance of skill and will. "You can argue that the technical skills can be trained, but if you're looking for other behaviours or a mindset that someone has in terms of being a collaborator or being able to communicate with impact, to inspire and to engage; those are skills that are not so easy to train. People tend to either have it or they don't. That's where the battleground is."
Rationale
Aitken maintains that in the past, insufficient time and attention was invested in talent management. "Certainly, within recent years, the appreciation at an organisational level, that actually we really need to focus on critical skills and capabilities has increased exponentially.
"This applies to what we're trying to do here in UCD. For me it's about having the right people, with the right skills, at the right time and in the right place. Easier said than done, but this will give you competitive advantage across all areas of the organisation. It doesn't have to be seen as the requisite of a senior position within the organisation, talent needs can apply across the organisation and will vary over time."
The University 2015-2020 Strategy sets out as an objective "Attract and retain an excellent and diverse cohort of students, faculty and staff. At the heart of this objective is the aspiration of having excellent people (faculty and staff) working in an environment that supports them and develop them.
"The HR strategy is designed, of course, to be directly aligned to the delivery of UCD's overall strategy. That was developed in consultation with a huge cross-section of the university community. I asked what are we doing well and what we should be doing differently. What came from that were some very specific themes that we could aggregate together, I consulted with the President and the leadership team and secured alignment.
"Talent management, therefore, is a key pillar of the HR strategy. When you consider the size and scale of this operation and our matching ambition, it is vitally interwoven. If we don't deliver on all the things relating to talent management, we will not be able to do all that we want in the strategy, but we can deliver it, I believe we can do it."
Workplace wellbeing
Employment, Aitken asserts, is more than just coming to work and completing your day job. It is a social experience, or it should be. "Factors such as how an employee feels about their workplace, their employer and whether they feel supported in their growth and development, come together to create a sense of well-being in your workplace.
"If you join the dots and someone feels a greater sense of wellbeing, then actually what happens is they become more committed to the organisation; they feel more loyal as a consequence. What happens then? They invest more time and effort and productivity goes up. Everyone deserves to work for a great line manager; someone who gives you support and direction, encouragement, challenge and growth and helps you feel great about your work and an organisation is much more likely to deliver against their ambition. It's critical."
On the other hand, Aitken contends, those on the receiving end of poor line management often feel very differently about their organisation, much less engaged and that's a lose-lose situation.
"Something I fundamentally believe in is that people don't leave organisations; people leave people. That's why I believe that everyone should have a great line manager.''
Workforce trends
Amidst trends pointing to an increasingly fluid workforce, there is a growing appreciation among employers that, in order to increase the chances of delivering against a business strategy and associated ambitions, it is necessary to address talent management. Likewise, employees are increasingly aware that it is important that employers or organisations seek to retain and develop them.
"We are seeing that particularly with the millennial generation coming through. Gone are the days were someone would come into an organisation and have a 40-year career. Gone. The new generation is turning everything on its head with the expectation that they will possibly reinvent their career every two to three years.
"Think about the impact that has on employers. They must become increasingly agile to be able to respond to employee's needs if you're going to be able to retain them. An employee doesn't normally add value back into a job until their second year of hire and yet, the millennials are talking about leaving then. So, an employer must change their way of thinking if they wish to extract value and retain the talent. Simultaneously, employees are increasingly aware of the leverage that they can have with an employer based on that need for agility."
Such trends are going to further sharpen the focus of talent management. If organisations cannot even attract talent in the first place, then it is likely to face significant challenges. Assuming, however you have attracted the talent, the next challenge is how to retain it.
"I can implement the 38 change projects that my team have in order to deliver the strategy, but fundamentally it is about shifting the culture."
Obstacles
Aitken acknowledges that there are several prevailing challenges with the potential to hinder the talent management component of an HR strategy. One is the aforementioned battle for talent. "If you look at the market right now, there is a fourth revolution coming through; the digital revolution. We're clear that acquiring people with key abilities around digital skills is a real challenge." From his own perspective, within a third-level institution, this is particularly true of the competition to attract niche researchers and faculty.
A second challenge, which applies internally is one concerning culture and the existing workforce. "There is no point investing energy to attract the right talent if you don't have an enlightened leader or manager who is then able to work with that newly attracted talent to help them settle in, provide clarity around expectations and help them grow and develop. This is why we are investing so much resource into developing our leaders and people managers. We have delivered leadership development for our top 100 or so leaders and are about to launch people manager development for around 500 managers in UCD.
"It certainly is about transformational culture change, I think this is my biggest focus. Yes, I can implement the 38 change projects that my team have in order to deliver the strategy, but fundamentally it is about shifting the culture from one that is already good to one that is great," he outlines.
Future-proofing
As the Director of Human Resources for the second largest employer in Ireland, Aitken has a succinct code of advice for employers. "Firstly, be clear on your organisational needs now and between three to five years out. 'Ask yourself, what am I trying to achieve as an organisation and how does that relate to the talent that I currently have?' Secondly, overlay that with all your talent needs, not necessarily all your workforce, but be very clear on what the keystone roles are and how these will change as the organisation changes over time. Thirdly, look at your gaps and any risks that you might have.
"Then I would say: review that plan twice a year to make sure that you continue to close the gaps. Do that and you'll definitely increase your chances of being future-proof and have the right talent in the right place at the right time."
These principles, he contends, should apply across organisations regardless of size. "You wouldn't necessarily assume that the definition of talent applies to all employees in your organisation. You might adopt the approach that we've applied here, to reflect at certain junctures that there are roles that are more crucial to others, depending on what you're trying to achieve in your strategy.
"Once you have built up a view of readiness and a perspective on gaps then you now have an action plan which you can start delivering against. That allows space for a very focused career development plan and this is how we can enable talent retentions, because now they have a career path which previously was not there."
Ambitions
Having been in position at UCD for a year and a half, Aitken spent the first six months consulting and identifying needs, before formulating and launching the HR strategy. "The strategy has been live for a year now and I'm seeing significant traction. We have delivered on everything that we said we would do within that first year. I have an excellent team and together we have a very clear plan about what needs to be delivered in the next two or two and a half years from now.
"Two and a half years from now we will have delivered the current HR strategy, one of our measures of success is to be in the top-100 ranking in the world, we will also be in the top-100 for employer reputation. I want UCD to be recognised. It's not about getting an award. It's about getting the recognition that we are doing something remarkable here, releasing the huge potential within UCD and being known as an both an employer and university of choice."
Tristan Aiken
Tristan Aitken has forged a career in human resources, in particular organisational and cultural change, clocking up over 20 years' experience. Starting on "the ground floor", he completed his first degree in psychology, focusing on occupational psychology, followed up by a Masters in human resource management and has just started an MBA with the Smurfit Business School. He has worked across a diverse range of industry, sectors and countries. Over the intervening years, he developed a passion for leadership and growth, whether that be with an individual, a team or an entire company.
Outside of work, the native Glaswegian is a father of two who are themselves in higher education. He enjoys horse-riding, gardening and spending time with family and friends.