Issues
Economic Recovery Plan published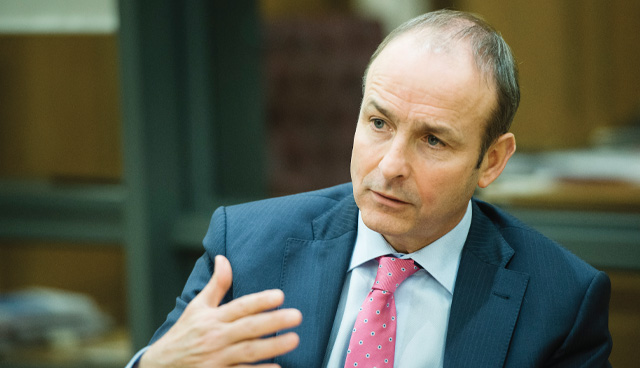 The Economic Recovery Plan, published in June 2021 as Ireland's vaccination programme continued apace, promises to fund the next stage of recovery from the Covid-19 pandemic and to kickstart a "green and digital job revolution".
Rapid job creation and economic growth after the pandemic were the two central tenets of the plan that Taoiseach Micheál Martin was keen to stress at its launch in June. With initial funding of €915 million through the National Recovery and Resilience Plan, under the European Recovery and Resilience Facility, and the forthcoming revised National Development Plan, the plan pledges to "create a green and digital job revolution" that will see employment levels exceed pre-pandemic levels, with an aim of 2.5 million people employed by 2024.
"We will help people return to work through reskilling and upskilling opportunities; drive a renewed innovative economy; and invest in infrastructure, housing and reforms for our longer-term prosperity," Martin said at the launch. "Our core objective is to restore, and then go beyond pre-pandemic employment levels. To not just rebuild, but to build back better."
The four pillars of the Economic Recovery Plan are: ensuring public finances "are sustainable for a lasting recovery"; helping people back into work "by extending labour market supports and through intense activation and reskilling and upskilling opportunities", driven by Pathways to Work 2021-2025; rebuilding sustainable enterprises through "targeted supports and polices to make enterprises more resilient and productive"; and a "balanced and inclusive recovery" through strategic investment in infrastructure and reforms that "enhance our long-term capacity for growth, balanced regional development and by improving living standards".
The key points contained within the plan include:
the extension of the Employment Wage Subsidy Scheme (EWSS), the Pandemic Unemployment Payment (PUP), and the Covid Restrictions Support Scheme (CRSS), as well as the enhancement of both EWSS and CRSS;
the extension of the Commercial Rates Waiver, new additional Business Resumption Support Scheme, and extension of Tax Debt Warehousing Scheme;
continued supports for worst-affected sectors including aviation, tourism and events, such as the extension of 9 per cent VAT rate for tourism and hospitality sector, supports for live entertainment and events sector, and a roadmap for the aviation sector;
strategic investment that will "drive the digital and green transition, as well as supporting social and economic recovery and job creation";
"overarching ambition" to exceed pre-crisis employment levels by reaching 2.5 million people in work by 2024;
"help people back into work, and into new sustainable job opportunities" through "increased activation, and reskilling and upskilling opportunities";
a pathway to a "strong, resilient economy", aligned with the government's green and digital ambitions;
learn lessons from the pandemic by "building a balanced and inclusive recovery, which leverages new ways of working", and by improving labour market supports and living standards; and
ensuring sustainable public finances for a lasting recovery.
Working with the initial €915 million of funding to be provided through the National Recovery and Resilience Plan, projects will be grouped into three priority groupings: advancing the green transition, to which €503 million has been pledged; accelerating and expanding digital reforms and transformation, to which €295 million has been pledged; and social and economic recovery and job creation, to which €181 million has been pledged. The plan states that this approach "will be further reinforced through multi-billion capital investment in the upcoming revised National Development Plan, which has sustainability and regional development at its core, and ambitious housing targets under the forthcoming Housing for All Strategy".
The Stability Programme Update published in April 2021 forecasts the continuation of "robust" GDP growth, with domestic demand set to rebound strongly, particularly in 2022. The update also stated that the labour market bore the brunt of the pandemic's impact, with the unemployment rate projected to average 16.25 per cent this year before declining to 8.25 per cent next year. The level of employment is projected to increase next year, but to remain below its pre-crisis peak until 2023.
After a 5 per cent deficit of GDP last year, a further deficit of 4.7 per cent is predicted for 2021, with a resulting increase in public debt to an estimated €239 billion this year, or 112 per cent of GNI*. The update forecasts an improvement to 2.8 per cent of GDP, with the debt ratio falling to 107 per cent of GNI*.
The impact of the pandemic has been "unequal" in terms of the labour market, the plan says. The sector with the highest number of people in receipt of the Pandemic Unemployment Payment is accommodation and food service activities, followed by wholesale and retail. The effect was also unequal in terms of ages of those affected, with 25 per cent of those on PUP in April 2021 under 25, and a total of 47 per cent under 34.
The plan states that, in building for the recovery of the economy, "it must be recognised that not all previous jobs will return" and that "capacity constraints may emerge very quickly in certain areas, especially given the scale of investment required in areas like housing and decarbonisation".
Along with the extension of the welfare programmes as mentioned above, the plan will utilise the Pathways to Work Strategy 2021-2025 as a means of recovering employment levels. The strategy has "an overall target of increasing the caseload of the Public Employment Service by 100,000 per annum and will use digital tools to increase outreach and speed". A new Work Placement Experience Programme, to reach 10,000 participants by the end of 2022, an accelerated rollout of the 50,000 education and training places to support upskilling and reskilling for the labour market, and an additional 3,000 places on State Employment Schemes will also support the attempts to rebuild the labour force.
On top of the initial €915 million in funding, the plan also makes mention of Ireland's share of the EU's Brexit Adjustment Reserve, where "Ireland's proposed allocation represents just over 20 per cent of the overall fund, or just over €1 billion". It is stated that "relevant areas for support will include enterprise supports; supports for the agri-food sector; fisheries; reskilling and retraining; and infrastructure for the ports and airport".
The funding under the revised National Development Plan will set out revised sectoral capital allocations for the upcoming 10-year period out to 2030, and will "support a strong regional aspect to infrastructure investment, generating local employment and improving the capability and capacity for economic activity to take place throughout all the regions".
"This Economic Recovery Plan will kickstart a jobs-led recovery and propel the economy forward to a more sustainable, digital and secure future," Taoiseach Martin said upon its launch, hailing it as the way forward for the Irish economy and labour market. "The renewed supports, investments and policies set out in this plan will position us firmly on this pathway."