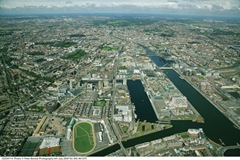 Plans are underway to develop Dublin into a modern driver of economic growth that can stand tall on a world stage.
Dublin is currently a city of international importance on par with Zurich, Amsterdam, Chicago or Frankfurt, but it has the potential to be a world city like Barcelona, Toronto or Sydney.
That is according to Trinity College Dublin economist Constantin Gurdgiev who aired his views at a planning session of international experts organised by Treasury Holdings, looking at how people will live and work in Dublin in 2020.
Gurdgiev also said that internationally traded services (where consultancy companies sell professional services to sectors dealing with treasury management, education, small and medium sized enterprises and environmental services) are the most competitive source of future growth for Ireland. According to the economist, internationally traded services will be focused in Dublin because of access.
"Dublin is Ireland's biggest driver of economic growth," Gurdgiev said.
He calculates that by 2010, 66.7 per cent of all high value added jobs in Ireland will be located in the greater Dublin area. This figure was 62.7 per cent in 2000.
By 2020 Dublin is likely to account for over half of all GDP and the city will need to accommodate people in order to deliver this growth, Gurdgiev predicts.
Dublin's population is expected to grow to 1.7 million in 2026, by which stage the city will accommodate 29 per cent of Ireland's population and demand for residential space will increase by over 300,000 residents by 2026, accounting for up to 25 million square metres.
Gurdgiev concluded that in the long-term "Dublin will definitely need more and better development at transport hubs, in the city centre and most particularly in places like the Docklands."
Ringsend, Poolbeg, the Heuston gateway and Spencer Dock were identified as key development areas.
Dublin City Council has opened a public consultation on their draft Dublin City Development Plan for 2011-2017. The plan identifies a number of key areas on which it plans to act. Many of the issues raised reflect what was said by Gurdgiev. In addition the council have showcased their plans for the future of the city in an interactive multi-media exhibition in their Woodquay venue called 'My city'. The exhibition focuses on six areas relating to the makeup of the city; environment, culture, places, movement, enterprise and people. It identifies that work and social life are becoming more entwined and instead of isolated business parks, future workplaces are expected to incorporate a mixed use community of offices near homes, gyms, cafés and leisure activities. This means there will be a strong demand in the future for appropriately designed neighbourhoods for people to work, live and play.
Infrastructure
The council notes that it needs to support the primacy of the city as a driver of growth. Infrastructural investment is needed to maintain Dublin's special role at the top of the retail and employment hierarchy, and the expansion of educational institutions is required to attract a qualified international workforce. The council have voted in favour of high-rise buildings in certain areas.
It also plans to build on and promote the Rosslare-Dublin-Belfast economic corridor in order to maximise north-south links and the development of an all-island economy. It will also support initiatives such as the Creative Dublin Alliance in order to drive the development of knowledge, innovation and creativity in the city.
Sustainable Dublin
A more sustainable city where energy and water use is reduced and waste management is improved is envisaged by the council.
It plans for the inner city to become more healthy and green with more trees, parks, markets and spaces.
Urban form and spatial structure
The council also identifies a need for sustainable design criteria and a compact city with quality neighbourhoods. It agrees that the development of urban villages and sustainable neighbourhoods would support public transport and economic clustering.
They intend to get support for projects such as the airport and Dart underground rail links; the North Dublin wastewater treatment works and the orbital collection sewer.
Other proposals are to complete new district centres at North Fringe, Northside, Poolbeg, Naas Road and Crumlin.
Population and housing
There is a general concern among the population about the housing market and vacancy rates. There is a need for a mix of housing types and apartments should be better designed to attract families to live in Dublin.
The council sees that in recent times, Dublin has seen the growth of a promising network of public spaces such as the Liffey Boardwalk and Grand Canal Dock. It is planning new spaces at the Liberties area, and the regeneration of Fatima Mansions, Smithfield and Ballymun.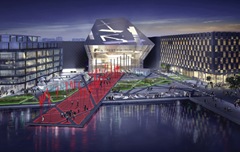 Economic development
In their development plan, the council note that Dublin is one of the most open city economies globally and it must compete with other cities throughout the world to attract investment, visitors and scarce highly skilled talent.
Corporate headquarters should be provided according to the council and it has been agreed that corporate firms should be moved out of Dublin 2 and high quality 21st century offices should be developed.
The council will incorporate national economic policies and programmes from Forfás; the Industrial Development Authority; the National Economic and Social Council; the Economic and Social Research Institute; Enterprise Ireland, and the National Competitiveness Council into its development plan.
Movement and transport
Developing an integrated public transport system throughout the city is a key issue, according to the council. While they are not directly responsible for public transport provision, (Dublin Bus and the Railway Procurement Agency have this remit), they do have an important role in identifying and safeguarding lands required for future Metro, Luas, and other rail and bus routes.
Arts and culture
Harnessing the potential of the richness of the city's cultural assets will be a priority for the council. Its cultural strategy for 2009 to 2017 will deal with the current lack of cultural infrastructure in the city; the need to strengthen the role of culture in the city's economy, and the need to highlight the Irish language in the urban environment.
The draft plan is open for submissions until 12 March`.