Technology
Disruptive technology in agriculture: Alternative futures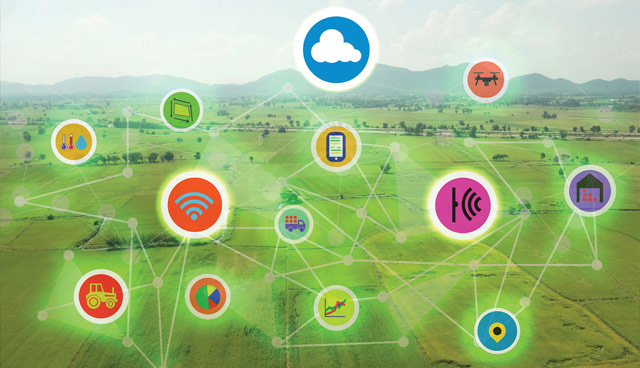 The use of technologies like satellite imaging, digital sensors, advances in plant and animal genomics and advanced data analytics could lead to farming practices that are more productive, more precise in their deployment and thus more sustainable, writes Richard Halleron.
Some of these technologies are already changing the agri-food sector, while others, when scaled up, have the potential to truly revolutionise how Irish food is grown, processed, distributed and consumed.
Many game-changing 'smart agriculture' technologies are not yet available at commercial scale. According to research carried out in the UK a significant number of these new applications are currently only partly implemented, if at all, and mainly in developed countries on large farms.
The vast majority of Irish family farm businesses are yet to adopt these technologies. However, it is expected that in a decade's time, these technologies will penetrate deeper into global food supply chains.
Access to high-speed internet and affordable smart devices will facilitate global 'smart agriculture' and these technologies are expected to be near ubiquitous by 2035.
So, it is of the utmost importance that all the stakeholders in the Irish agri-food and bioeconomy sector begin to prepare now for the widespread deployment of transformative technologies in the sector.
Such techniques are capable of enabling innovation and change at an exponential pace and of producing both benefits and risks. Surprising and abrupt changes will become more commonplace.
Preparing for the 'disruptive' and the surprising while creating the future Irish farmers want, will demand agility, resilience and an ability to anticipate alternative futures.
Irish farmers already have a sense of what 'disruptive' technologies can do for their businesses. For example, the sequencing of the bovine genome some years ago opened the path to genomics and the securing of a much greater rate of genetic improvement within the Irish livestock industry.
Allied to this, the development of sexed semen technology has allowed this rate of change to evolve at an even greater pace than we could have anticipated only 10 years ago.
Genetic sequencing and manipulation are also playing a key role in the development of new plant cultivars. Admittedly, the use of such genetic modification (GM) has been resisted by the European Union up to this point. However, in places such as the United States and a broad swathe of South and Central America, the planting of GM crops is now the norm. The end result is higher yields and, many would argue, the more efficient use of water and other essential crop inputs.
There has been very limited GM-focussed research carried out in Ireland. One notable exception was the recent Teagasc trial on GM potato varieties that had been bred with an inherently higher resistance to blight attack.
The work carried out at Oak Park in County Carlow confirmed that these varieties do have a greater resistance to blight, leading to the conclusion that it is possible to develop potato husbandry systems that require considerably lower applications of blight sprays, many of which are extremely toxic to many of the insects and other fauna which serve to maintain the conservation value of the Irish countryside.
The use of the internet and a range of complimentary digital technologies has allowed companies and research centres to optimise data collection on behalf of the farming industry.
Precision agriculture
The use of this approach combined with appropriate storage, analytical and automation systems on behalf of farmers and growers is generally referred to as precision agriculture (PA). While this term was originally coined for spatially variable crop and field management, it is now used to describe the application of digital technologies to improve management precision in agricultural production across the board.   
In essence, PA is an information-based, decision-making approach to farm management designed to improve the agricultural process by precisely managing each step and managing variation in crops, soils and animals. In this manner, PA can provide a management approach optimising both agricultural production and profitability. 
"Preparing for the 'disruptive' and the surprising while creating the future Irish farmers want will demand agility, resilience and an ability to anticipate alternative futures."
Part of this enhanced profitability can come from the optimised use of inputs (machinery, labour, fertiliser, chemicals, seeds, water, energy, etc.), leading to both increased production efficiency and protection of natural resources. Precision agriculture is based upon observing, measuring and responding to inter and intra-field variability in crops, or upon aspects of animal rearing.
The potential benefits mainly arise from increased yields and reduced costs through better management actions. Other benefits come from improved mechanisation efficiency, better working conditions, improved animal welfare and the potential to improve various aspects of environmental stewardship.
For many, the age of new technology within Irish agriculture dawned with the introduction of robotic milking technology to our farms two decades ago. Indeed, the venture had a very inauspicious beginning with several of the original systems taken out because of their perceived unreliability.
Today the technology behind robotic milking systems is totally accepted, as is its role in solving the evolving labour crisis on Irish dairy farms.
Internet of Farm Things
Another concept of importance for the future is the Internet of Farm Things or IoFT. Most people already associate the internet with a means to access information and services via web-pages or send messages using email. The Internet of Things is an extension of this concept to objects. This time it is the objects that access and provide each other with services and send each other messages.
The poster child for this new paradigm is the refrigerator that knows when it is out of milk and orders it from a local store. It turns out to be a far more useful idea in the context of a factory. Here machines communicate their readiness for use or schedule components to arrive at an assembly bay.
This idea has been extended to the farm and so the Internet of Farm Things involves smart machines such as tractors and feeders, as well as smart infrastructure such as fields, gates, sheds and water tanks, that not only sense their own status and that of the animals and crops but communicate with each other and with farm management systems to carry out tasks.
It might be as simple as a video camera observing that an animal has become despondent and operating gates to isolate it from the herd while notifying someone on duty of the incident and logging it in the animal's health record.   
In conclusion, many of the benefits of integrating disruptive technologies into the sector are already evident and over the coming years it is expected that not only will these technologies advance but will also become more financially viable. However, in order to fully recognise these benefits, the sector must be agile to change.