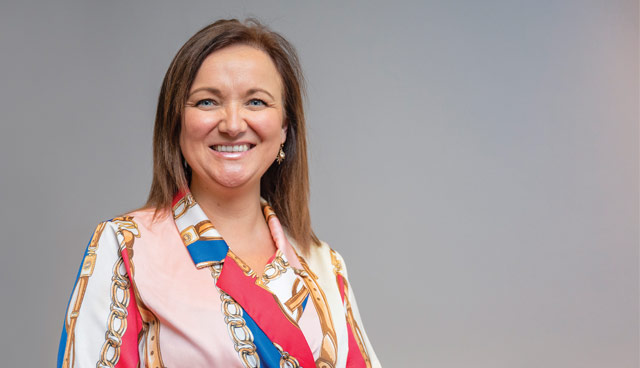 Assistant National Director, Digital Organisational Change at the HSE, Maria O'Loughlin discusses how HBS (Health Business Services) staff are driving digital transformation utilising digital technologies, underpinned by a culture of innovation, creativity and curiosity.
A desire to be digitally relevant to customers, staff and patients is driving the desire for transformation within Health Business Services, the business division of the HSE, says O'Loughlin.
As a large organisation with responsibility for pay and pensions schemes through to management of HSE's 2,500 health properties, processing of invoices and annually processing 5,000 new staff appointments, the HBS is constantly analysing new ways to transform the service for maximum efficiency and greater impact.
Digital transformation progress and ambition within HBS is multi-faceted. Big programmes of transformation are centred around the like of robotics, where AI is supporting finance, the HR leaving process and the Garda vetting process. HBS will soon implement the first customer relationship management (CRM) solution across the health service and the National Integrated Staff Records and Payroll (NISRP), which initially moved 18,000 people on to a single source of truth for staff records and allows a self service portal for staff to access information, is being expanded.
Additionally, as the largest land owner in Ireland, HBS is looking at a national estates information system to make estate management entirely digital and more effective. The National Distribution Centre (NDC) is enabling technology to facilitate efficiencies with just in time (JIT) and lean methodologies delivering what is needed at the right time to front line staff. The Integrated Financial Management System is being integrated across the country, allowing for the joining and upgrading of financial systems nationally for a centralised view of financial data, allowing reports.
O'Loughlin explains: "We have a lot of big innovative programmes across HBS, but we also have a lot of smaller projects and a lot of people working in HBS. It's massively important for us that it's not just the big programmes where we are focussing transformation but that there is a culture of creativity and innovation spread throughout, so that everyone comfortably feels that they can make a difference in digital transformation."
Having recently joined HBS, O'Loughlin, an organisational psychologist, outlines her ambition to see change, digital or not, centred on people. To this end, she highlights a well-circulated statistic within HBS that the components of any digital project are only 20 per cent the technology, 30 per cent the process and 50 per cent culture and organisational change.
"Digital health, and indeed any type of digital transformation, is all about the people who are delivering the change. The technology, of course, is IT but the transformation and change itself is all about social and behavioural science. Embracing that is a positive way to move forward.
"It's important for us to enable our people to be supported throughout change and to make sure they are confident and comfortable within it. If people are not happy with what we are doing, if they don't see the vision or mission, then it won't happen. People will be disengaged, and we won't move forward."
O'Loughlin outlines ongoing work to "make our culture our advantage" in HBS, adding that within the organisation "digital is every person's job".
With this in mind, she highlights that 'why?' is a reoccurring question behind any ambition for change and explains that the improvement of employee satisfaction, creation of innovation and a strengthening of reputation are key drivers.
"We need people to be confident and happy with what we are delivering. We want our staff to be proud of the organisation they work for and to achieve this we must engage with them on change.
"Organisations need to embrace change as an unending process. It shouldn't be something that has a beginning and an end. This is why it is important to us in HBS to digitally transform. We need to continually foster a readiness for change.
"It is important that colleagues feel they have a combined influence to create the change. It also highlighted that employees want to input in change and to be part of the conversation at many points of time. If employees are supported to hold positive views about the need for organisational change and educated about the positive implications for themselves and the wider organisation, this can have a positive impact on the organisational climate and change readiness."
O'Loughlin simplifies three core areas of focus for introducing change: emotional, intentional and skills. On emotional, she describes the necessity for trust in the vision/mission. On intentional she adds the need for a key focus on collaboration, discussing the need for organisations to leverage the power of collaborative knowledge to stay attuned to an ever-changing environment.
"It's important for us to enable our people to be supported throughout change and to make sure they are confident and comfortable within it."
"We are trying hard to be open and transparent in eHealth Ireland and to open up a social mindset that we have where we can collaborate cocreate and cooperate at a higher level than we have done before," she says.
Adding: "The intentional element is about establishing the plan and getting an attitude for 'let's do something'. It's also about establishing how we do it. If there is no plan, then there is no potential for people to buy in to the journey."
Giving a context, O'Loughlin says that HBS are forward looking on their next strategy to 2023, talking to their staff about the strategy's ambition, staff involvement and future planning. "Just as important to our plan will be our people strategy around how we are going to bring people along on the digital transformation journey and enable them to deliver on the three-year outlook. We do that through lots of engagement both within and outside of our organisation.
"A key component of any digital transformation will be the plan around data. We have lots of data within HBS and we have identified a desire to be a leader in data utilisation, however, we need a roadmap to get there and a plan to get our people there."
This element ties in with O'Loughlin's third core area of focus in skills, which she explains is about ensuring that staff feel relevant and useful in a world where technology is changing the future of jobs.
"For us, it's about communicating to our staff that digital transformation is not all technical. A lot of our skills going forward are going to remain human in nature and we are working to establish how can people work together to communicate, collaborate and be more analytical about the challenges we are facing."
In a report on digital dexterity, Gartner highlights research that suggests 25 per cent of midsize enterprises will attain digital transformation leadership status by 2022 by systematically enhancing digital dexterity. A recognisable need for organisations to engage and take advantage of digital has seen the HSE roll out their ambassadors For Future Health Skills Programme, which was piloted within HBS and introduced customised upskilling plans in a range of areas including internet safety and security, online pay slips, GDPR and even for HBS pensioners.
Concluding O'Loughlin summarises: "While technology will be an enabler of digital transformation, the key component will be the ability to get people to feel like they are a part of change and to accept the chance to change. Transformation cannot be something that is forced on people, it's something we want to work with them on."