Issues
Digital solutions for the public sector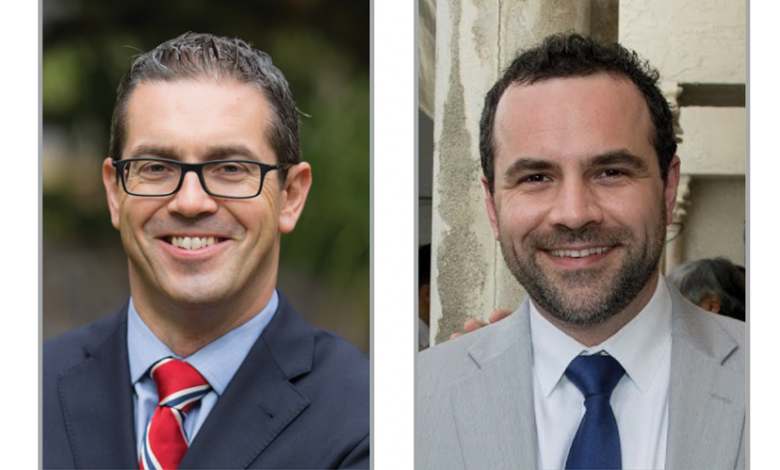 John Stobie, Regional Vice President of Public Sector Sales for Salesforce Ireland, and Paul Pick-Aluas, Regional Vice President of Public Sector Strategy and Transformation for Salesforce Europe, speak to eolas about how Salesforce enables governments to move from reactive service to proactive service.
"We speak to many different stakeholders in government in many different countries," Stobie says. "There has been a mindset change from the point of view of the way government has traditionally operated. It has always been in more of a reactive mode, whereby it received requests from citizens and businesses and processed those requests."
Such requests concerned anything from information on benefits to grant applications and driver's license renewals. In the last number of years, Stobie says, Salesforce has seen a concerted effort to digitise government and move it away from this reactive mode to a proactive mode.
"When we say proactive government, we mean the scenario where the Government is not just waiting for you to ask for something, but anticipating needs based on knowing upcoming events or the situation a citizen is in, and it is reaching out to you to help you in terms of initiating the interaction you are going to require to get the service you want or need," Stobie explains. "They are following the once-only principle, where a citizen does not need to continuously give government agencies the same information over and over because the Government has already got that information. They look to make it easy for the citizen to supply the information the government does not have and provide simple options to achieve this. They keep the steps minimal and avoid delays, ultimately keeping the citizen informed throughout the journey."
Salesforce believes that there are three key methodologies that the Government must apply, in tandem, to achieve this transformation: human-centred design, continuous improvement, and process automation. With the elimination of paper, including digital paper such as PDFs that remain the biggest source of cost in many processes, Salesforce attest that this process can both create an efficient system and cut costs.
"There was a recent example where it was estimated that EU taxpayers would save €50 billion annually if they accepted electronic invoicing," Stobie says. "The costs that come from this process is an important aspect as well; as citizens, we face direct costs in terms of the time we spend learning and applying for the services, the fees we pay, the transport we pay for to go to physical offices and the indirect costs such as solicitors, lost wages, lost revenues for businesses."
The US offers an international example of a state further down the line of this process, and Pick-Aluas offers the example of its Department of Agriculture (USDA). With around 100,000 employees in more than 4,500 locations offering services as diverse as crop insurance, conservation programmes, commodity management, technical assistance, lending, and disaster relief to farmers, ranchers, and agricultural producers, the sector was "very suitable for the methodologies of proactive government".
"When we say proactive government, we mean the scenario where the Government is not just waiting for you to ask for something, but anticipating needs based on knowing upcoming events or the situation a citizen is in."
John Stobie, Regional Vice President of Public Sector Sales, Salesforce Ireland.
The US federal government began an initiative to stand up centres of excellence, starting with the USDA, and reimagine portfolios of services to break down silos and improve efficiency. This was, in part, to tackle an issue of funding in some programmes being unclaimed due to those eligible being unable to navigate the system. Accenture and Salesforce built a one-stop shop where these farmers, ranchers and producers could fill out a variety of forms, check loan balances and statuses, apply for disaster relief, and find the most convenient office when there was still a need to go in. Seven digital platforms and 150 federal web resources were consolidated into a single platform.
"The way we went about this was starting with human-centred design, considering what the service journey should look like and realigning systems with a single engagement layer to provide a better experience," Pick-Aluas says. "We managed to bring it all on one platform and connect the data to automate the steps in a systematic way. For instance, if you apply for a loan or crop insurance, they already have your information and are not going to ask you again for the same information. They managed to get more of the funding out, and to date the funding is in the tens of billions of dollars. It has significantly improved the experience for the users and employees and driving cost efficiency by reducing friction points and reliance on paper.
"This is what we hope to do in Europe as well. It is about human-centred design, not just user-centred design. There has often been far too much emphasis on the engagement layer alone, implementing portals, etc, which are first steps in the transformation journey but often they become the only step and thus a veneer on a broken system offering marginal improvements in the citizen experience. Limited or no attention is given to the business processes that need to be reengineered."
Salesforce's work with the Irish public sector is, of course, happening in the context of Connecting Government 2030, the Irish Government's digital strategy. "When you look at the different areas in there, there is a lot of the collaborative side, the integration between different departments, and it is a question of the implementation," Stobie says. "It is important having a strategy document, but it comes down to how the different departments and agencies pull those pieces together."
Pick-Aluas adds: "Connecting Government 2030 gives a good direction but leans too much on the experience side and IT efficiency rather than the service efficiency. It needs to go further. Beyond human-centred design you have the concept of continuous improvement. A lot of times, agencies and departments tend to freeze because the veneer is easy to do while it has its challenges, but the process seems overwhelming."
Central to addressing these issues is Salesforce's low-code platform, which provides a platform to layer horizontal enablers to help with document intake, authentication, and generation, as well as vertical solutions that would not have traditionally been considered automation options. Pick-Aluas also speaks with excitement of Salesforce's recently unveiled project, Genie: "Genie is akin to a citizen data platform in the public sector context as well as master data management. It is more than the sum of the parts, the tools have existed for a long time, but the key thing that it does is drive the automation of data alongside the automation of process steps."
It is the implementation of such tools and processes, and the evolution of Connecting Government 2030's vision of human-centred experiences that will allow the proactive approach that the two see as key to progress.
Stobie concludes: "To continue to improve the citizen experience, it is imperative that government continues its progress from the reactive to the responsive and then to be proactive in everything they do. It is not just about the experience, but also the savings that can be made. Ultimately, it all revolves around having the right data platform to automate not just the steps, but the flow of data."
W: salesforce.com/eu/publicsector