Economy
Digital Skills Academy: Talent for the digital workplace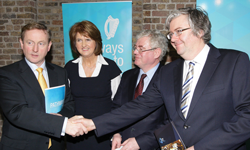 Ireland needs to take maximum advantage of the growing opportunities in the digital technology sector, where 4,500 jobs were announced between January and July this year.
To support this, Digital Skills Academy's targeted talent development programmes are created in consultation with industry to ensure they deliver the digital skills needs of business in Ireland.
A June 2012 Forfás and Expert Group of Future Skills Needs report, Key Skills for Enterprise to Trade Internationally, recommended that the potential 2,200 jobs in exporting companies could be filled through tailored skills conversion programmes, developed in partnership with industry. Skills are needed in ICT computing, customer sales and service support, design engineering, international sales with foreign languages and project management, while sectors including tourism, food and beverage, and international education, require people who are internet savvy and proficient in e-commerce sales and marketing.
Digital Skills Academy's WebElevate programme is a NFQ Level 8 Professional Diploma digital technology programme. It is part of the Government's Springboard initiative, and thus is free-of-charge for eligible jobseekers.
Designed to reflect a real working environment, participants work in multi-disciplinary teams developing digital products and services such as web and mobile applications,  mobile games, and social media campaigns for many leading Irish and multinational companies  including; Telefonica Ireland, Oracle, BT Ireland, Pigsback.com, Allianz, The Educational Company of Ireland and Electric Ireland.
We believe that our innovative placement model, which offers companies a low-risk way to audition talent, has huge potential to be expanded to provide essential and highly valuable work experience opportunities for many hundreds of jobseekers.  Already one-third of participants who are to graduate in October 2012, have secured employment in the digital space.
Another of Digital Skills Academy's programmes, WebActivate, aims to address the digital deficit among 30,000 small and medium-sized enterprises (SMEs) throughout Ireland, by helping them to start interacting effectively with customers online, while simultaneously creating employment for hundreds of jobseekers. The May 2012 Report of the Next Generation Broadband Taskforce recommended that "the WebActivate programme was very successful in terms of engaging SMEs and should be reintroduced without delay."  Encouraged by this recommendation, we are currently formulating proposals to run a new version of this programme in 2013.
During 2010-2011, WebActivate matched 200 participants to 300 SMEs across Dublin, Cork and Galway. Three months after graduating 56 per cent of the jobseekers who completed the programme had secured employment.
In order to have the supply of talent that Ireland needs in the future, we should be finding ways to attract and support 8,000 people per year to start computing and digital technology related courses in higher education. 25 per cent of these would become creative software engineers and programmers, with 75 per cent going into allied roles such as systems administrators, technical sales and business analysts.
There's a great wealth of talent amongst the community of people in Ireland who are currently actively seeking work. I'm hugely encouraged by the initiatives being taken by Government, including Pathways to Work, which are making great progress in increasing the supply of meaningful opportunities for that talent to be orientated into areas where jobs are being created.
Paul Dunne, CEO
Address: Digital Skills Academy
Digital Hub, Dublin 8, Ireland
Tel: +353 1 69 080 96
Email: Paul@DigitalSkillsAcademy.com
Web:  www.DigitalSkillsAcademy.com