Digital
Developing our digital assets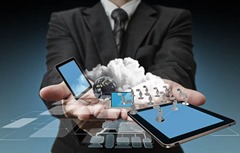 New research indicates that Ireland is a "highly attractive" location for hosting digital assets.
A recently published expert study has concluded that Ireland is one of the most attractive locations in Europe for international IT organisations that need to host digital assets to service the Europe, Middle East and Africa (EMEA) region.
The independent study was carried out by international IT analysts 451 Research on behalf of GconnTec a leading Irish information technology and interim management firm.
At the outset of the research, the 451 consultants were able to reveal that Ireland is already rapidly becoming a major centre for data-hosting and that the country's growing reputation as a technology hub has already attracted some of the world's most prominent digital brands to host critical infrastructure in Dublin. These include major global online leaders Microsoft, Google and amazon among many others.
The researchers were also able to point out from the beginning that despite the overall economic gloom of recent years, Ireland was still a very competitive place to do business not least because of its strategic location as the closest European neighbour to the USA and natural springboard into the EU market.
The assessment of Ireland's attractiveness was carried out by studying, consulting widely, and assessing the Irish business and operating environment against nine key criteria. The criteria were given equal weighting and a score was awarded between one (weak) and four (strong). Across all nine criteria, Ireland scored either a three or a four, reaching a total of 32 out of a maximum 36 points.
A good place to do business
The researchers, in concluding that Ireland overall was a good place to do business, were able to draw on a number of previous studies and surveys from the World Bank to Forbes which consistently ranked Ireland among the most competitive places to do business. However, more specifically, the consultants could point to Ireland's overall political and economic stability (all the more impressive given how it had been tested by the global economic collapse and austerity) and the fact that Ireland was the only mainly English-speaking country inside the euro zone. In addition, Ireland had a benign tax environment for business – not only the well-known 12.5 per cent headline rate of corporation tax but also generous capital allowances, a special tax credit for research and development and numerous double-taxation treaties with other jurisdictions.
The consultants also asserted that the Irish Government was also genuinely pro-business not only in terms of culture but in numerous practical ways, including aligning business legislation and regulation to meet important EU standards. The governmental authorities were also well used to dealing with multi-national companies basing themselves in Ireland to serve markets further afield. The quality of Ireland's young, well-educated and IT-literate workforce was also acknowledged.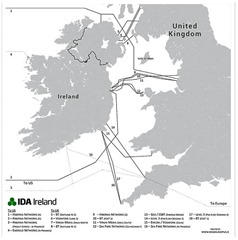 Good quality infrastructure
In addition to the skilled workforce and Ireland's human capital, the researchers found an impressive sectoral and physical infrastructure conducive to locating further data hosting investments in Ireland. It was noted that Ireland had accumulated a presence of over 1,000 multi-nationals including most of the biggest global players in sectors such as pharmachem, ICT and medical devices. Importantly, Ireland was also home to the latest generation of 'born on the internet' companies with a very significant cluster around Dublin. All the evidence points to the fact that international mobile ICT companies are much more likely to locate where there is already a cluster of similar leading edge ICT based enterprises. However, it is in physical infrastructure where Ireland also has a competitive edge. The consultants noted that in developed economies the overall robustness of the supporting
ICT infrastructure was a "critical consideration" when choosing a destination for hosting digital content and services.
Over the past ten years, the Government and private telecoms undertakings had invested heavily in communications infrastructure including a series of major cable connections with other European countries. Ireland's physical links with North America had also been developed considerably over that time with a "broadening array" of trans-Atlantic connectivity options for overseas organisations considering Ireland as a destination for digital assets. The map above provides a snapshot
of the comprehensive international connectivity developed by Ireland in terms of direct submarine links to other major economies.
Data centres operating in Ireland have also stated their view that Ireland's low latency (highly responsive) networks offered attractive possibilities to major ICT undertakings. It was noted that Google has taken advantage of Irish low latency networks by hosting its global internet advertising services in Ireland. The Government is well aware of the competitive advantage afforded by superior ICT infrastructure and has continued to invest heavily in high speed networks and in workforce development. The aim is to make Ireland a world leader in data analytics and big data and to develop 'smart cities' that can accommodate this rapidly growing business sector. Dublin has recently become a test bed smart city for IBM.
Dublin T50 fibre ring
In addition to the first rate international connectivity, the Greater Dublin area benefits from the T50 broadband ring (metropolitan area network) which is a 44km multi-duct fibre optic cable system surrounding the city. It links all of the important business districts and business parks which are home to the various data centres, telehouses and international ICT companies and connects into the trans-Atlantic cable system hubs in Dublin. The T50 fibre ring provides access to 27 international telecoms and data carriers as well as direct connectivity from Colt, Digiweb, BT, Viatel and euNetworks and is the only data centre hub of its kind in the whole of Europe (see figure overleaf).
451 Research projected that the market for hosting services in Ireland will have a compound annual growth rate (CAGR) of 18 per cent through 2016 – higher than the UK and most other major European destinations.
Energy infrastructure
Perhaps surprisingly, the research also revealed that energy infrastructure was important to potential investment location in Ireland. Although they are high tech operations, data centres are very significant consumers of energy and therefore energy costs are an important part of decision-making process about location.
Although electricity prices in Ireland are not particularly low, the first point noted was that Ireland's temperate climate meant that there was neither a big energy requirement for heating or for air conditioning. The consultants concluded that costs were competitive and a further attraction was Ireland's strong commitment to an increasing contribution from renewable energy into the overall mix. Ireland had set itself a target for renewable energy development (mainly from the country's abundant wind resource) which far exceeded the overall increase targeted by the European Union as a whole.
Favourable legal environment
In general terms, Irish law and regulation around the ICT and data storage sector closely resembles the general legislative position established by agreement within the European Union. Thus compliance in the Irish market achieves compliance at the EU level. However, 451 Research discovered that, according to existing operators, Irish law on data protection while EU-compliant had been implemented more flexibly and in a more business-friendly fashion striking the right balance between firmness and room for interpretation.
Similarly, Ireland is already a favoured location for the development and commercialisation of intellectual property.
This is because Ireland has already got a high standard of IP protection (vitally important to leading edge IT developers) and a robust climate for enforcement. Also Ireland's headline 12.5 per cent corporation tax rate comes into play favourably in relation to IP, as international players can be licensed in Ireland and collect royalties through a relatively low tax jurisdiction.
Ireland's other e-commerce legislation is based on the EU E-commerce Directives although again regulation is imposed in a flexible and pro-business manner.
A bright future
451 Research in analysing the locational strengths and weaknesses of Ireland noted the large scale of the existing business sector in internet exchanges, data centres, hosting, cloud computing and big data. It concludes that this constitutes a perfect platform to build upon.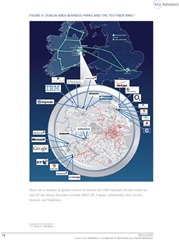 IP traffic in Ireland has shown exponential growth in recent years and further 140 per cent plus growth is anticipated in the next few years. Similarly, those seeking to place their digital assets in Ireland have a plethora of data centre options. Dublin is already an international financial centre and the European base for many multi-nationals contributing to data demand in the city. Major providers such as Microsoft, amazon and Google have built massive facilities and internet leaders Google, eBay, PayPal, Yahoo and facebook all have their European headquarters or major bases in Dublin.
Ireland also has one of the most dynamic hosting markets in Europe. Cloud adoption is also growing quickly with the public sector rapidly following the private sector lead and 451 Research is projecting CAGR of in excess of 50 per cent from 2013 through 2016. Many of the major facilities providers currently have plans for significant expansion.
And the next anticipated growth area is big data – the development of business intelligence from analysing previously unused, unwieldy data sets, regarded in the past as difficult to manage and analyse.
451 Research concludes that Ireland is very well positioned to exploit this rapidly growing sector.
There is no doubt that the work carried out by 451 Research provides a very useful insight into the potential for Ireland to prosper in a fast growing and increasingly important sector of the economy.
Although the research was commissioned by private sector interests who stand to benefit from further development of Ireland's data hosting industry, the report stands on its own merits as an independent offering and is unambiguously positive about the present state of the sector in Ireland and its potential for the future.
It will be reassuring for many that in a time of great economic difficulty, major international players in growing industries have not deserted the Irish economy but have instead decided to stay and expand their activities.