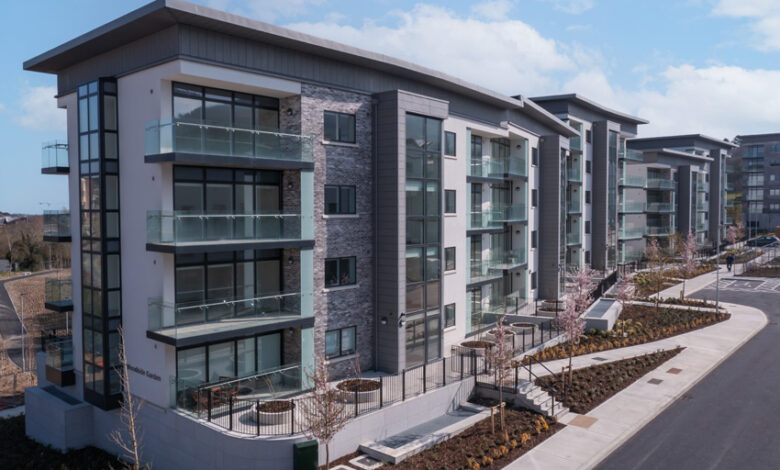 Over 40 years of on the ground experience, with insight from diverse tenant communities and service users, gives Respond a unique perspective.
Respond is an Approved Housing Body or housing association delivering social and cost rental homes all around the country. Uniquely they recognised at an early stage in their 40-plus-year history that the provision of services in communities was key to ensuring that they become places where people want to live with support when needed. As a consequence, they are also one of the largest providers of early learning and school age care services in the country, as well as providing family homeless services, day-care for older people, refugee resettlement, and family support services.
High quality, large scale integrated housing developments
Respond say their focus is on new construction that will deliver much needed social and cost rental housing adding to the national housing stock. Over the last five years, Respond has commenced 3,347 homes with a value of just over €1.03 billion. Their current construction schemes range in value from €15 million to €65 million with a total programme value in excess of €1.5 billion.
The organisation has already delivered over 7,000 properties across the country and currently have a further 1,453 homes in construction, 138 of these are cost rental homes. Respond worked with multiple partners to deliver Ireland's first purpose-built cost rental homes, as part of a mixed tenure development of 155 homes at Enniskerry Road in 2022. The partnership was an innovative one with Tuath Housing, Dún Laoghaire Rathdown County Council, the Housing Finance Agency, the Housing Agency and the Department of Housing, Local Government and Heritage. The scheme subsequently won Best Social Housing Development at the 2022 National Property Awards and the Working in Partnership Award at the 2022 Chartered Institute of Housing Awards.
Respond recently announced construction is underway at one of the largest mixed tenure housing developments to be built in South Dublin for a number of years. The Lisieux Hall mixed tenure development will provide 200 new homes for a total investment of €89,606,633, including 67 cost rental apartments and 133 social apartments. The scheme is being funded through Department of Housing Cost Rental Equity Loan (CREL) and Capital Advance Leasing Facility (CALF) finance, alongside loans from the Housing Finance Agency (HFA).
Unusually for an Approved Housing Body, Respond directly manage construction. The majority of their delivery is new construction where Respond acquires the site and facilitates financing of construction stage payments. This forward funding model has unlocked sites to deliver new housing which otherwise would have been unviable because of financing costs. Respond say they are now working to initiate construction of an additional 1,350 homes with planning in its existing development pipeline.
"My family and I are quite honoured to move into such a wonderful new home. As a student studying architecture, I also have the privilege of appreciating such a beautiful project. Living in such an amazing exemplar is a motivator for me as a student and is something I draw inspiration from."
Samantha, Respond tenant of St Doulagh's Oaks
Approved housing bodies such as Respond have been recognised within Housing for All for their track record on housing delivery, housing management, and support services. CALF continues to be the main source of facilitating delivery of social housing with the remainder funding, in the case of Respond, coming from the HFA. CALF is currently undergoing refinements to facilitate some of the current risks and challenges in the market pertaining to viability such as inflation and interest rate increases.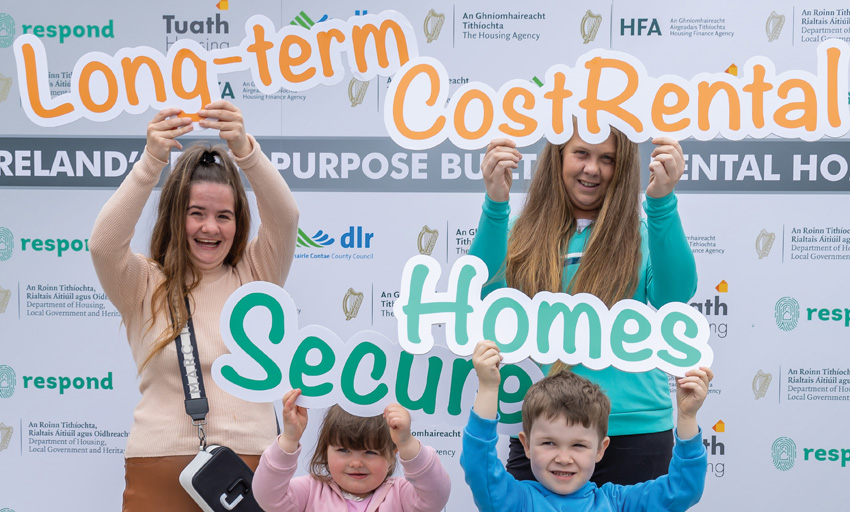 A diverse team of leading industry talent
Respond know that housing delivery is also a specialist area and the development department reflect this with a multi-disciplinary team of registered architects, quantity surveyors, planners, clerks of works, technicians, and project managers who deal with all aspects of construction and project delivery.
Respond has approximately 350 employees, over half of which are people working in the range of services provided. Respond is on the journey towards becoming a trauma-informed organisation since 2019 and over 250 of our staff were trained in trauma-informed practice (TIP) over the last 18 months. Throughout the organisation, Respond say they believe engaging in TIP benefits their tenants, service users and staff.
Supporting and maintaining thriving communities
When people receive the keys to their new homes from Respond that is the start of a lifelong relationship. Each development is assigned a Tenant Relations Officer who works with tenants so that those homes will become part of a community. The Housing team are also there for people who may need some extra support as well.
Alongside this, the Housing team also provide our 'asset management' services, addressing maintenance and other related issues. If there are repairs needed, our tenants can call us and that will be arranged.
As a large social and cost rental housing provider, Respond operates a programme of continuous improvement, proudly calling themselves a listening and learning organisation. The scale of their work provides an opportunity to get involved in some really innovative work. Respond partner with the Global Brain Health Institute (GBHI) to deliver what is believed to be a first – a Brain Health Village. This is a pilot project but Respond hope that to use the learnings for all of their tenants.

T: 01 808 7700
E: info@respond.ie
W: www.respond.ie