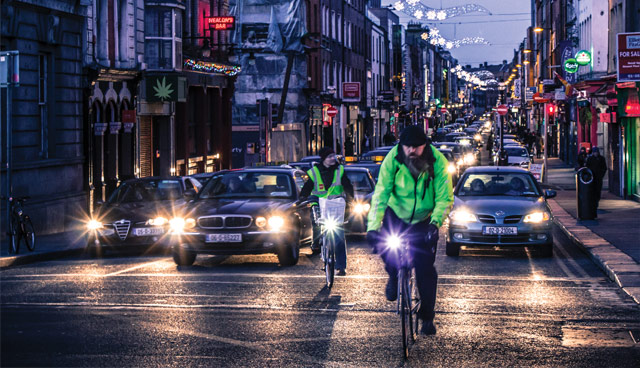 While a lot of focus is being placed on the decarbonisation potential within public transport, it's estimated that the sector accounts for just 4 per cent of Ireland's overall emissions. eolas examines the progress and potential of accelerating the take-up of low carbon technologies in the road transport sector.
Accounting for 20 per cent of Ireland's overall emissions, the transport sector is regarded as the most stubborn or labour intensive sectors of the three major areas identified for major disruption, including electricity and heat.
Latest projections by the Environmental Protection Agency (EPA) suggest that Ireland's greenhouse gas emissions are set to increase out to 2020 driven by economic growth, resulting in only a 1 per cent reduction compared to the 20 per cent reduction targeted.
Specifically, in relation to transport, the EPA state that emissions are projected to increase from current levels by 17 to 18 per cent by 2020, and by 17 to 20 per cent by 2030 "including a growth in fuel consumption in diesel cars and freight up to 2025". The report does states however, a potential reduction in emissions between 2025 to 2030 driven by electric vehicle (EV) uptake.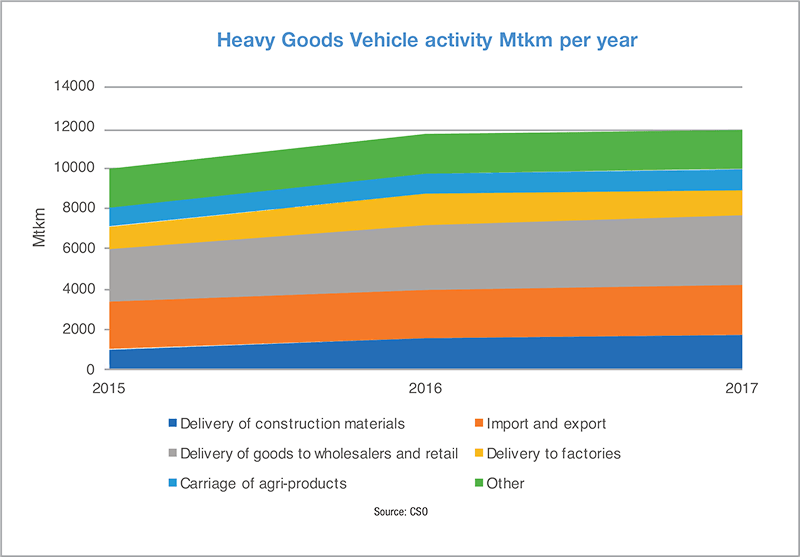 A major focus in Ireland currently is the 'modal shift' required of public transport. The publication of the National Development Plan and subsequent National Planning Framework has laid the ground for a move towards sustainable mobility through "electric vehicles and introduction of electric and hybrid traction systems for public transport fleets".
However, it's worth noting that of the 20 per cent of Ireland's emissions from transport, just 4 per cent of this emanates from public transport compared to 52 per cent from private cars and 24 per cent from freight.
Electrification of the private car fleet has been identified as a key component in the bid to reduce transport carbon emissions globally. In Ireland, that more electric vehicles were registered in the first three months of 2019 (1,437) than compared to the whole of 2018 (1,233) is a sign that progress is being made, however, uptake remains low despite government incentive schemes. The quarterly EV total represents just 4 per cent of total new car registrations.
These figures fall well short of the government suggestion, made over 10 years ago, that 10 per cent (200,000) of vehicles would be electric by 2020. This figure was revised downwards in 2014 to 50,000 and again in 2018 to 20,000. Even the lowest revised target is expected to be missed, with only 8,000 electric vehicles expected on Irish roads next year.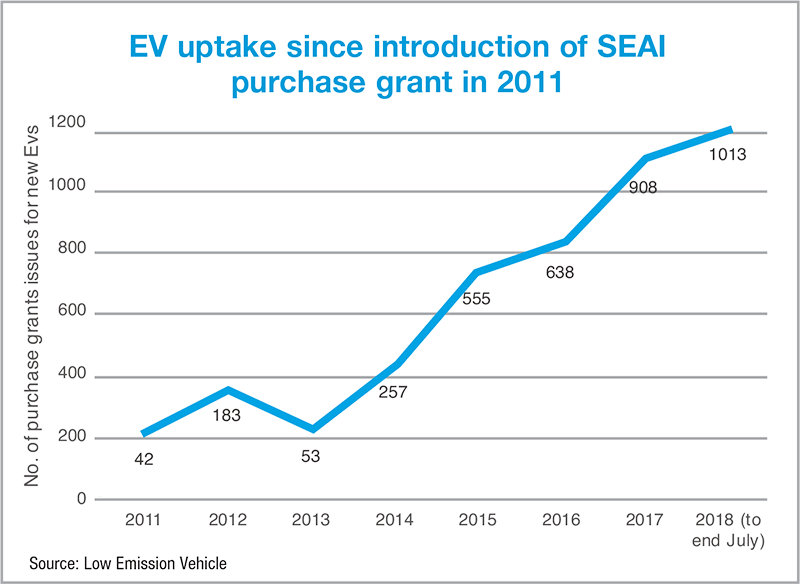 As the Government continue to push innovative incentives to drive electric vehicle take up, it has been suggested that policy needs to go further. Freight and private cars, specifically journeys between 25km to 50 km, are major contributors to emissions. The development of efficient shared mobility schemes in other countries have been proven to be effective in significantly reducing carbon emissions for this target group. It's estimated that for each shared vehicle added to such a scheme, up to 15 cars could be replaced.
Electrification of fleet has little to no impact in the freight sector. Contributing 24 per cent of all transport emissions, the sector provides a major challenge for government policy. However, some progress has been made. In January, Minister for Communications, Climate Action and Environment, Richard Bruton TD, increased the level of biofuel in the fuel mix from 8 per cent to 10 per cent. The Biofuels Obligation Scheme requires suppliers of road transport to include a proportion of biofuels in fuel placed on the market in Ireland. The Minister also outlined plans to increase this level further up to 11 per cent by 2020. If successful, the Department estimates that the change could see 70 million litres of fossil fuel being replaced with biofuel and reduce Ireland's emissions by almost 200,000 tonnes of carbon annually.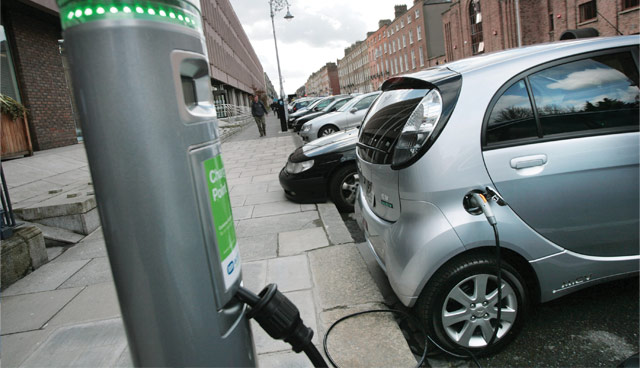 Low Emission Vehicle Taskforce
In September 2018, the Low Emissions Vehicle Taskforce, established to consider the range of measures and options available to the Government to accelerate the take-up of low carbon technologies in the road transport sector, issued a progress report.
The current report only focusses on electric vehicles, with work underway since September 2018 on phase two, which looks at all other low emission vehicles including examining the role of alternative fuel technologies such as natural gas, biomethane and hydrogen.
The report found that despite various incentive schemes since 2011 "the number of EVs on the roads remains low", recommending "continued support" to build on progress. Recognising a cost to the Exchequer in incentivising the cost of EVs, the report details high and low growth scenarios in the context of analysing current and future cost of existing and potential incentives. The total cost of existing supports provided was estimated at €19.4 million by the end of 2016 and is expected to continue to rise under projected growth scenarios. By 2023, under a low growth scenario the estimated cost of maintaining current supports is over €200 million.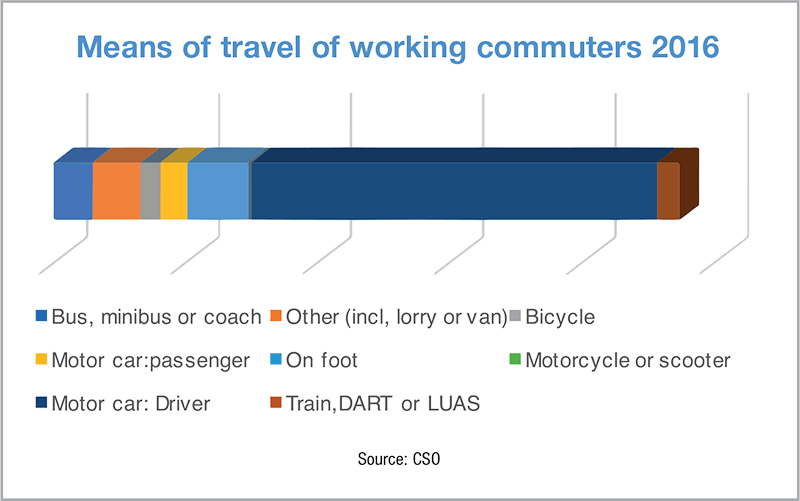 The taskforce also considered introducing new fiscal incentives. Budget 2018 recognised the prior findings of the taskforce that a reduced tolling regime would provide meaningful incentive to transition to EVS. However, the taskforce also analysed parking incentives for EV users and suggests the introduction of a "zero per cent Benefit in Kind treatment for EVs" as representing the biggest incentive the tax system could offer to incentivise the early adoption of EVs.
On visibility and public leadership, the report sets out a scenario that highlights that while public sector procured vehicles make up a small proportion of the market for road transport vehicles and transport services, the potential exists for the utilisation of EVs by government bodies to increase awareness and "potentially act as an inducement" to members of the public.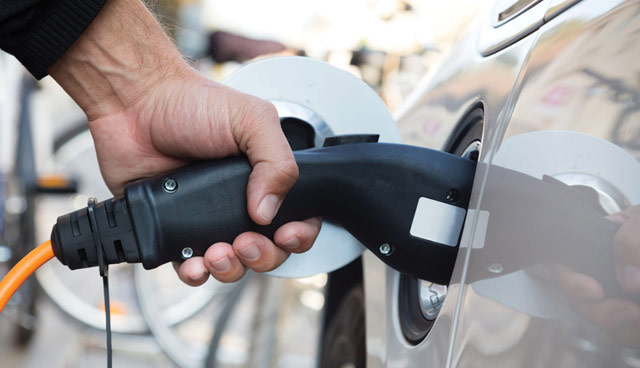 Looking at the role of small public services vehicles (SPSVs), the report states that despite over 20,000 SPSVs operating in Ireland, there were only 11 EVs in operation. However, it adds that "electrification of the SPSV fleet will have limited impact on our total transport emissions with less than 5 per cent of transport CO2 emissions come from the public transport fleet (buses, rail and taxis)." However, it does acknowledge the likelihood of wider benefits such as greater public awareness, improving air quality and noise pollution.
On charging, the report recommends that the grant to support the installation of home chargers should be maintained in the short-term (SEAI commenced a new grant of up to €600 to support the installation of a home charging point for the purchasers of new and second hand EVs from the start of 2018), subject to an annual review with the provision of charging points for shared parking in apartment blocks to be considered in the taskforce's phase two work. It also suggests capital support for the development of existing and new on-street chargers.
Further capital support should be considered for the development of fast chargers, the report adds. Finally, the report states that as well as ESB Networks and EirGrid continuing to ensure the distribution and transmission systems are developed to accommodate the growing number of EVs "in a safe and efficient manner", non-Exchequer resources should be considered as EV penetration levels increase and "commercially viable markets begin to develop in the provision/maintenance of recharging infrastructure".