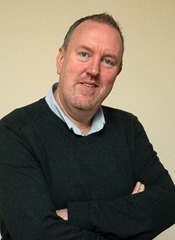 Currently Group Editor of the Connacht Tribune, Dave O'Connell started on the paper in 1983 before working at several other titles and being appointed editor of the Westmeath Independent in 2001.
Dave has presented RTÉ's Saturday View, Grassroots and Late Debate. A native of Oughterard, Co Galway, he is married to RTÉ journalist Teresa Mannion and they have two sons, Cian and Tom.
How did your career in the media begin?
I guess it began with a fascination for newspapers that has never diminished. I read newspapers in school but didn't really see it as a career option – and neither did my career guidance teacher!
But I was lucky enough to get a place on the journalism course at the old College of Commerce in Rathmines in an era when it was based more on aptitude and attitude than Leaving Cert points – otherwise I'd never have made it in.
My summer placement was with the Connacht Tribune and, as extraordinary luck would have it, just as I was about to sit my final exams. A year later in 1983, two senior reporters left within weeks of each other – and I was offered the one junior job available.
The rest is history. I spent six years there before moving on a tour of Ireland that took me from the Cork Examiner to the Irish Daily Star and the Westmeath Examiner Group in the Midlands before arriving back to my original stomping ground as Group Editor almost seven years ago.
Can you briefly describe a typical week on the paper?
The glib answer would be to say there is no typical week but there is a pattern. We have three papers a week – Connacht Tribune, Galway City Tribune and Connacht Sentinel – but I'm primarily concerned with the Connacht Tribune, which goes to press on a Wednesday evening to hit the shops on a Thursday morning.
So Monday is a day of preparation; subbing of local notes, compiling a news list, sort through weekend markings and photographs, and getting a plan in place.
Tuesday is a twelve-hour day to break the back on the content, to a point where there would only be half a dozen pages to finish on a Wednesday. That said, they are the most important pages, because they're the ones to the front of the paper. We go to press around 6pm, and after that it's time to update our website www.connachttribune.ie before finishing.
One of the constants on a Thursday morning is a visit to our sister company, Galway Bay fm, to publicise the big stories in that week's paper on air – and then the preparation for next week begins the cycle all over again.
What is unique or distinctive about the Tribune?
We're the only paid-for newspaper in Galway City and we've been doing what we do for 104 years. We're lucky to live and work in a sports-mad county, so our coverage of all sports – hurling, football, soccer, rugby and the rest – is crucially important. But we're only unique and distinctive in the way that all good local newspapers are. We report the news, views, sport, courts, entertainment and all that matters on our own doorstep.
How do you think newspapers will change in the next five years?
We will obviously have an increased online presence but we need to monetise that too in order to survive. Two of our three papers are already tabloid, and the second section of the Connacht Tribune is as well so it's inevitable we will be fully tabloid before 2014 is out.
Clearly some newspapers won't survive but I'm not one of those people who sees us in terminal decline. And I happen to think that local newspapers are in a stronger position to prosper for two reasons. We aren't as susceptible to local news breaking digitally as the dailies are, and we are already doing what the experts tell us everyone needs to do: micro news, the stories from the heart of our communities.
What makes for a good local paper?
The combination of good and bad news – human interest stories, local courts, who has achieved something of distinction and who has been put off the road by the district judge. Local sport is crucial – from the county teams down to the U8 rugby blitz. So is entertainment – what's on where and when.
Local notes are the spine of the paper but my acid test is how we would appeal to a complete outsider. If he or she picked up our paper and, without knowing the area, finds stories of human interest or endeavour that entertains and retains them for the next 30 minutes to an hour, then we're heading in the right direction.
How do you relax outside work?
That's a tricky one. I'm not a great person for hobbies although I love reading. I'll get through at least a book a week on anything – crime, literary fiction, sport – and I'm an avid newspaper reader, both on paper and on the iPad.
I watch a lot of sport, on the television, in the stadium or on the sideline cajoling our teenage sons to success with their local soccer team. But no golf, no running, no masters football, no gym. One of the advantages of approaching fifty next birthday is to accept your limitations, and trade participation for vegetation!