Issues
Creating a real Republic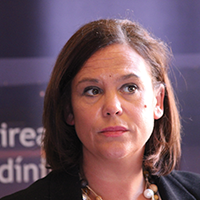 Sinn Féin Vice-President Mary Lou McDonald discusses the party's development and policy priorities with Owen McQuade. As 2016 approaches, she wants to start a new discussion about whether Ireland genuinely reflects the ideals of the Proclamation.
Growing up in a "political family with a small p," Mary Lou McDonald always had an interest in politics. None of her relatives had run for office "so I'm not from the dynasty traditions that are beloved of our land" but Irish and international politics were constantly discussed: "So I would have always had an awareness and, I suppose, a taste for what was going on around me and what was happening in the world."
The McDonalds were Fianna Fáil voters, having opposed the treaty, but "everything and anything" engaged her early interest, whether watching her mother writing letters to prisoners of conscience for Amnesty International or by getting involved in the Irish National Congress to campaign for Irish unity.
"I had been involved with Fianna Fáil for a short period of time but it was very obvious I was in the wrong place," McDonald comments. She sensed no real commitment in the party to social justice and equality and there was a "fairly limp approach" to Irish unity notwithstanding Bertie Ahern's commitment to the peace process. Sinn Féin stood out for prioritising an end to partition with "the other side of that unity coin" being an equal and fair society.
"I would say that I never had a particular mentor," she notes. "Gerry Adams has been an influential figure in my political life. There is no doubt that he has encouraged me, mentored me, that I have learnt a lot from him." McDonald also points to others in Sinn Féin who gave her opportunities and experiences "that really on the one hand challenged me and from which I learned a great deal."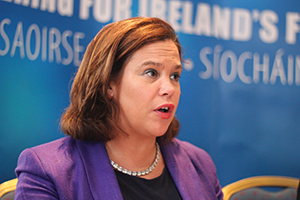 Being part of the peace progress negotiations is one prominent example. "Sometimes it's almost like a process of osmosis," she reflects. "You're not even conscious that you're learning the tools of your trade but nonetheless you are." The vast and varied experiences among Sinn Féin's women members also contributed to her development as a politician.
McDonald adds: "I know that I was probably at the time a fairly unlikely recruit to the party but nonetheless once I joined and once I got settled in, I was very, very sure that I was politically in the right space because the party and the politics of the party addressed the things that really matter to me."
She has never really looked back and now finds that growth in the South has brought in a more diverse range of members and built a broader support base: "It's been really fascinating to be part of a political party and a political project that is really, in the real sense, in transition and growing and developing and, in some respects, deepening."
Protest to mainstream
One challenge is to break beyond the 20 per cent level and into a middle class which often perceives Sinn Féin as a protest party. Its politics, especially in the North, she acknowledges, were "classic protest politics" for some time: "It was the politics of resistance. It was the politics of revolt in many communities and there are very deep-seated reasons for that."
However, in her view, an objective eye would no longer solely describe it in that way. "I think we surprised many by our capacity to assume ministerial office," McDonald remarks. "More particularly, to share power with the DUP – in the first instance with Ian Paisley Senior – and to work constructively in what is an incredibly challenging, and arguably unique, governance arrangement north of the border."
Sinn Féin retains its commitment to unity and additional fiscal powers so that the Executive can make "big calls and big decisions" in revenue raising and public spending. In this way, it wants to "foster an inclusive society and a vibrant economy."
The party was small and marginalised for a long time in the South but has "grown immensely," bringing a new generation into elected office in last June's European and local elections. Sinn Féin councillors were even elected in the "quintessentially middle class bailiwicks" of Clontarf, Rathfarnham and Terenure.
Matt McCarthy is "the token male" among its four MEPs and McDonald credits Pearse Doherty and Peadar Tóibín for developing "fairly significant anchors" in economic policy.
Opposition and protest is the correct approach, she contends, to take where a government's actions are damaging the social fabric and counter-productive to recovery. That said, anyone who views Sinn Féin as manning the barricades "seems to have missed the last 10 years or more in terms of our political development."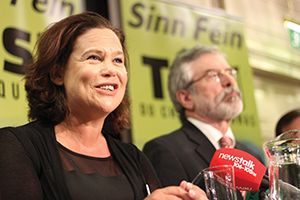 McDonald strikes a note of humility by admitting that "we don't know it all" and that the party has to have the sense "that you will always learn something new, that you will always have room for more creativity, that you are always open to being challenged, and to listening to an alternative point of view that thinks you have called something wrong."
Equality directs the party's thinking on public service provision and taxation. Anti-partition leads to a focus on the all-island economy, a "staunchly" anti-sectarian stance, and seeking solutions to the 'legacy issues' arising from the Troubles. The British and Irish governments have to "look squarely in the eye" at collusion while former IRA members need to take the same approach to their 'operations'. She likewise expects the same from loyalists and unionists.
McDonald adds: "That needs to be done in such a way that is all-encompassing and inclusive – not piecemeal because that just becomes a 'bun fight' between political actors to try and score points or to gain advantage."
There has been limited success in persuading successive British governments to resolve the past and she claims that the Irish Government's focus is "off the ball" on these issues. The Ballymurphy families – who lost 11 relatives in shootings by the British army in 1971 – only met Enda Kenny after an "unnecessarily long" process. No progress has apparently been made to source British Government files on the Dublin-Monaghan bombings.
"So what we have instead is almost, in an episodic way, different incidents, events and traumas coming into the public light," she adds. The political system deals with individual cases but not the "full scope" and getting past that would bring "some measure of healing to people."
McDonald rebuts the perception that only Sinn Féin's northern activists care about the issue. In particular, she affirms: "I find it a really poor reflection on the political systems in Ireland and Britain that we are now 17 years on from Good Friday and we've made no really significant progress on those issues around victims despite all of the rhetoric from time to time."
Election focus
'Social provision' is the broad phrase which McDonald uses to sum up the pressures on many families and individuals as the general election approaches. Access to housing, access to healthcare, and budget cuts in education and services for disabled people, all fall within that category.
"What I mean by that is the provision of the things that people need just to get by, just to live some basic threshold of a decent life," she emphasises. "I'm not talking about luxury. I'm talking about the basics here."
In addition, she highlights access to decent work. The "epoch of recovery" has coincided with a substantial increase in unpaid employment and unstable and contractual working relations. The new Low Pay Commission is "exclusively focused on the minimum wage" whereas McDonald is troubled by Ireland being second lowest in the OECD rankings for low paid employment – only ahead of the USA.
Sinn Féin would increase the minimum wage and address contractual issues and exploitation through legislation but also "move the conversation on" to a living wage.
The party has made two very specific commitments to implement if were to enter government: abolish water charges and abolish the local property tax. "Now, some people might argue that that is purely protest politics," she continues. "We argue that it's nothing of the sort."
McDonald makes the point that, taken together, those moves would constitute the "the most immediate way and measurable way that you can put money back in the pockets of low and middle income families." It will not, in any way, solve all of their financial dilemmas but it will bring some relief and increase domestic demand in the economy.
"Our issue isn't with wealth," she notes. "Our issue is with poverty. Are people doing well? Fair play to them but, if you want a healthy society, you have to provide for people in terms of social provision and, if you want a healthy economy, you have to make sure that people that spend their income actually have income to spend."
Republicanism
Taking stock of the state of the republic today, she states: "We don't have one." At every Easter commemoration, McDonald benchmarks Ireland against the 1916 Proclamation and she's mindful that it was addressed to all Irish men and women so partition is an obvious difficulty. Beyond that, on gender equality, cherishing all the children equally, using resources for the benefit of the country, and asserting sovereignty, she quips: "If we weren't coming up with 'nul points' we wouldn't be far off it."
However, McDonald also sees a real sense among the public not just for historic re-enactment but also for deeply considering: "What is a republic?" The association between nationalism and republicanism, in her view, reflects partition and adds a strain but she also feels that there is a hope for the future across the island.
She further explains: "I don't believe for a second that, simply because a person is unionist in their constitutional orientation, that they are incapable of understanding social justice issues or civil liberties." The unionist political tradition is "deeply conservative and reactionary" but people are moving out of their traditional thinking. Many younger people, for example in the Westminster campaign, only wanted to talk about same-sex marriage "and that's great because that's the stuff where the republican debate starts."
Think twice on Europe
McDonald's first elected term, as a Dublin MEP, took place during an "extremely interesting" time for the continent. "The great advantage of it is that it forces you to raise your gaze and see things in that broader perspective," she reflects.
Nothing, though, surprises her in the way in which the financial crisis has played out. The markets, competition and corporate interests "have trumped that sense of solidarity." She remains critical of Irish (or indeed Greek) decision to join the euro. Nation states would instead be better served by retaining their economic levers "and just that level of flexibility and discretion as a small, open, trading island." McDonald accepts the 1992 referendum result which led to Ireland's euro membership but she wants to see a "healthy scepticism" about the European project's direction and leadership.
"We are not advocating at this time and at this stage that we exit the euro or that we exit Europe," she is quick to add. Ireland, though, has an impulse to "uncritically jump every hurdle" based on the feeling that it doesn't want to be left behind and needs to stay at the core. She remarks: "The system seems to be almost myopic in terms of – medium-term and long-term – how does this serve the interests of a state and a country, an island such as ours?"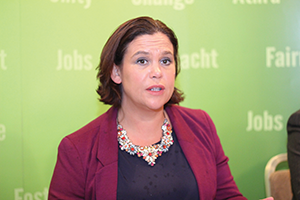 Profile: Mary Lou McDonald
A native of Rathgar, Mary Lou studied English literature at Trinity before being a postgrad at the University of Limerick and DCU: "I was writing a PhD that I never finished in industrial relations." Two of her siblings finished their doctorates and missing out on that is a genuine regret.
Having two children "keeps you on your toes" and she enjoys walking and reading, especially detective novels. Her husband sees their German shorthaired pointer, Lola, as "our third child … and she's the only being in the house that is every time happy to see me." As for politics itself, though, she finds that "this life is all-consuming."