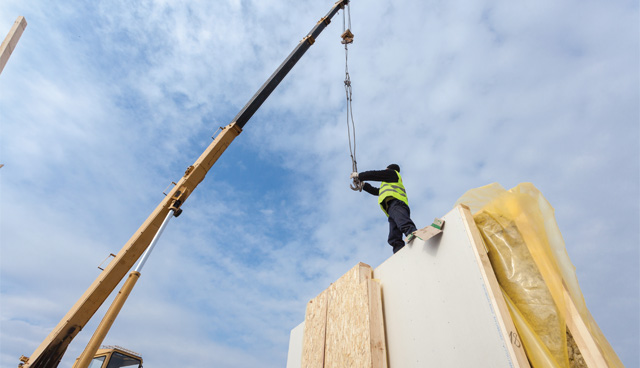 With Irish construction booming and all sectors within it experiencing growth, it is being reported that construction costs are now back to the levels experienced during the peak years of the Celtic Tiger.
Tender prices are still increasing while construction inflation outpaces general inflation due to increased activity, age rates, material prices and regulatory changes. Linesight research shows that tender prices rose by 7.5 per cent in 2018, with construction input costs rising by 3.5 per cent on average at the same time.
Having undertaken their estimate in mid-2019, Linesight forecast a further growth of 6.5 per cent on average for tender prices in 2019. High ongoing demand for construction amidst the housing crisis and significant public infrastructure building programmes such as Project Ireland 2040 mean that inflation is unlikely to cease any time soon. Research by the Society of Chartered Surveyors does, however, state that the rate of inflation is slowing, which Linesight says is "to be welcomed, particularly in the residential sector, where recent research shows that costs of building apartments are making them unaffordable for first-time buyers".
The average tender price is now over 20 per cent higher than it was in 2008, with the average construction input cost up almost 10 per cent in the same period. Linesight's report warns that "prices in the Greater Dublin Area and other major urban centres will increase at a faster rate, particularly for complex inner-city projects" and that any projects being undertaken should bear the constantly inflating costs in mind.
The Royal Institute of the Architects of Ireland has compiled the cost ranges of various construction projects in its Building/Construction Cost Guidelines 2019 report. With all prices stated being given as per sq m, they found:
industrial developments without offices ranged from

€

750 to

€

1,000, while those with offices were between

€

850 and

€

1,200;
commercial office developments ranged between

€

2,200 and

€

3,400 when owner occupied and between

€

2,000 and

€

2,800 for developer standard;
basic single or two-storey extensions ranged between

€

1,900 and

€

2,300; and
single or two-storey one off houses were

€

2,500–

€

2,800 with "reasonable level of finishes" and between

€

2,800 and

€

3,500 with "higher quality finishes".
Based on Turner and Townsend's annual construction costs survey, offices have risen by 5 per cent in construction costs, with "medium standard" residencies up 5.5 per cent and "prestige" residencies up by 6.6 per cent.
The Central Statistics Office's Wholesale Price Index for December 2019 showed an annual decrease of manufacturing prices of 3.2 per cent, but a monthly growth of 0.2 per cent for December itself. Overall, manufacturing prices are 8.8 per cent beneath 2015 levels, but building and construction materials, following an annual rise of 0.9 per cent are 14.5 per cent above 2015 levels.
The second half of 2019 saw a significant rise in this regard given that building and construction price levels were 5.9 per cent below 2015 levels in July 2019. The most significant rises in materials have been cement (5.7 per cent for the year 2019 on average), sand and gravel (5.1 per cent for the year and 15.6 per cent year-on-year for December) and hardwood (6 per cent for the year); the most significant drop was glass, which fell by 11.7 per cent for the year 2019. The capital goods price for building and construction, i.e. materials and wages, also rose in 2019, by 2.4 per cent. The level rose by 1.5 per cent year-on-year for December 2019 and is now 7.9 per cent higher than its 2015 level.