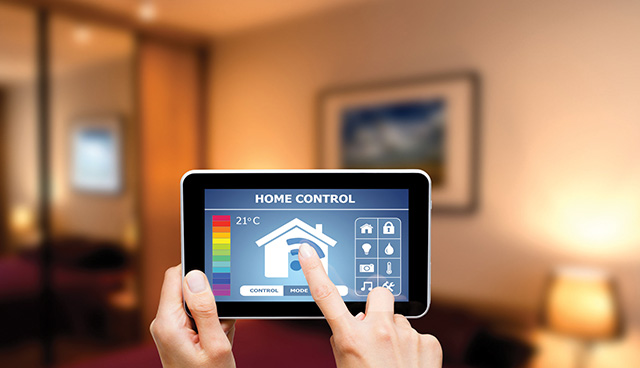 Innovation in product design has shifted greatly within the realm of Internet of Things and these products are now forming the basis of the connected home. As Ireland moves closer in its ambitions to provide greater digital equality through the roll out of high-speed broadband to all homes and businesses, eolas examines some smart connections which could soon be a standard feature of most homes.
The Internet of Things (IoT) has enabled the connection of innovative new technologies through the wireless network. While most people will agree that the market for connected technology is still in its infancy, the growing interest and investment in the sector by most of the tech giants offers some insight into the extensive room for growth that still exists.
In the US, the number of connected homes has risen by from approximately 17 million in 2015 to 29 million in 2017, a growth of 12 million homes in just two years. In Ireland, a recent survey by iReach Insights concluded that one in 10 homeowners believed they owned a connected home but 34 per cent of those surveyed said they were likely to implement smart home technology in the future.
What is a connected home?
While there is no agreed definition of how much technology in a home must be interacting before it can be deemed to be 'connected', one offered by Gartner describes a home "networked to enable the interconnection and interoperability of multiple devices, services and apps… These services and apps are delivered over multiple interlinked and integrated devices, sensors, tools and platforms. Connected, real-time, smart and contextual experiences are provided for the household inhabitants, and individuals are enabled to control and monitor the home remotely as well as within it".
In the past, sophisticated computing technology allowed for the deployment of smart technologies which forms the basis of the connected home. Bluetooth enabled devices that allow for remote access to home heating, lighting, plugs, smoke alarms and security alarms etc, now appear relatively old as new innovations join the market. The Internet of Things brought with it progression, in that objects could now communicate with each other and with the home owner.
The advantages of a connected home are well documented and include convenience, customisation, security and energy efficiency. However, there are also some notable potential pitfalls in creating a connected home. While smart devices offer the potential for greater home security they also carry security risks. The expanding amount of data gathering and data distribution associated with connecting a variety of digital devices makes them attractive to hackers and if in the wrong hands, data retrieved from a connected home could potentially cause a digital and physical threat to homeowners.
There is also a greater cost associated with the smart technology used to build a smarter home. As well as the cost of accessories, homes, through to governments, must ensure that the digital infrastructure exists to fully utilise the potential of the connected home.
Below is an example of some of the most innovative and recent technologies which are currently available to make up a connected home.
The smart speaker/smart assistant
In its infancy the smart speaker was wireless and able to be controlled via Bluetooth. Since then however, voice control has been added and the smart speaker has now become a main feature of most connected homes, utilising artificial intelligence. Many of the big brands have released their own smart speakers, each compatible with different devices within the home. The smart speaker essentially offers voice control over various devices it is connected to. Some of the things homeowners can currently order their smart speaker to do, if connected to other smart devices, are: alter lighting and heating, play music, set a timer, control AV systems, check for up-to-date weather and traffic updates and create lists. As smart speakers evolve to become more compatible with the growing number of smart products being developed their popularity will likely increase.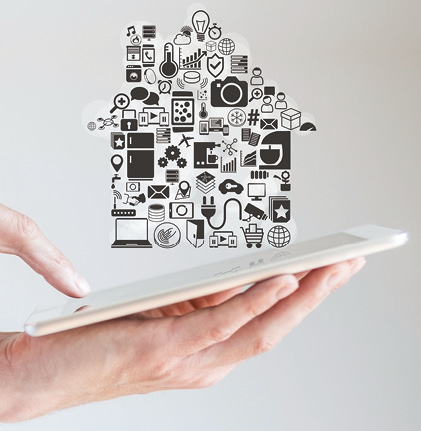 Smart thermostat
Again, being able to remotely switch on and off home heating systems via an app is not a brand new concept. However, AI and IoT has driven the evolution of the smart thermostat. As well as remote and multi-device access, the smart thermostat integrates machine learning with functionality. As well as learning the routine of a homeowner, some even tracking movement via GPS, for greater efficiency, these devices also have the ability to gauge room temperature, and when necessary, alter it.
Smart security cameras
While the functionality of smart cameras varies depending on the producer, the scope for what the smart camera can do is constantly increasing. Motion and sound detection are obvious tools to be included in these devices – which can often notify the home owner, alert the authorities and be viewed remotely – but newer features include things such as geofencing. AI means that these devices will possess the ability to learn routines, such as pet movements or irregular activity. Connecting the device throughout the home also offers the potential of even greater functionality. For example, its motion and sound detection could be utilised to switch on and off appliances such as lights when a homeowner leaves and enters different rooms.