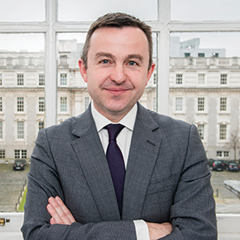 Minister of State at the Department of Public Expenditure and Reform Brian Hayes talks to Owen McQuade about progress on public sector reform, the imperative for better communication with the public, and the major potential for savings in procurement.
"We have made good progress," Brian Hayes affirms as he reviews the Government's performance on his remit: public sector reform. "The plan is unique in that it is very firmly focused on deliverables, by very clear timelines with people responsible."
Hayes' work as Minister of State mainly focuses on the Department of Public Expenditure and Reform with extra responsibilities for international tax issues and customs reform at the Department of Finance. The Cabinet sub-committee on reform has adopted a green-amber-red 'traffic light' system to measure progress against targets, and those indicators form the basis for Hayes' confidence.
"By and large, we are on target for all we were going to do," he states, "and the fact that it has been driven by the Department of Public Expenditure and Reform, that public sector reform has been allied to expenditure, means we are able to get things done in a more timely manner."
Looking at the macro picture, of staff numbers and the pay and pensions bill, the Minister says that "what has been achieved it is pretty impressive" and he hopes that finalising a new agreement on Croke Park "will allow us to do more between now and 2015."
Hayes emphasises: "All of that is undeniable." However, he adds: "The area I think we need to focus more on is the communications piece of it and the deliverables as far as the public are concerned. What tangibles have been brought to bear, that have made a difference to the end user, the consumer? And we are constantly looking at that and how we can improve that. The tax-payer needs to feel there is a difference."
The details, though, can turn technical when shared services are part of the message. "It is very hard to sell but I can see it," Hayes replies. "The citizen needs to understand that shared services will save us a lot of money, not just in how we do business across all the government departments but what savings are actually realised. For example, savings of 6 per cent on the HR shared services."
His officials have met the North's Department of Finance and Personnel, which is ahead in shared services and has set up separate bodies delivering IT and HR. "We learnt a lot looking at what went right and what went wrong and the key thing for shared services was that it has to actually work," Hayes points out. "It has to be delivered. For HR shared services, we will go live shortly and we will be issuing a full public position in May, and that is going to make a big difference in terms of HR."
The department's focus will then move on to pay, pensions and banking. The shared services project, he says, is "working well" but much of it will make a difference in how the Civil Service transacts with itself rather than the public.
"The bit we are more interested in doing is how exactly this technology is going to make a difference for the citizen," Hayes contends. "For example, the rostering for gardaí so we have more gardaí on duty at key times, and more flexibility of education services so that parents know exactly that the savings under Croke Park I are being achieved. That is the piece I am more concerned about, in terms of demonstrating to the public what savings are being made."
A lot of this is predicated on whether the unions will support Croke Park II but he is hopeful. "I think it is a good deal," he continues. "It is a deal that will give certainty to public sector workers over the next three years to 2016, whilst also giving certainty for the State in closing the deficit by another €1 billion."
Progress is sometimes best seen from a distance. Hayes' Belgian counterpart, whom he met in the week before the interview, was "seriously astonished" by the reduction in pay and pensions and numbers in Ireland without losing any days to strike action. The "industrial peace during this crisis" was a positive for Ireland.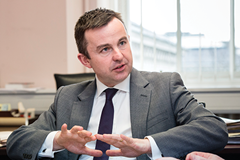 Procurement
Minister Hayes is responsible for public procurement, which is worth €13 billion in contracts and goods and services. He is keen to get savings in this area: "We now have appointed Paul Quinn who has come from the private sector and is leading the National Procurement Office. We have very ambitious targets over a three-year period of saving somewhere between €250 million and €630 million by better procurement, with more centralised buying and more frameworks in place."
Hayes is "very keen to encourage the all-Ireland market" in procurement, which he sees as an opportunity for SMEs to "really get on the pitch and win some new business." In his view, this can be only be done by improving processes such as eTenders, which has been done, and making it easier for businesses to interact with the State.
"If there is one criticism, we have too many public procurers," he comments. "One of Paul Quinn's key tasks is to put in place a more robust system with fewer public procurers but with people with more expertise of markets. That is something we are keen to focus on."
Public sector procurement, in summary, needs to be seen as a part of the deficit reduction narrative. Hayes explains: "People talk about taxes going up and expenditure going down. They don't see it [procurement] as better value for money. I am confident we can make significant cost savings."
The Minister also points to progress in the sale of State assets e.g. the sale of Bord Gáis Energy and the significant deleveraging of ESB's business, by selling the non-strategic elements of power generation.
"We have said we are looking at selling part of Aer Lingus when the conditions are right," he remarks. "Our whole policy on this is predicated on the view that we will only do this on two conditions. One, we would like to use some of the proceeds of any sale for the purposes of NewERA; we think it is important that the State looks at non-bank lending and the way you do that is you look at some of your well capitalised assets for the purpose of an investment fund. And secondly, we are not going to get into fire sales. We have made that very clear from the start."
Hayes' perspective is as follows. Where a semi-state company is well-capitalised, has a good international business and has come through this crisis, there is no reason why non-strategic parts of those businesses cannot be used for the purposes of investment.
"We are confident that will happen," he states. "When we came into government, we were told that if we sold any state asset all the proceeds would go towards the writing down of debt. We managed to obtain quite a substantial progress with the troika, accepting that 50 per cent could be used for jobs stimulus and the other 50 per cent could be used for leveraging private sector money."
Property portfolio
When asked about the rationalisation of the State's property portfolio the Minister replies that this is another area where "we have made a lot of progress and no-one knows about it."
Public sector floorspace was reduced by 945,000 square feet over a four-year period, between 2008 to 2012, equating to a saving of around €28 million on the State's actual rental costs. The bill has come down from €135 million to
€108 million this year. About 60 per cent of property used by the State is State-owned with 40 per cent being leased.
"This is going to change dramatically because the public sector is contracting, we have abolished or soon to abolish half of all quangos as a result of a government decision," he comments. "There is less need for all of this space and, if truth be told, we have too much space because of the disastrous policy of decentralisation."
The department will be bringing a proposal to the Cabinet on behalf of the Office of Public Works, which has responsibility for the State's property portfolio, to secure greater control of the entirety of the State asset bank, including the 'owned estate'.
"Instead of every organisation having its own front door, we might have a number of organisations in one premises working together," the Minister explains. "Secondly, I want to have proper space norms across the system. We have to challenge this notion in the public sector that you are entitled to X amount of space. That is totally bonkers in today's world and quite frankly we need to challenge that and have much more open plan office space, as the private sector has."
His third priority is finding new ways of getting private sector money into the public sector for the property portfolio, to ensure good maintenance of public buildings.
"I am very open-minded when it comes to sale and lease back and looking for opportunities for the private sector to invest," he confirms. "We do not have the money at the moment to refurbish and refit what we own and if we can get agreement with the private sector to refurbish it we could lease the property back over a period of time. That is a space I am really interested in launching and I want to do a pilot in this area quite shortly."
Opportunities
Hayes continues: "There is a huge opportunity to get money into State assets that could be paid back over a period of time. So we are talking about the total overhaul and rationalisation of what we own because we need to get those norms of space, thermal efficiency and where it is based."
He finds an obsession of having properties in Dublin 2 rather than in Dublin 22 or Dublin 24 "where you get it at a fraction of the price." The Minister appreciates that, at a policy level, people need to be in close to each other but for transactional parts of government, there is no reason why they cannot be located on the outskirts of Dublin.
The Department of Social Protection and Revenue Commissioners are the largest clients. "It is going to be difficult," he acknowledges, "because it is going to be a culture shock to move away from the silo mentality."
Hayes is responsible for the Office of Public Works which is a "very historic organisation, predating the founding of the State." Indeed, the office was founded by Act of Parliament in 1831. It does everything from flood prevention to capital schemes, heritage sites, tourism, procurement and managing the State's property portfolio.
"We are actually the classic shared service," he quips. "We have experts from property to procurement, which the State calls upon. There is a great opportunity for OPW's expertise in these areas to come to the fore in the reform of the public sector."
Procurement and property, the main focus of our conversation, are the two most important areas for which the OPW has responsibility in terms of the Public Sector Reform Plan and Hayes is sure that it can lead the way. He surmises: "There is a chunk of work the OPW can deliver through its expertise to get the overall public sector reform plan over the line."
Profile: Brian Hayes
Brian Hayes is Minister of State within the Department of Public Expenditure and Reform. Brian is TD for Dublin South West and he lives in Tallaght. He trained as a teacher. "But I never taught. I used to write speeches for John Bruton when I left college."
He was firstly a Senator nominated by the Taoiseach (1995-1997) before his election to Dáil Éireann in 1997. After losing his seat in the 2002 general election, he returned to the Seanad on the Cultural and Educational Panel. He was re-elected to the Dáil in 2007.
He served as leader of the party in the Seanad, a member of South Dublin County Council and was a Fine Gael National Youth and Education Officer. Brian is married to Genevieve and they have three children: Mark, Ellen and Michael.
Interests outside politics: "I won't say golf as I haven't played since last October. With three kids under 11, that keeps me busy. I enjoy history and also writing. The most frustrating thing is not getting the time to write. I find it very difficult to give a speech I have had no input into."
On being a Minister: "It is very challenging because the economic environment is challenging. Both Fine Gael and Labour had been in opposition for 15 years and suddenly we are in government with this massive majority. However, one of the benefits for me is working with Michael Noonan and Brendan Howlin. I think their experience is extraordinary and both of them have very clear minds about what has to be done."