Issues
Collective bargaining call dismissed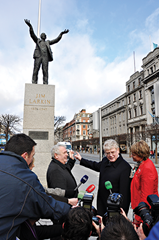 IBEC has dismissed the need for new collective bargaining legislation, after union demands to make good on a Programme for Government commitment.
Impact President Kevin O'Malley had called on the Government to fulfil its pledge to reform the law on collective bargaining, to comply with European Court of Human Rights judgments. This followed on from Labour's general election manifesto, which condemned "unscrupulous employers" and promised to prohibit any discrimination against employees for union membership.
No timescale was set out but O'Malley wants legislation in place before the centenary of the Dublin lock-out, which ran from August 1913 to January 1914. "It is unthinkable that we would mark the centenary … before the Government honours its commitment and brings Irish rights in line with international standards and rulings," he said.
However, IBEC believes that Irish law has already complied with the Strasbourg court's rulings. "Freedom of association already enjoys the highest possible legal protection in this country, enshrined as it is in the Constitution of Ireland," IBEC's Director of Industrial Relations Brendan McGinty said. He maintained that Ireland's collective bargaining law was tailored to its own labour market and has worked well.
"Any interference with this system," he added, "runs risk of upsetting the careful balance that has been struck between workers and employers, at a time when labour market flexibility, attracting investment and job creation should be the aim of every employer and worker."