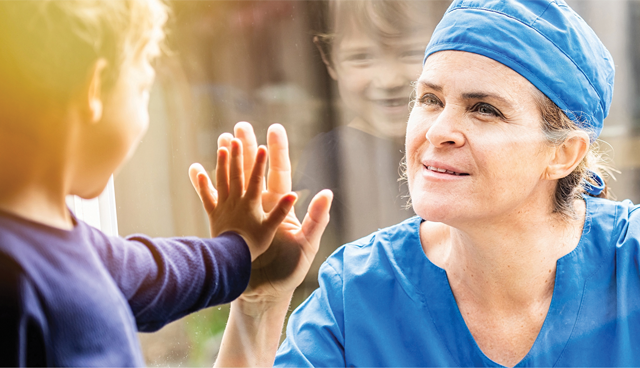 The pandemic has been the cause of great sadness and destruction across the globe. Being involved in the solution is a responsibility and a privilege for Cerner and our clients worldwide, and has driven innovation and collaboration at a pace hitherto unseen.
Supporting Irish healthcare providers and their patients
St James's Hospital in Dublin have been operating their full electronic health record (EHR) since 2018, and so were well-placed to move quickly in order to respond to the pandemic. Their EHR is a single source of truth, as opposed to multiple, disconnected paper notes. The system enables clinicians to access information from anywhere in the hospital, making lab orders and contact tracing more efficient. They were able to incorporate universal SNOMED-CT codes, helping to better identify and track patients suspected — or found positive — of having Covid-19. With an eye on efficiency and safety, they amended their system to incorporate the Covid Critical Care Index Score, an innovation that was then made available to Cerner clients worldwide.
Mothers and babies were able to benefit from Cerner's partnership with the HSE through the Maternal and Newborn Clinical Management System (MN-CMS) EHR, which supports 40 per cent of Ireland's births across Cork, Kerry and Dublin.
MN-CMS enables multidisciplinary staff to access patient records without human contact, which is an antimicrobial benefit that's even more valuable in a pandemic. This ability to access and update the patient record from any location also facilitated the establishment of offsite outreach clinics, meaning expectant mothers do not need to travel to University Hospital Kerry's acute facilities. It also allows patients to be discharged earlier, as records can be accessed and updated virtually in consultation with the patient.
Similar to the communication improvements at St James's, the MN-CMS team enabled the Covid communication icon in their record, which will alert users to an infection risk on an electronic tracking board once the Covid problem was entered. It can be flagged to alert users in all areas. Dashboards give a clear visualisation of the current status within a hospital in terms of actual numbers of patients with Covid-19, which can be useful for hospital management and operational planning and reporting.
The EHR also makes identifying people with Covid-19 quicker and safer. This begins at the bedside, where real-time requests can be made and results received, speeding up the process for both clinician and patient. Even in another environment — be it an outpatient clinic or at home — access is still possible. The use of a single source of truth also benefits laboratory staff, as all the required data is fed in automatically and reduces any risk of contamination.
Operationalising health network improvements in days and weeks
Our partnership and existing hospital and community base with the NHS in the UK means that we are able to quickly collaborate to deliver value at a huge scale.
For example, we supported Barts Health with the set-up of the 4,000-bed temporary Nightingale Hospital at London's ExCeL convention centre — in just one week. This meant that Barts Health's clinicians and admin staff working at Nightingale had full access to relevant data, and didn't need any additional training to do so. Having a linked EHR also permitted staff to request tests and access their results rapidly, helping to boost throughput of recovered patients and maximise the hospital's capacity.
Being an extension of Barts Health's Cerner Millennium® domain also meant that Nightingale had London-wide connectivity, via Cerner's Health Information Exchange (HIE). This allowed seamless sharing of patient information with local primary and community care providers, and then across London's other acute trusts via the OneLondon Local Health and Care Record Exemplar (LHCRE).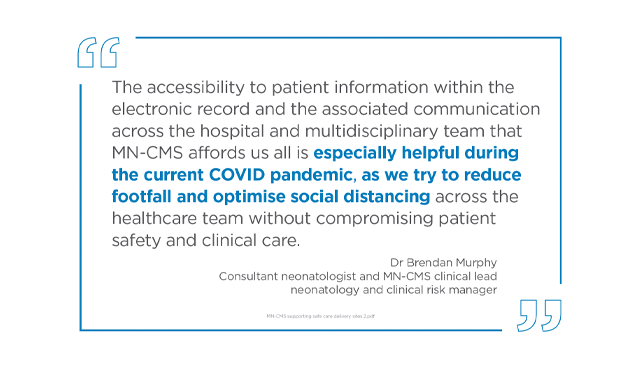 While all of the Barts Health sites use Cerner Millennium®, that's not the case for all the trusts that use the OneLondon 'super HIE'. This is where Cerner's commitment to interoperability comes to the fore, with our open standards-based approach allowing for the health and care records of up to nine million people to be shared with the people that need them.
As Lewisham and Greenwich NHS Trust's Stephen East told Digital Health in August, being part of the super HIE "provides a clear view of clinical information in real time, and it can be easily and rapidly rolled out at scale. Within five days, we were able to extend its reach from six to 18 Clinical Commissioning Groups covering the vast majority of London GPs."
As we look to the availability of vaccinations in 2021, some of our clients are aiming to use their Cerner solutions at scale for Covid-19. For example, Boston Children's Hospital were already using immunisation forecasting functionality to keep their patients up to date with their existing vaccines. This experience may now be leveraged to roll out Covid-19 vaccines to entire patient populations.
Covid-19 analytics for prevention and cures
Cerner's collaborations on Covid-19 haven't been limited to actively treating the illness or purely for operational efficiencies. We have also been involved in enabling research projects to help study this novel coronavirus, so that prevention — and a cure — can be the end goal.
Earlier this year we launched a Covid-19 analytics lab with health networks in the U.S., leveraging our analytics platform and a national data set capability. Cerner provided healthcare researchers free access to Cerner's Covid-19 data set to support related epidemiological studies, clinical trials and medical treatments, in line with applicable laws and guidelines. The de-identified patient data secured and stored on Cerner HealtheDataLab™, powered by Amazon Web Services, includes Covid-19-related demographics to help track spread and surge, underlying illnesses and chronic conditions, treatments, lab results, and clinical complications and outcomes that could help drive important medical decisions. A committee formed of industry advisors and industry leaders review the applications and identify recipients that will benefit from the complimentary offering.
Currently, the data is being used on over 50 studies, including one at UT Southwestern in Dallas, Texas, which showed that age and underlying health conditions are more of a factor than ethnicity when it comes to Covid-19 mortality in hospitalised patients, for example.
Post-Covid planning has already begun
As the Covid-19 pandemic is spreading across the globe, healthcare providers, governments and other stakeholders are executing strategies to respond to the surge of testing and treatment demands associated with the virus.
Many are now preparing their strategies for the recovery phase, when the impact of unmet clinical demand from 2020 will cause further significant challenges for our healthcare systems. We look forward to supporting our Irish and global healthcare clients through these difficult times.
www.cerner.ie
Twitter: @CernerIRL