Digital
Cloud computing: Ireland's opportunity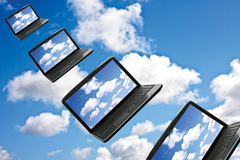 Emma Blee looks at a new report which finds that Ireland has the potential to capture a huge share of the cloud computing industry if it moves quickly.
Cashing in on cloud computing has the potential to create 8,600 new jobs in Ireland and reach €9.5 billion of sales by 2014.
This was the main finding of 'Ireland's competitiveness and jobs opportunity: cloud computing', an economic impact study prepared for Microsoft by Goodbody Economic Consultants, which says Ireland should move quickly to establish a global cloud computing centre of excellence.
The main benefit of cloud computing is that it offers online technology centres so that smaller businesses can access large data centres where information is managed, secured and delivered to users, as and when they need it.
Goodbody predicts that if more businesses were to migrate to the cloud 2,000 new non-IT small and medium-sized firms could be created, employing up to 11,000 people throughout the country.
In 2009, the total cost of information technology for Irish businesses and public sector users was €4.2 billion. The report suggests, though, that the early adoption of cloud could save these organisations €500 million in annual running costs because it removes the need to raise money to invest in capital IT equipment.
It would also mean that even a small business using the cloud and buying IT services from a large specialised provider will be able to receive services of the same quality as a large corporate or government user with a state of the art in- house IT system.
The industry could also help to restore competitiveness, create jobs and gain a "disproportionately large share" of the global cloud computing market, which the report expects to be worth €40 billion by 2014.
Ireland is an "ideal base for the location of firms engaged in cloud computing activities" but it is "critical that we move fast to create a global reputation".
The report is calling for quick actions to make progress, including a high profile government cloud computing project to showcase Ireland's expertise worldwide, the promotion of cloud computing to SMEs and start-up companies, boosting its awareness among the private sector and a government agency-supported programme to attract foreign investment into the sector.
If there is a delay, Ireland will lose its current competitive advantages and these new activities will develop elsewhere in the world.
IDA Ireland has said it has already identified the industry as a key focus area in their 'Horizon 2020' 10-year blueprint for job creation. Chief Executive Barry O'Leary said that embracing the cloud is a "great opportunity" for Ireland.
Commenting on the findings, Microsoft Ireland's Managing Director Paul Rellis claimed that cloud computing "will revolutionise technology the way that the internet did."
He stated: "As this global industry is in its infancy, Ireland has a real opportunity to pioneer its adoption to create new jobs, new businesses and enhance our competitiveness while attracting foreign direct investment and creating new export markets."