Issues
Climate Action Plan 2023: A welcome roadmap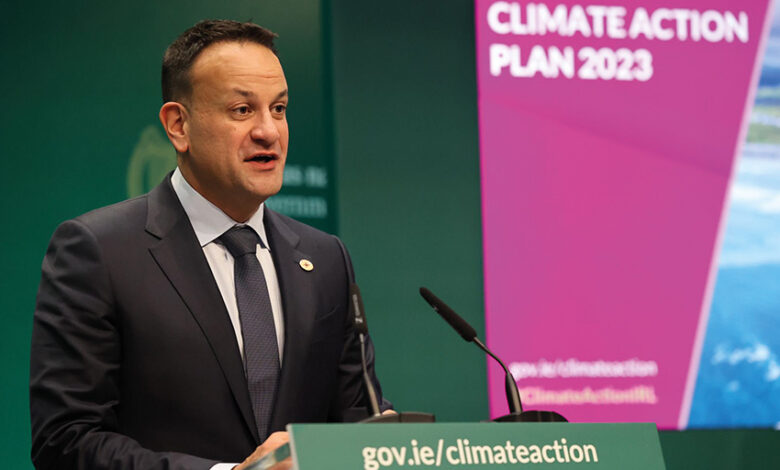 Climate Action Plan 2023 implements the carbon budgets and sectoral emissions ceilings, setting a roadmap for taking decisive action and halving emissions by 2030.
Representing the second annual update to Ireland's ongoing Climate Action Plan (CAP), CAP 2023 is the first to be prepared following the Climate Action and Low Carbon Development (Amendment) Act 2021 and sets out a roadmap to halve emissions by 2030.
The plan seeks to implement the legally binding carbon budgets and sectoral emission ceilings introduced under the Act and identifies six "vital high-impact sectors" as part of the plan.
Where CAP 2023's predecessors focused on Ireland's contribution to the need to reduce global emissions and mitigate the planet's temperature rise, the most recent plan pointedly highlights the local consequences of climate change, not least an almost 10oC increase in average surface air temperature over the last century, and an annual sea level rise of between 2mm to 3mm since the early 1990s.
Importantly, the plan builds on engagement and research carried out under the National Dialogue on Climate Action in 2022, which the Government says "will inform and support a strengthened social contract between the Government and the Irish people around climate action".
Feeding into the importance of broad citizen engagement, CAP 2023 pledges to a just transition committee, as an advisor to government, with specific progress indicators.
The National Development Plan (NDP) sets out investment of some €165 billion to 2030, boasting a rise of public investment to 5 per cent of GDP* as well above the 3 per cent of GDP average.
Renewable electricity
Underpinning the critical role renewable electricity will play in decarbonising other sectors, CAP 2023 raised the ambitions of existing targets (see figure 1). CAP 2023 commits to 22GW of new renewable capacity by 2030, a significant rise from 15GW in CAP 2021. Among the most important measures included in the plan is raising the proportion of renewable electricity to 80 per cent by 2030, setting a target of 9GW from onshore wind, 8GW from solar, and up to 7GW of offshore wind energy, 2GW of which will be for hydrogen production.
Electrification will play a big part in the decarbonisation of the heat sector. CAP 2023 does not increase the previously outlined ambitious target to retrofit 500,000 homes and 400,000 to use heat pumps by 2030 but does accelerate targets for 2025 and 2030. Alongside a pledge to install 680,000 renewable energy heat sources in new and existing buildings, CAP 2023 sets out that all new dwellings will be designed and constructed to nearly zero energy building (NZEB) standard by 2025, and zero emission building standard by 2030.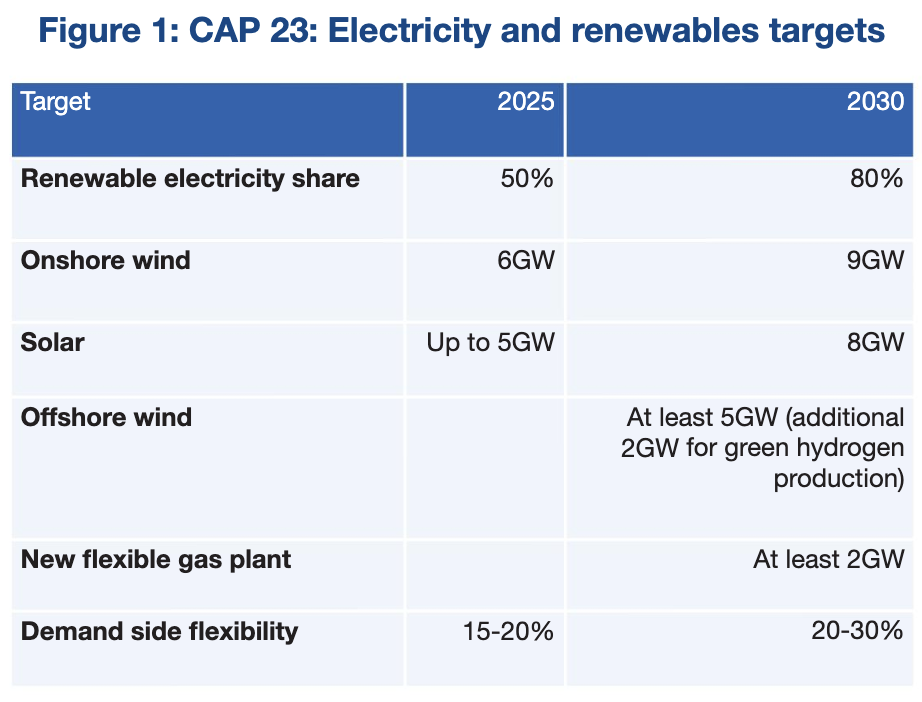 Sectoral emissions ceilings require a 45 per cent reduction in emissions for commercial/public buildings and a 40 per cent reduction in emissions for residential buildings by 2030. A 20 per cent target has been set for both for 2025.
Actions in the residential sector for 2023 include publishing a National Heat Policy Statement, accelerating the delivery of district heating schemes, implementing recommendations of the District Heating Steering Group, and publishing a geothermal policy statement.
Alongside efforts to support the continued rollout of retrofit schemes, CAP 2023 sets out efforts to boost supply chains, and skills and support low-cost finance. A National Heat Policy Statement is expected in 2023.
Transport
Targets to decarbonise transport set out in CAP 2021 have been enhanced. CAP 2023 outlines a 20 per cent reduction in total vehicle kilometres travelled, and a 50 per cent reduction in fuel usage. Added to that are a 50 per cent reduction in daily active travel journeys and a 130 per cent increase in daily public transport journeys. Alongside continuing programmes of work in public transport, an EV charging strategy is set to be published in 2023, with charging infrastructure and charge point schemes to be led by the recently established Zero Emission Vehicles Ireland Office. The plan targets one-in-three private cars on Irish roads to be electric by 2030.
Agriculture
The plan commits to using less chemical nitrogen and more targeted use of fertiliser, while maintaining the same level of grass growth through multi-species swards, estimated to require between 150 to 200 AD plants of scale. A national biomethane strategy is expected in 2023 and The Renewable Heat Obligation 2024 is flagged as support. Other measures include improving the genetics of our herds to reduce emissions and improve productivity. The Government says it will incentivise increased organic farming and diversification into forestry, biomethane and energy production. Tillage farming is expected to cover up to 400,000 hectares by 2030.
The ongoing Land Use Review is set to inform the sector's emission ceiling, recognising that Ireland's land use change and forestry sector is a carbon source rather than a carbon sink. Actions include a Forestry Programme 2023-27 and Coillte's Strategic Vision, launching the Common Agricultural Policy Strategic Plan, and continuing Bord na Móna programmes aimed at peatland restoration.
Marine
In relation to the marine environment, ambitions for at least 5GW of offshore require the development of a comprehensive planning and consenting regime. The establishment of the Maritime Area Regulatory Authority and the development of Marine Planning Guidelines are the basis for increasing renewable generation in the years ahead.
At the launch of CAP 2023, Taoiseach Leo Varadkar TD said that climate action should be seen as an opportunity, rather than an obligation or burden.
"It is about warmer homes, cleaner air, fewer journeys, less time commuting, more remote and home working, more jobs, and regional development," he says.
"We should be the generation that turns the tide on climate change and biodiversity loss and leaves the planet to the next generation in a better condition than we inherited it. Within a generation, Ireland can become energy independent by harnessing our untapped renewable energy resources. We can reap the rewards for our people that come with it – greater energy security, stable prices, new industries producing green fertilisers and green hydrogen, more jobs, and regional development."
Calling for a "dramatic shift", Minister for the Environment, Climate and Communications and Transport, Eamon Ryan TD, adds: "The Climate Act 2021 and Climate Action Plan 2023 leave little room for manoeuvre. It is the responsibility of ministers, key economic sectors, and industries to demonstrate that they are on a clear path to halve our emissions by 2030 and achieve net zero by 2050.
"Our approach is based on the principle of fairness, ensuring a just transition where costs and benefits are shared equitably."