Issues
Citizen-centricity holds the key to public sector transformation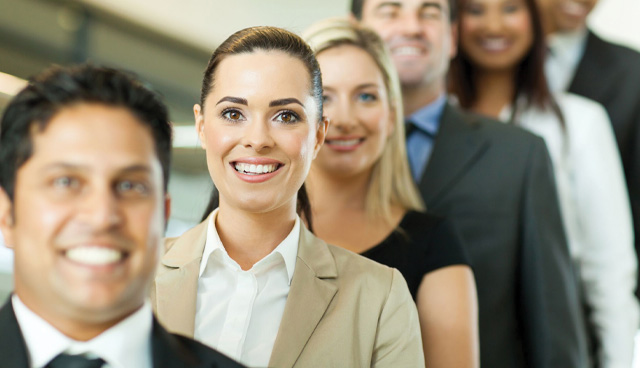 The Government of Ireland set ambitious goals in the Civil Service Renewal 2030 Strategy, and creating citizen-centric, connected organisations is the key to success, writes Paul Pick-Aluas, Head of Digital Transformation at Salesforce Public Sector Europe.
What makes a public body citizen-centric?
To be truly citizen-centric requires more than just an improved and expanded digital presence. We are moving to an all-digital, work-from-anywhere world and we must place our focus on designing a better, more transparent, and faster outcome for the citizen, and agents who need access to the right data, tools and processes. This "citizen platform" comprises five core capabilities:
Relationship management: Behind nearly every process is people. Build a single view of the citizen, including a history of touch points across their interactions with your organisation.
Case management: Agencies' relationship with stakeholders generally comes in the form of requests, or "cases". Cases underpin licensing, grants, benefit requests, maintenance, complaints and other processes and functions.
Collaboration: Cases will often span more than one department, even multiple agencies, or organisations. Efficient collaboration is essential to provide a speedy and comprehensive citizen service.
Integration: Citizen-centricity requires pulling in information from other systems and services. We call this the Citizen 360˚ and around it we help build a "single pane of glass" for public servants.
Data insights: Once the data is available in a single view, it's useful to be able to make sense of it, unlocking the power of data in a way that builds public trust in decision-making and enables evidence-informed policy and services.
Citizen-centricity is rightly at the heart of the Irish Government's civil service and digital strategies, underpinning key priorities such as Digital First and insights-driven decision-making. The suite of publishing and data tools available through Ireland's OGCI offer progress towards the goal of citizen-centricity, but cannot achieve it alone. SaaS and PaaS providers like Salesforce accelerate public sector digital transformation.
Salesforce helps public sector agencies manage and track customer interactions in a Digital First way — whether they are citizens, businesses or other government departments. With a 360-degree view of every constituent, service agents can effectively streamline and manage resolution workflows to serve the needs of every citizen, stakeholder, and partner with a single digital source of truth.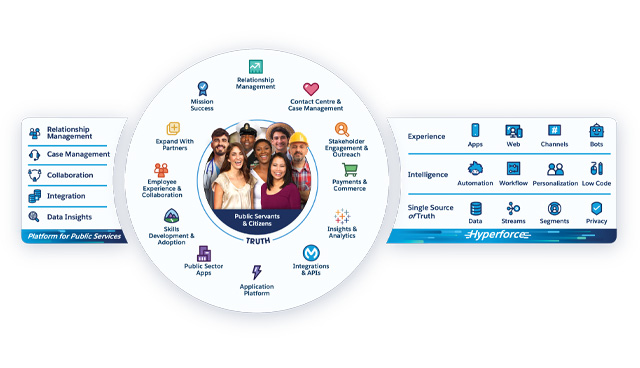 How do we deliver whole organisation services while improving individual processes?
Unification and repeatability. We do this through processes and services across silos anchored on the citizen:
A unified data model: Bringing together all of the information about a citizen or other stakeholders, including interactions and touch points, life events, applications, and profile attributes.
A single front door: This single, user-friendly, consistent connection point giving service users access to their own information and relevant services.
End-to-end processes: Connecting steps and activities for what is ultimately a single benefit translates into a process being wrapped around the citizen data model, delivering improved operational visibility and unified global insights to the public administration.
Repeatable processes: Build to reuse: leverage a low code foundation to drive reusability of processes and components, increasing productivity, consistency, and speed to deployment.
Evidence-informed policy: Expanding on this our platform provides a way to bridge the gap between policy creation and process execution, by creating a feedback loop so that the outcomes of policy implementation can be measured and tracked.
What does the workplace of the future look like?
The workplace of the future is a digital headquarters. This starts with a single pane of glass, bringing together relevant information and processes around a particular work item, whether a case, permit, grant, etc, with contextual insights and easy access to details. With an increase in remote work and dispersed teams, it is important that organisations provide employees with tools that can foster the types of collaboration and serendipitous innovation that usually results from in-person interaction. Salesforce and Slack together are positioned to be your organisation's virtual headquarters. It's where people, tools, data, and processes can come together to drive work forward.
Salesforce: public sector's trusted cloud PaaS and SaaS provider
Salesforce is a world-leading enterprise cloud computing company dedicated to helping companies and public sector agencies transform into connected organisations through social and mobile technologies. Salesforce enables companies of every size and industry to take advantage of powerful technologies, processes over five billion transactions a day.
Among other sustainability measures, Salesforce provides its customers with Sustainability Cloud so organisations can track, measure and act on a range of sustainability initiatives. We also deliver on the concept of 'evergreen': our platform is constantly up to date with three free updates per year, iteratively adding features and avoiding costly upgrades.
Salesforce is committed to a set of core values: trust, customer success, innovation, and equality. These guide our business and how we serve our customers and communities. Salesforce's vision is to be the public sector's trusted cloud PaaS and SaaS provider, based on the values of maintaining confidentiality, integrity, and availability of customer data. As a leading PaaS and SaaS provider, data security and compliance are paramount for Salesforce. The company's trusted cloud platform is creating a connected experience for more than 3,500 public sector agencies worldwide.
W: www.salesforce.com/uk/publicsector