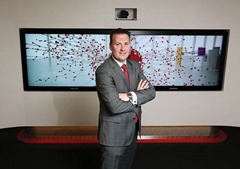 Being selected to deliver the Government's high bandwidth fixed data network marked a major milestone for Vodafone Ireland. Steve MacNicholas, head of Enterprise Customer Solutions, outlined the company's journey from mobile operator to full service telecoms provider.
A key part of any cloud strategy is the physical access layer, or as it is commonly referred to as the 'plumbing and pipes'. Vodafone has been in the marketplace outside its original core mobile business since 2006 and since then the company has transformed from a mobile to a total telecoms operator. Its Irish operation is one of 14 operating companies in Europe and this strategy has been achieved by a number of acquisitions, including the addition of BT's consumer and small business base.
As cloud services started to develop in the marketplace, we realised we were missing the 'glue' infrastructure offering wide area networks and providing fixed asset infrastructure over copper, fibre, microwave and wireless. The offering was to provide ubiquitous access over a next generation network to facilitate businesses and government departments and agencies in connecting their business needs, whether that is a single user or a large government department.
To add this capability to the company, Vodafone acquired Infusion. Steve MacNicholas was one of the founders of the largest independent company in Ireland, providing fixed infrastructure to businesses with multiple locations, including Paddy Power, Maxol and Sisk, using a number of different access technologies.
After 10 years of growth, including the network roll-out for the Citizens Information Bureau, Vodafone ultimately wanted to provide the physical infrastructure in business in both the private and public sectors. In 2011, MacNicholas acquired Complete Telecom – "another strong business in this space" – which was similar to Infusion except with two key differences. The first was that it was very strong in the public sector. It had rolled out the National Health Network (NHN), connecting around 50 hospitals for the HSE. It had also rolled out the Garda Síochána network, connecting all its locations across the country. A second difference was that the newly acquired company had key skills in systems integration, including firewall security solutions, going further inside the local area networks. Ultimately, last year we integrated both businesses into a new Vodafone division called Enterprise Customer Solutions (ECS), which is headed up by MacNicholas.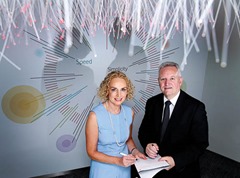 ECS has 61 people making up a specialist bespoke team within the enterprise division of Vodafone Ireland, offering full design, delivery and support capabilities. The team's offerings are heavily customised and focus on the needs of businesses and government organisations offering complex integrated solutions.
In July 2012 Vodafone made a global acquisition of Cable and Wireless, with 78 Cable and Wireless people in Ireland joining Vodafone, which is undergoing an integration programme at present. This acquisition demonstrated an ambition and investment to move Vodafone from a traditional mobile carrier into an operator with a very strong remit in a number of product areas.
"We have built a capability and now have a large private and government base in our twelfth year of trading history in building complex, secure and scalable networks for public and private sector clients."
Government cloud
To facilitate the Government's move towards cloud computing, the Department of Public Expenditure and Reform selected Vodafone Ireland to provide a managed high-bandwidth fixed data network for government departments and agencies. There are a number of key requirements including provision of a high capacity. "This is a high capacity network with 10 Gbps. You can transmit a lot of data through a 10 Gbps backbone network," observes MacNicholas.
Phase 1 of the project will be to physically inter-connect government locations together. Vodafone will initially invest €5 million in initial infrastructure, which will facilitate the Government's cloud strategy and reduce the cost of delivering public services. The investment will ultimately allow the development of other services and will enable data centre consolidation. This infrastructure will help government deliver centralised and shared services which are part of the public sector reform programme.
"The first phase is to get the big centres in Dublin connected up and then push out into the regions and that has already started," says MacNicholas.
The seven-year framework contract is a single supplier contract. "This is a fantastic win for Vodafone Ireland. It is the first 10 Gbps infrastructure to be rolled out, as most large business networks in Ireland are only 1 Gbps. Three years ago, we wouldn't have been considered for something like this. It is a good testament of how we have developed as a company."
For more information go to www.vodafone.ie/businessor to discuss your individual business requirements, email John Clancy: john.clancy@vodafone.com