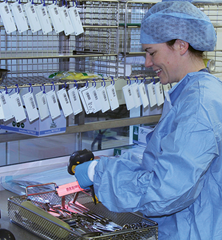 Standardised systems can help to make healthcare more efficient and accurate, therefore improving the safety of patients.
For 40 years, GS1 has been bringing industries together to revolutionise the way they do business. In 1973, industry leaders came together to select a single standard for product identification: the barcode. What started as a way to speed up the grocery store check-out has become the global language of business: a common way for trading partners around the world to identify, capture, and share information about products, locations and more.
Today, GS1 is helping diverse industries drive efficiency, safety and growth through the adoption and use of standards. From retail to healthcare to fresh foods to food service to transportation, GS1 standards continue to transform our lives.
Healthcare systems around the globe are facing challenges that affect the entire supply chain. The entire sector is concerned primarily with two main issues: patient safety and greater supply chain efficiency and accuracy. The facility to identify things uniquely and accurately is essential, be it a medication, an item of clinical equipment or even a patient. The regulatory landscape continues to evolve in healthcare globally. New regulations in the EU, the US and elsewhere will have a major direct impact on the healthcare supply chain.
Use of GS1 standards enables traceability and promotes a safe and secure supply chain by providing greater visibility, accuracy and efficiency for the benefit of all parties involved. Preventing medical errors, enabling traceability and recall and combating counterfeiting are top-of-mind concerns facing the healthcare sector, and GS1 standards are helping to solve these issues.
GS1 Ireland has been working with the Irish healthcare sector for a number of years with the primary aim to "drive the adoption of supply chain solutions in the Healthcare sector based on GS1 standards in order to reduce both risk & costs".
GS1 is an international, neutral, not-for-profit company with operations in more than 110 countries around the world, including Ireland. The GS1 System of Standards is the most widely-used system of supply chain standards, serving more than 2 million companies worldwide. It is recognised by organisations such as the International Organisation for Standardisation (ISO), and the European Committee for Standardisation (CEN).
Case Study
The HSE has implemented a new tracking system for re-usable medical instrument sets in eight hospitals and this solution is currently being rolled out to all Irish hospitals and includes endoscope re-processing. Sharing re-usable instruments such as endoscopes between theatres and hospitals has obvious cost-saving and availability benefits. But it can challenge legacy tracing systems because when an item leaves its base hospital, there is no longer any guarantee that its identifier is unique.
Using the GS1 Individual Asset Identifier system, each instrument tray (instrument set) is uniquely identified. As the tray moves through a central decontamination unit, that identification is enhanced by adding batch codes, expiry dates and Global Location Numbers (GLNs) where applicable. Every step is recorded and time stamped. As trays move between hospitals, each receiving hospital scans the bar code which enables the details from the hospital that owns the set to be imported and maintains the identification integrity of the individual tray and contents.
The HSE now has standards, using GS1 identifiers, to manage the efficient re-use of instruments across Irish hospitals. This entire process was formerly paper-based and labour-intensive.

For more information, please contact:
Siobhain Duggan
Healthcare Sector Director
Tel: 01 208 0660
Web: www.gs1ie.org