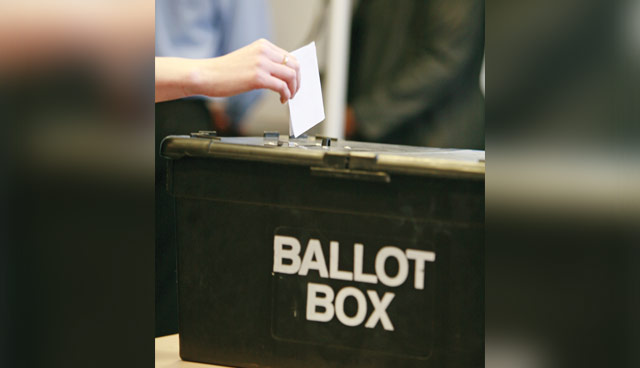 As the possibility of a general election in 2020 hangs in the air, the pressure on the Fine Gael minority government was turned up another notch by four byelections held on 29 November to fill seats vacated by former TDs elected to the European Parliament in May.
Held in Cork North-Central, Dublin Fingal, Dublin Mid-West and Wexford, the byelections delivered boons for Fianna Fáil, the Green Party and Sinn Féin, who all finished the day with one more TD to their names. The votes also saw something of a recovery for Labour, but no seat as reward. It was Fine Gael who were the losers of the day, failing to hold the Dublin Mid-West seat vacated by Frances Fitzgerald and failing to pick up any of the other three seats.
Turnout was low across the board, ranging from a low of 25.6 per cent in Dublin Fingal to a meagre high of 35.3 per cent in Wexford. Overall, of the 372,198 people eligible to vote across the four constituencies, only 111,027, or 29.8 per cent cast a ballot. Some 1,065 of these ballots were spoiled, roughly 0.96 per cent of overall votes cast.
Cork North-Central
Previously held by the Fianna Fáil TD Billy Kelleher, now an MEP, the Cork North-Central byelection saw the balance of the 2016 general election generally kept to for Fianna Fáil, whose Cork County Councillor Pádraig O'Sullivan topped the poll with 28 per cent of the vote, almost identical to Kelleher's proportion of 27.92 per cent in 2016. O'Sullivan was elected on the 10th count, eventually eliminating Sinn Féin's Thomas Gould to ensure that Fianna Fáil retained their seat in Cork North-Central, where they have held at least one, and sometimes two, seats since the creation of the constituency in 1981.
The Fine Gael Government's position was further weakened by events in Cork North-Central a week after the byelections when sitting TD Dara Murphy resigned his seat after it was uncovered that, despite working full time in Brussels in the administration of the European People's Party since 2017, the TD had been drawing his full Dáil salary and allowances. It is said that Fine Gael were unhappy with Murphy's decision not to resign before the byelection as the belief in party headquarters is that the party would have had a better chance of winning a seat on transfers in a two-seater byelection rather than what amounted to a straight race on 29 November. The constituency now consists of one Fianna Fáil TD, one Sinn Féin TD, one Solidarity-People Before Profit TD and the seat vacated by Murphy.
Dublin Fingal
Dublin Fingal, vacated by the former Independents 4 Change TD Clare Daly, delivered what could be described as the most shocking result of the day. The Green Party's Joe O'Brien, who polled at 4.61 per cent of first preference votes in the 2016 general election, topped the poll with 22.9 per cent to continue the party's return to national prominence. O'Brien was elected on the eighth count after transfers from Labour's Duncan Smith eliminated Fianna Fáil Lorraine Clifford-Lee, sealing a first ever byelection victory for the Green Party.
Dublin Fingal now consists of a TD each from Sinn Féin, the Green Party, Labour and Fine Gael.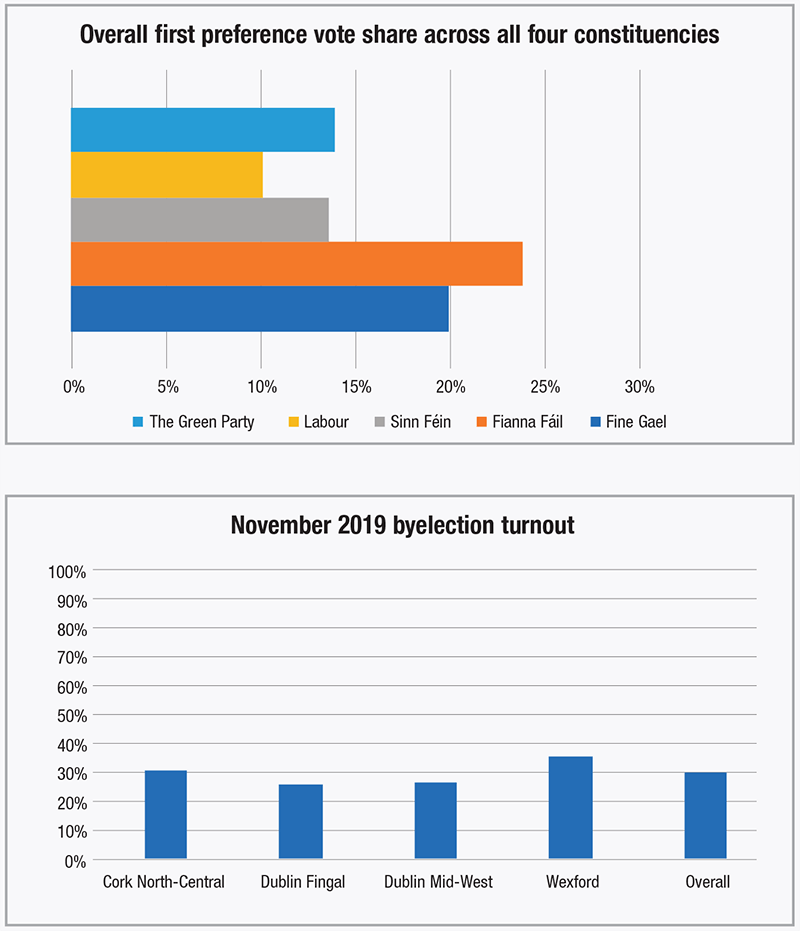 Dublin Mid-West
Rivalling O'Brien's victory in Fingal for shock factor was the victory of South Dublin City Councillor Mark Ward for Sinn Féin in Dublin Mid-West. Ward's victory will come as a blow to the Government as the seat he filled had been vacated by Fine Gael's Frances Fitzgerald. The victory gives Sinn Féin a second seat in Dublin Mid-West, with Ward joining party spokesperson for housing Eoin Ó Broin TD. The other two seats in the constituency are occupied by Solidarity-People Before Profit and Fianna Fáil.
Ward topped the poll with 24 per cent of first preference votes, slightly higher than the 22.69 per cent Ó Broin secured when he topped local polling in 2016. Despite being expected to lose out on transfers once the initial surprise of his top billing had worn off, Ward hung on to win on the ninth count after transfers from the independent Paul Gogarty pushed him over the line ahead of Fine Gael's Emer Higgins.
Wexford
Fianna Fáil gained a seat in Wexford with Wexford County Councillor Malcolm Byrne claiming the seat vacated by former Independents 4 Change TD Mick Wallace. Byrne's total first preference share of 31.2 per cent increased the party's overall in Wexford in 2016, where they peculiarly ran three candidates, who split 26.66 per cent of the first preference votes, ending with only one, James Browne, getting elected.
The constituency now consists of two TDs each from Fine Gael and Fianna Fáil and the Labour leader, Brendan Howlin TD. The Labour candidate George Lawlor had polled at 20 per cent of first preference votes, higher than the 14.76 per cent that saw Howlin top the poll in 2016. While he was the last to be eliminated, his vote share will be well-received in Labour headquarters as a sign of recovery in what has traditionally been a strong Labour constituency.