Transport
Bus Éireann: Delivering passenger growth and satisfaction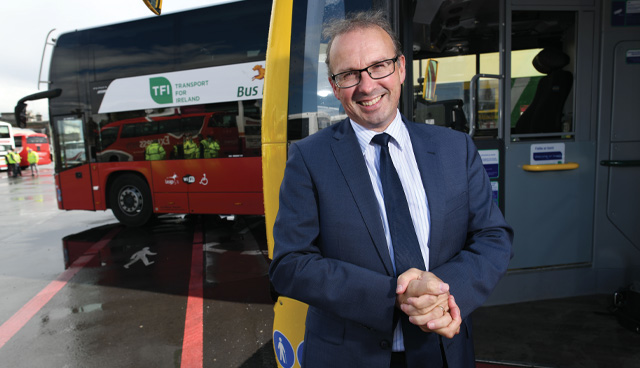 Bus Éireann Chief Executive Officer Stephen Kent speaks to eolas about the national bus company's new services, its transition to electric and hydrogen-powered vehicles, and the opportunities in recovering from Covid-19.
"In Bus Éireann we are proud to have a unique insight into the role and importance of public transport in Irish life, right throughout the country," says Stephen Kent, the national bus company's Chief Executive Officer. "From primary school children taking their first steps to independence by taking one of our dedicated school buses, to students taking Expressway to college, the person travelling to employment and home again throughout their working life, people shopping and socialising, right through to people who have retired and now hold the free travel pass, Bus Éireann is there throughout with a mix of services to keep Ireland connected."
Bus Éireann operates the most extensive public transport network in the country, serving almost 90 million passengers in 2019 across 82 million kilometres, with operations in 17 depots and 2,700 employees. The company, supported by the National Transport Authority, operates Public Service Obligation routes across the city networks of Cork, Galway, Limerick and Waterford, Greater Dublin Area commuter services, town services in Athlone, Balbriggan, Drogheda, Dundalk, Navan, Sligo and county services. It also has a commercial wing, the country's largest intercity service, Expressway, and operates the national School Transport Scheme on behalf of the Department of Education.
"Our challenge is to provide services and experiences that convert these school kids and students to life-long loyalty to bus public transport. It may seem a strange time to say this, given the huge financial impact of Covid-19 on
public transport operators, but I don't think there's been a more exciting time to be working in this sector," continues Stephen Kent. "The convergence of environmental, economic and social goals is creating opportunities for us, while expectations have probably never been higher either."
Sustainability, driving change
Bus Éireann's focus is now on 2030 and achieving its sustainability goals, having made important progress throughout 2020. The national bus company is targeting a 30 per cent increase in passenger numbers, while cutting greenhouse gas emissions in half within the next nine years. In 2020, Bus Éireann was proud to trial the first hydrogen-powered bus in passenger service in Ireland and is preparing for three double-deck hydrogen fuelled buses to be deployed this year. Galway's city fleet will be fully hybrid by the end of the year and the Athlone town service will convert to electric-only in 2022.
"We know that no new diesel bus will be added to our urban fleet. Working closely with the NTA, these initiatives will help us to chart the path forward to determine what technology will be the most appropriate on all kinds of different routes," explains Stephen Kent. "What is already very clear is that in our challenge to cut greenhouse gas emissions in half, the vehicle is just the most apparent change, but more profound transformation will precipitate behind the scenes.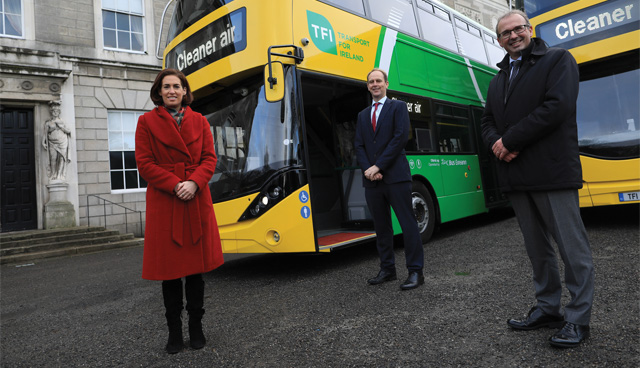 "We are assessing the implications for the locations and power supplies of all our depots. Currently, all our vehicles, whether Bus Éireann city and town services, Expressway interregional or school transport use the same fuel and rely on the combustion engine for power. We have 300 highly skilled and valued craftworkers and are devising training programmes to support their change to working on electric-powered vehicles.
Our people are at the centre of the contribution we can make to Ireland's sustainability agenda," continues Stephen Kent.
Passenger growth
Turning to the other side of the equation, Bus Éireann's target to grow passenger numbers is also important to Ireland's climate action goals. Even now, bus and coach travel is inherently more sustainable as it emits up to one-fifth the carbon dioxide per passenger kilometre compared to private cars. Modern diesel engines emit 90 per cent less nitrous oxides than they did in 2000. Getting more people to think bus instead of car can be a quick win.
"We have proof now of the effectiveness of additional investment and service improvement. Significant improvements in services to regional cities were made in 2018 and 2019, with the support of the NTA. Frequency was increased, 24-hour services were introduced in Cork, an entirely new network for Waterford, and reliability improved. We saw passenger numbers grow by up to 70 per cent within 12 months of these initiatives, a demonstration of the latent demand for bus services," explains Stephen Kent.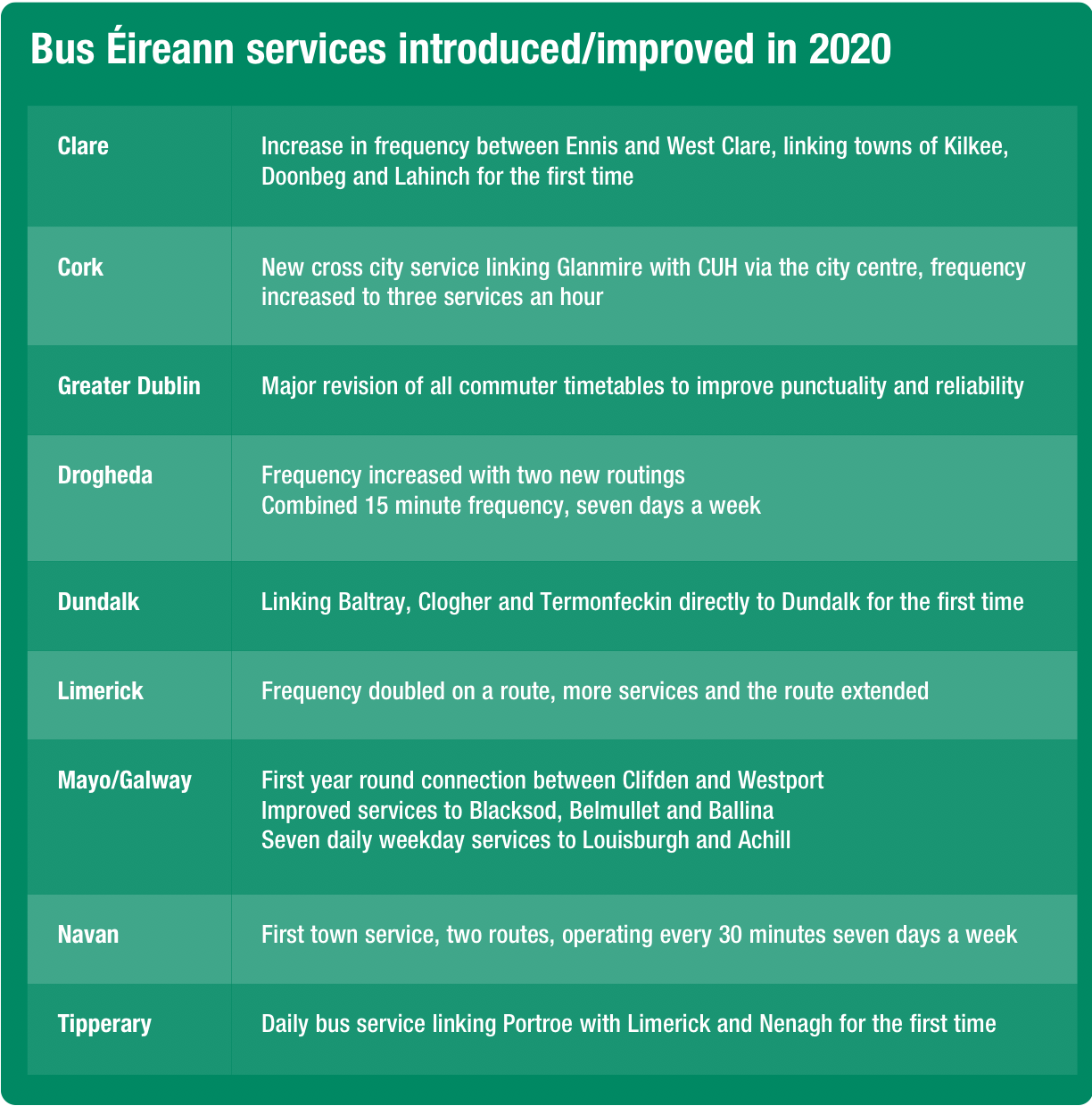 Delivering passenger growth while maintaining high levels of customer satisfaction has always been the focus, but now Bus Éireann has a third target – promoting and helping to deliver significant modal shift away from the private car in all parts of the countryside. Bus Éireann sees bus services playing the major role.
"We often talk about the inherent flexibility of bus transport. I think 2020 showcased that in ways we wouldn't have wished for, but from which we have learned so much about what is possible," continues Stephen Kent. "Since the pandemic hit in March 2020, when demand collapsed by 90 per cent, we have scaled schedules back and restored them again. We have implemented public health restriction guidelines from two-metre social distancing on board, to 25 per cent capacity, to 50 per cent capacity and back again – and sometimes operated at different capacity levels in different parts of the country during localised lockdowns.
Improved services
"We added three million km annually to our services within four months of funding approval, and created 120 jobs, thanks to the National Transport Authority and the July Stimulus package," continues Stephen Kent. "At more or less the same time, we increased what was already Europe's largest school transport scheme by a quarter, to almost 9,000 dedicated routes, to provide 50 per cent social distancing capacity on post-primary routes. These are initiatives that demonstrate the flexibility which has been achieved throughout our operation, our focus on the customer and overall efficiency."
The performance and resilience of the entire Bus Éireann team during the pandemic has accentuated our commitment to providing a public service and ensuring connectivity when people relied on public transport most. "We are very conscious that in our sustainability targets we have committed Bus Éireann to very positive transformation which will deliver far reaching benefits to the communities we serve. The Covid-19 crisis has really tested our people, our partners, and stakeholders but there has been fantastic collaboration to keep our essential services on the road, safely. It gives me great optimism about what we can achieve together in the coming years, delivering safe, more frequent and reliable services, to more people, with less environmental impact and with an even more diverse workforce," he concludes.
W: www.buseireann.ie
Twitter: @Buseireann