Digital
Building the foundations of a digital strategy: How the NHS are saving thousands of lives and millions of pounds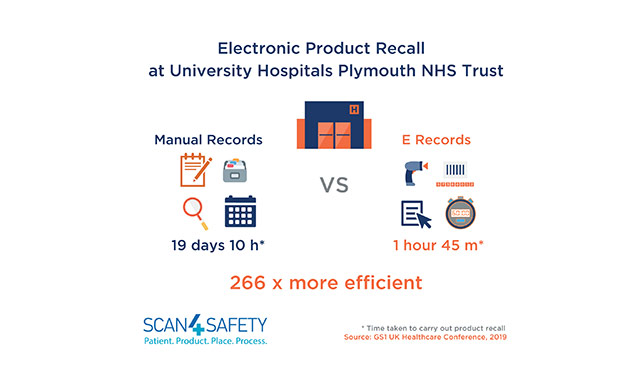 In April 2019 over 300 delegates came together to discuss innovative ways of using GS1 barcode standards at the GS1 UK Healthcare Conference. Speakers included representatives from the six NHS Demonstrator Sites that have implemented the successful 'Scan4Safety' programme across the UK.
"Digital has changed every other industry and it has the potential to dramatically and fundamentally change the way we deliver healthcare," said Lord David Prior, Chair of NHS England.
The resounding message from the conference was the recognition of the far-reaching benefits which have been realised within NHS England from 'A simple scan': Removing paper-based systems and processes and using GS1 standard barcode technology to cross check and capture patient data reduces; the risk of medical error, the time to carry out administrative tasks; and returns time to front line staff to concentrate on patient care.
In 2017/2018, 468 'Never Events' were reported to the Care Quality Commission in the UK, including 203 wrong site surgery incidents, 35 medical administration errors and 64 wrong prothesis implants. These events can be eliminated by designing risk out of systems using identification technologies and patient scanning, ensuring the wrong treatment, implant, or device simply won't fit – supporting the five patient rights; right patient, right drug or device, right time, right dose, and, right route, said Professor Ted Baker, Chief Inspector of Hospitals of the Care Quality Commission.
While protecting patients from potential medical errors is central to the need for identifying and capturing medical data electronically, NHS England have realised considerable operational efficiencies and waste reductions through the implementation of Scan4Safety. For example Royal Derby Hospital, a Scan4Safety Demonstrator Site, reduced the time taken to carry out vital signs monitoring from 5m 11 sec to 3m 22 sec by using barcode scanning to identify patients. If this was replicated across the whole NHS this would equate to 6,000 extra nurses per day.
A further success of the Scan4Safety programme can be seen in the tracking of assets to locations. Andy Barrow, Head of Medical Engineering at East Kent University NHS Foundation Trust, described how prior to the introduction of asset tracking, infusion pumps costing €1,800 each were regularly in short supply and staff were frequently requisitioning more pumps. The device management data provided by the new Radio Frequency Identification (RFID) tracking system, showed that across the three sites there was an excess of 98 pumps worth over €170,000.
The big news at the conference was that NHS Digital had recently agreed a new five-year membership contract with GS1 UK, and, are heavily engaged with the implementation of the Scan4Safety programme. This is a strong message to healthcare suppliers in the UK, where GS1 standards have also been mandated in order to supply products to the NHS.
At the conference closing, Glen Hodgson, Head of Healthcare GS1 UK, reminded the delegates of the recent statement from Matt Hancock, Secretary of State for Health and Social Care: "I want to see this (Scan4Safety) taken up by the entire acute sector. We can have the most advanced tech, but we won't see the real benefits unless we have real interoperability. So, staff have to make scanning a routine part of their working day."
GS1 licences the most widely used system of supply chain standards, serving more than 2 million public and private sector organisations worldwide.
For more information, please contact:
Siobhain Duggan, Director of Innovation and Healthcare, GS1 Ireland
T: 01 208 0660
E: healthcare@gs1ie.org
W: www.gs1ie.org/healthcare