Issues
Build to share: financing IT transformation projects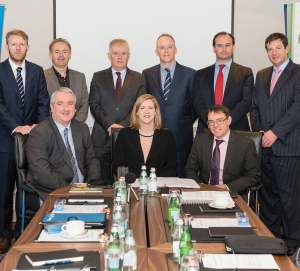 Dell Ireland hosted a round table discussion on how the 'build to share' and 'infrastructure as a service' models can be used to deliver IT transformation projects.
 How have you transformed your organisation through new models of IT delivery?
Cliff O'Keeffe
The Department of Justice has an ICT governance group which develops a strategic vision for the justice sector. The department's ICT, headed by John Kennedy, hosts 27 agencies with 2,700 users in locations around the globe. We have a managed service in place so are also focused on contract management and strategic procurement to drive savings and sought opportunities to work with other organisations – initially within the justice sector and then the wider public sector – around economies of scale. We have run procurements on behalf of, or in conjunction with, the Prison Service, the Courts Service and the Probation Service that have delivered greater buying power which have focused on shared applications and infrastructure across the sector. This has also enabled us to share knowledge through an internal liaison group, which helped us to deliver projects faster and more cost efficiently as we do not have to constantly re-invent the wheel and learn from the pain others experienced.
John Barron
IT is fundamental to our business and it's not really a question of transformation but of continually evolving. We like to be at the leading edge, not the bleeding edge, of technology innovation. We are currently increasing our analytics capability, using our data to detect non-compliance and improve compliance. We also plan to use analytics to help improve our customer service offerings. Revenue is also using technologies such as social network analysis to identify connections between entities in an effort to combat and identify fraud. We are using these types of technologies to drive efficiency which is ultimately for the benefit of the taxpayer.
In the wider sense, we have developed what I would loosely call a 'government cloud' providing Infrastructure as a Service (IaaS). Revenue has a large tier 3 data centre and now hosts 31 other public sector agencies. This has been a tremendous success and two thirds of our data centre is given over to non-Revenue equipment. Working with the OGCIO and the CIO Council, Revenue will continue to develop this offering and could position Revenue as 'platform as a service' for public bodies – because we have the scale we can offer that.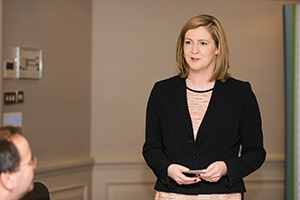 Niamh Townsend, General Manager, Dell Ireland
"We were delighted to host a roundtable discussion on the topic of 'Build to Share: Financing IT Transformation Projects'. This is an area where Dell is taking a leadership position as we move to support our customers in adopting solutions that can be adapted as the needs of the business change over time. Dell Financial Services provides a flexible alternative to bank and other sources of IT financing as access to capital remains a key obstacle for many businesses. The EMEA HQ of Dell Financial Services is located in Ireland, and we are delighted to be working with many local customers to help them plan for the future and make sure the technology is in place that will enable them to grow."
Cormac Costelloe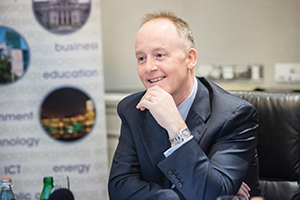 Our business is pan-European and we engage with the public sector right across Europe. The main change we are seeing is a move away from a traditional capex budget constrained model to one where everyone is trying to do more with less and be more efficient. Dell set up Dell Financial Services as a strategic enabler to the broader Dell business and to address a key customer need. Our objective in that regard is to refine payment models to better suit the move away from capex to more utility-driven models such as pay per use. Historically when people were considering financing technology, their consideration tended to be limited to leasing. It has become much more than leasing and we have been developing different types of payment structures. Dell set up a bank in Ireland to offer financing solutions across the technology space – to facilitate customers to get the best technology solution today using a payment structure that is best matched to their budget process. We have facilitated government departments across Europe to do more today when they have been constrained by their capital budget.
Rodney Doyle
Transformation does not have to be new, full stop. It could be new to you. One example I was involved with in my last role was an 'insourced/outsourced' model for all our help desk facilities. We brought in a team onsite and over time we worked them back offsite. We now have a core of our help desk people onsite but most of the calls are handled offsite from an office in Cork run by an Irish firm and it has been a great success.
We also run the grid control centre which is 24/7, 365 and keeps the lights on. We have looked at how data comes into the control centre and have linked up with providers including Met Eireann for wind and weather forecasts. We have also worked with our telecoms providers to look at the flow of information into the control centre. We have also worked with Dell to look at the types of technology we use and at our data storage capacities and how we access our data in real time to help better decision making.
We have increasingly taken a partnering approach. There are often vendors who don't quite have the tool we need as a lot of what we are doing is at the leading edge – Ireland has become a test bed for the energy industry. We have a much higher penetration of renewables relative to our size than anyone else has had to deal with. We provide our engineering expertise and our partners bring their IT skills. We have found this model works well for us and it is something we now need to do.
Ronan Byrne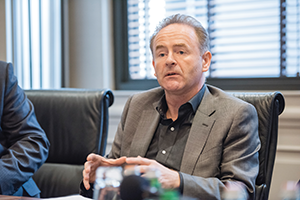 HEAnet have been following a shared services model since the outset. We started out as a collaborative effort by the seven universities focusing on network integration and connectivity. Our core business is delivering high quality and high availability network connectivity to colleges and research organisations and, more recently to Ireland's schools. Building on this connectivity platform we are now developing cloud services. Many colleges are now adopting a 'cloud first' strategy with all their key services going to the cloud. Our role is to facilitate through the development of private community cloud services but also to assist our clients in accessing third-party services through cloud brokering.
'Edugate,' our federated identity access management system has been a key success for us in the last five years. Edugate allows a user to access a myriad of online resources using just their single college credential.
Shared services remains our d'être and seeking opportunites to leverage the HEAnet networks remains a key focus for us. The recent 100Mb Post-Primary Schools Programme is a good illustration of leveraging the HEAnet asset as the same backbone network is used to carry schools traffic nationwide. This allows regional school connections to join the network at their most adjacent third-level college campus location. HEAnet's procurement approach under this programme has delivered savings in the order of millions. As well as leveraging infrastructure, we also endeavour to leverage economies of knowledge in terms of expertise and experience.
SeánO'Dwyer
In daa we have a significant and sophisticated IT function. One of the challenges of that is to work with IT in strategic procurement management and not just understanding immediate requirements but the bigger picture for the future. We have developed a sourcing function within the IT department which works hand-in-glove with procurement. This has allowed us to move towards more managed services and better planning with less of the traditional approach of dealing with requirements as and when they arrive. We now routinely look to see if things can be bundled together.
On financing, with the assumption that procurement does procurement well, the money still has to be found. It is a challenge in all organisations for the procurement and finance functions to work together, even if they are in the same department. They each tend to focus on their own discipline. As technology is rapidly developing, it remains a particular challenge to on board innovation without jeopardising competition in the market.
What does infrastructure as a service or build to share mean for your organisation? And what are the challenges?
John Barron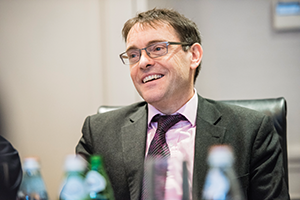 Public sector bodies have a very good foundation with the Government Network which was put in place in the late 1980s/early 1990s by what is now the OGCIO [Office of the Government Chief Information Officer], providing a network back bone for government agencies. 
From a 'shared' perspective, all agencies are independent and they all do different things. Therefore ownership of the IT system and its running, needs to belong to the agency that is delivering the service.
In a simple sense, infrastructure as a service can be co-hosting which gives economies of scale in a data centre – which also helps guarantee business continuity. There are big savings to be made even consolidating at that level. Consolidation further up the stack, with platform or software as a service is a different ball game and doesn't always make sense. The biggest problem is the marketing of all this. Getting buy-in is difficult because people tend to be very protective of their processes, want to keep control, have existing investments and arrangements in place and also have legitimate data concerns.
Cliff O'Keeffe
Every department is funded separately and if anything is to be done as regards infrastructure as a service there would have to be a decision taken centrally to allow the funds to be allocated. There has been a high level statement made in the ICT strategy but we need to start seeing the finer detail as people are often afraid of change – particularly change they don't understand. Infrastructure as a service on a scale would require the transfer of some people and resources but the departments and agencies would still retain control of IT systems which are specific to their business and application development resources. We are also already sharing within departments – for example the Department of Justice's 27 agencies. One possible next step is sharing infrastructure across government and then we could focus on applications for our own business. DJE has also just completed a migration of its infrastructure to the Revenue Data Centre taking advantage of their hosting facilities.
Ronan Byrne
Sharing at the network layer is a straightforward proposition as we all use a common standard i.e. IP. But as you move up the stack to the infrastructure and application layers, we can't prescribe a single standard, there are many options. A challenge for HEAnet is to seek to converge around common cloud technologies, but we need to be aware that one cloud approach will not necessarily fit all. We do need to arrive at some convergence as we cannot be experts across every platform and every application. We will listen to our clients to inform where convergence may lie. For example, we currently host the Moodle learning management solution for several education institutions. It is important to recognise where you can add value and where you shouldn't.
Internally over the past two years we have changed our service model which can be viewed as something of a layer cake with layers across: 'network,' infrastructure' and 'applications.' There is then a logical higher layer which we call 'brokerage.' Brokerage includes everything from identity management, licensing, due diligence and procurement frameworks. Importantly, we have also changed our internal organisation structure to reflect these different layers.
Rodney Doyle
In energy there are huge changes going on across Europe with the introduction of a new electricity market, with people being able to trade power from Dusseldorf to Dublin. In Ireland this is the I-SEM [Integrated Single Electricity Market] project for the whole island of Ireland to link up with the rest of Europe to trade electricity – which will put downward pressure on prices for consumers.
In terms of IT, the separation of the infrastructure and application layers is important. At the application level there will be a single algorithm for the new European market which will run at points in time to settle the electricity market across the whole of Europe – that will be application as a service right across Europe. For the second by second running of our own [electricity] network, you are back into our own specific applications. In terms of security, it is vital we have control over our own infrastructure. We are highly unlikely to put this particular type of infrastructure into a share service but we will look at other types of services for a shared service type of approach – but it is important to get the balance between risk and cost right.
How can effective procurement strategies enable the delivery of IT transformation?
SeánO'Dwyer
It is about basic things like, not losing sight of using open technology and systems, and avoiding the temptation to equate solutions with certain vendors – that is the bane of procurement people's lives. It is important, particularly with the speed of change of technology, not to lose sight of procurement basics.
Pan-European solutions were mentioned earlier and the e-tenders platform is a glowing success suitable for a Europe wide approach.
Cormac Costelloe
What is going to work in one environment will not necessarily be suitable in another. The rate of change is certainly accelerating and we can do things now we could not do five years ago. Sharing platforms will become easier with more and more flexibility. As regards procurement, we can bring a flexibility to support people in terms of how they pay for a service. Ultimately you have to pay for any service but we need to change the one-year capex mind set.
Ronan Byrne
The opex versus capex debate offers some challenges and some opportunities. The first challenge is that most public tenders look for a fixed price, typically from a capital spend allocation. But as cloud computing presents a pay-as-you-go model, which is opex-based, this is then a challenge to the traditional capital-based procurement approach. There is also an opportunity herein, however, in that a recurrent cloud computing opex model has an inherent infrastructure refresh element, managed by the vendor, which avoids the periodic capital investment ask and you are not left in the scenario of sweating the asset beyond that asset's envisaged shelf life.
John Barron
In the public sector, we work on an annual budgetary cycle with fixed amounts for capex and for opex every year. However, pay as you go may not be cheaper. I have done the sums and with some SaaS [software as a service] models it can be more expensive over a five to ten year period than capex.
Rodney Doyle
We work in a regulated environment. Although we operate within an annual budget we get three and five year revenue controls, agreed with the regulator. It can be a challenging environment but if the regulator understands and supports what is needed, there is then an agreed programme of work beyond the one year budget which allows for better planning.
Cliff O'Keeffe
In addition people need to ensure that the contract works effectively and remains flexible. If excessive emphasis is on cost then you can find the contract fails to meet business needs so a delicate balance must be struck when drafting the tender. Following the award contract management is key to ensure value for money is achieved as there can often be cost accelerators involved which if not understood can led to significant increases.
Choose one area government policymakers should focus on in order to make Build to Share and Infrastructure as a Service, successful?
SeánO'Dwyer
Looking more broadly, outside our own business, the traditional budgetary approach needs to be looked at again. The much lauded multi-annual envelopes never really happened. The traditional approach doesn't acknowledge the natural peaks and troughs associated with good strategic procurement. You make an investment today but it is going to last for 5, 7 or 10 years. There needs to be better alignment between spend and budgets.
Ronan Byrne
Improving broadband connectivity is a must and it is good to see this being progressed by the Department of Communications, Energy and Natural Resources under the National Broadband plan. For broadband connectivity, it is not just about connecting people to the internet but it will also become a platform for the internet-of-things. The internet-of-things should not be restricted to certain smart cities and we need to get it to the edge of our island where many industries may lie.
Identity management across government and public service is also crucial. We have had great success with our 'Edugate' federated access programme which is now tracking approximately 20 million user logins per annum, authentication happening via a user's single college user account. I would like to see a similar identity programme across government as it will greatly facilitate the sharing of information across the wider public sector and so help deliver services to the citizen.
John Barron 
There is work going on in that space but the biggest challenge is the initial registration. Once that is sorted it is relatively straight forward. The continued rollout of the Public Service Card (PSC) by the Department of Social Protection will provide the basis for a single registration mechanism to support online transactions for the citizen.
Rodney Doyle
A key issue is data transparency, which would facilitate the sharing of network infrastructure, which in turn leads into broadband provision. At a more global level, energy markets have financial aspects and procurement elements, and we have different pieces of legislation which means we interact with a number of government departments and European institutions. It would be helpful to have someone co-ordinate this centrally in government.
Cormac Costelloe
For build to share and infrastructure as a service to be more successful there needs to be a change in how we think about how we procure technology. There are different needs in different parts of the public sector and therefore there the requirements will be different but I see a lot of tenders weighted towards the capex side. We need to step back and look to see how we can do things differently so that we get the optimal technology solution today rather than do things in a piecemeal fashion over a period of time because initially there was a limited capex budget in a particular year. Policymakers need to think differently about how we procure and pay for technology.
John Barron
I don't think policy makers need to do a whole lot. Almost everything that we need to do is in place. It comes back to us sitting down together and getting on with it. There are no major legal impediments. As you roll out infrastructure as a service there is a whole issue around SLAs [service level agreements] and that can be problematic.
For build to share there is a lot we can do around joined up government, particularly in the citizen space. Citizens don't really care who provides the services, they just want to get things done: go to college, renew their driving licence etc. It's about building to share and also about joining them up, which will mean addressing the issue of data sharing.
Cliff O'Keeffe
Build an alliance of the willing and the sceptics will join later. It is about information sharing between ICT managers, with initiatives like the group Liam Stewart from OPW has set up to look at open source. We need more openness and sharing of experience between ICT managers across the public service. Also as public servants we don't talk about the wins and what has been achieved.