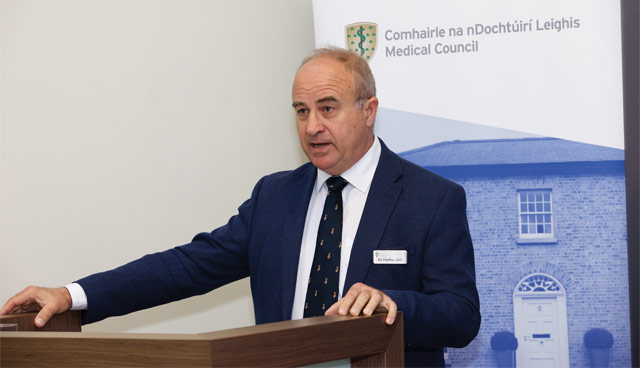 Communication is central to the smooth running of any industry but none more so than that of medicine, which depends on the sharing of clear concise information between doctors and their patients, writes Bill Prasifka, CEO of the Medical Council.
So often doctors meet with patients at difficult times when the communication of information is just as important as the manner in which it is delivered, and the support offered.
However, complaints to the Medical Council have illustrated the emergence of a concerning trend in modern healthcare in the form of poor communication from medical practitioners. As published in our annual report we received 396 complaints with 19 per cent of those falling into the communications category in 2018, the same percentage as in 2017.
Complaints relating to communications vary greatly and can include a misunderstanding, a disagreement or a personality clash. Sometimes a complaint may fall under other categories as well as communication. Issues of poor communication are not acceptable – either to the patient or the Medical Council and we are dedicated to improving the patient experience by supporting doctors to deliver the highest standard of care.
Nobody is infallible, things do go wrong sometimes but it is how we approach these errors and communicate them to our patients and their families that will have the biggest impact on building the trust and confidence integral to the doctor-patient relationship. The Medical Council is determined to work with stakeholders to improve how doctors communicate with patients but outstanding problems concerning recruitment and retention must also be addressed to allow doctors to work effectively.
The Council provides guidance to doctors on matters relating to conduct and ethics through its Guide to Professional Conduct and Ethics for Registered Medical Practitioners. Good communication has always been considered essential by the Council. A quote from our ethical guide reads: "Good communication… is central to the doctor-patient relationship and essential to the effective functioning of healthcare teams."
The relatively recent publication of the Scally report demonstrated that communications continues to pose a challenge to be addressed within the system. Dr Gabriel Scally's findings tell us that better communication between doctors can only lead to better outcomes for patients in terms of both safety and experience.
Communication issues have arisen among doctors as well as in the doctor patient relationship in the form of bullying. The results of the Your Training Counts survey showed concerning prevalence of bullying among medical professionals. Over 40 per cent of respondents to Your Training Counts 2017 reported that they had experienced bullying and harassment in their post. Bullying and harassment were not specifically defined as terms but were open to the interpretation shaped by personal experience of each trainee who responded. Since YTC began in 2014, reported bullying among trainee respondents has increased by over
6 per cent.
These figures do reflect experiences noted in published Medical Council reports into inspections of clinical training sites. The Medical Council has a zero tolerance approach to bullying at all levels among registered medical practitioners.
Here once again we see the need for a greater emphasis on communications skills. It may be that those involved are not aware they are behaving inappropriately as they struggle to work in an ever more pressurised environment. Given the pressurised environment of the modern medical profession in this country coupled with staff shortages and overcrowding it is unsurprising that the strain has started to show.   
Doctors have a duty to protect and care for their patients but the environment in which they are now expected to do so is tougher than ever before as practitioner numbers dwindle. Worryingly as the numbers of applications to the register decrease the number of voluntary withdrawals continue to rise and we are now at a point whereby the flow of those leaving is likely to surpass those joining in the coming years.
We need a comprehensive and coordinated approach to managing this situation to ensure that we have the right doctors in the right place at the right time to care for the Irish public at the highest possible standard.
Although the standard of medical education remains high in Ireland, we are continuing to lose a large proportion of our highly trained graduates as they look abroad for better working conditions. Reports into hospital training sites reflect the high standard of medical education offered despite ongoing challenges in recruitment and retention within the healthcare system.
Data from our Workforce Intelligence Reports indicate that we are over reliant on foreign trained doctors in a bid to fill the gaps left behind by our emigrating graduates. We are trying to deal with these shortages by relying on costly alternatives such as locum services which can adversely affect the continuity and quality of patient care.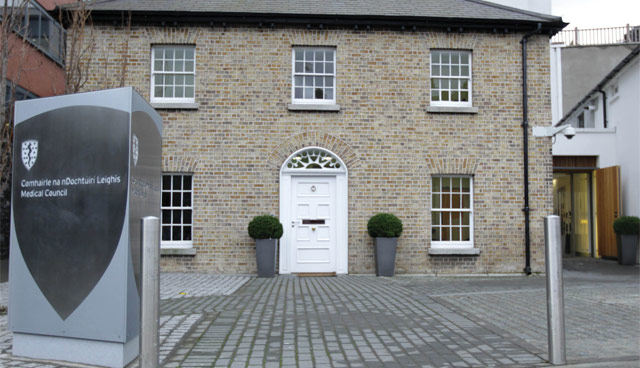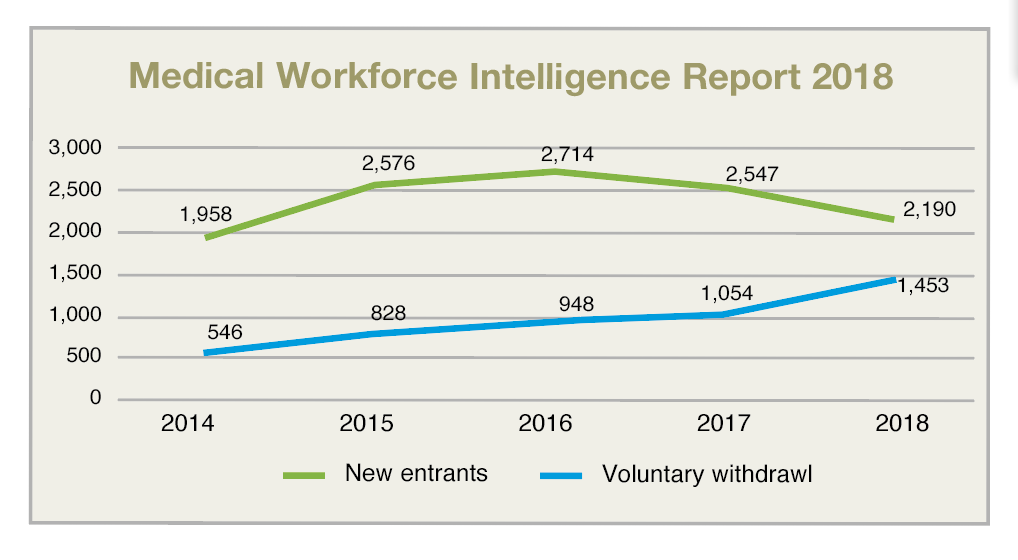 Evidence of this is seen in the swelling of the General Division of the Register resulting in a drop in the number of those engaged in specialist training and experts in particular fields within the profession. In 2018, there were 2,190 doctors who enrolled on the Medical Council register for the first time. The primary growth reported was in the General Division of the register.
Most new entrants to the register were on the General Division and educated outside of Ireland. Doctors from countries outside of the EU cumulatively contributed more new entrants to the Irish register of medical practitioners than Ireland.
This article is not about doctor shortages but rather about patient safety, however we have now reached a point in which neither can be mentioned independent of the other. Without adequate staffing resources we cannot protect patients and if patient safety standards are to be met it will necessitate an increase in practitioners.
We need more attractive working conditions and increased opportunities to enter medical training programmes in order to guarantee substantial, high-quality workforce recruitment and retention, both short-term and long-term. Doctors leaving the register are citing resourcing shortages as well as a lack of appreciation and difficulties in obtaining work life balance among reasons for travelling abroad for work where such criteria are met.
We are essentially cultivating world class professionals and watching them leave to benefit another healthcare system to the detriment of our own. If Ireland continues to fail to address these cultural and practical challenges that exist within the system this situation will evolve, and the problems will escalate even further.
As the regulatory body for medical practitioners in Ireland the Medical Council remains committed to protecting patients and supporting doctors, especially in these difficult times.

T: +353 1 498 3100
W: www.medicalcouncil.ie