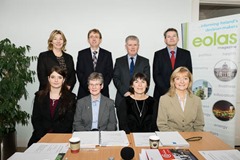 Luas operator Transdev Ireland hosted a round table discussion on corporate social responsibility. The discussion was between a number of practitioners and focused on best practice.
What does CSR mean to you?
Anne-Laure Saluden
For Transdev, CSR is a journey to realise a more sustainable business practice. Our CSR approach has been to bring together all our stakeholders' views and to develop our business approach and model in a more responsible manner. This means implementing new practices in the way we engage with our customers, employees but also other businesses and organisations. It is crucial as a transport operator to undertake this re-assessment of our business as our performance depends on our effectiveness in connecting people.
Mary Rose Burke
It is moving into the next stage of business. It is a movement that has been gathering momentum over a number of years. Sometimes there is this false dichotomy between business and society with talk of business "giving something back". It is moving this to a notion of sustainable business, where business and community are intertwined and only work together to create value and businesses being much more responsible right from their design through to profitable execution. It should be something embedded in the business and not something overlaid or that belongs to one department.
Tina Roche
It is the way companies do business. It is very much to do with the fact that the zeitgeist for business has totally changed. Empowering employees is a focus, as is working with suppliers and customers. Environmental issues such as water, energy, waste are things that businesses didn't have to worry about in the past but I think that is now bringing huge changes. The licence to operate is not what it used to be. For me, CSR is all about how you go about your business.
Brian Brennan
Businesses need communities and communities need businesses. CSR is also about the potential for competitive advantage. If your staff are engaged and motivated by their involvement in CSR activities, they will see themselves being developed through their involvement. It drives down absenteeism and increases customer satisfaction. CSR makes good business sense but ultimately it is the right thing to do.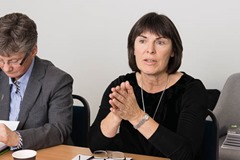 Elaine Sloan
I would go along with that. It is the right thing to do. For us, it differs a lot and we see CSR at different levels. For example, if we are tendering for projects we get asked about our CSR activities and about the sustainability of what we do. That is something new and you would not have been asked that 10 years ago. Taking it down a level, we operate with companies of different sizes from very large companies to smaller companies.
We feel that smaller companies might be better at getting their employees involved early on. Rather than at a corporate level, say, we are going to pick a charity or cause and support that and may be employees feel less empowered or involved. I think to get the best out of it, it is probably to get employees involved rather than deciding in the boardroom how much to spend on CSR.
Sister Ann O'Donoghue
I think businesses today have to look beyond themselves, beyond the business. A word I like is awareness. They have to be aware of their environment, in the world they are involved in. It is vital for businesses to tune into where society is and that people are not left at the margins.
Businesses are now looking for other voices as to how their business should operate. In the school context, before it was about teachers and kids behind desks. Now it is much more inclusive. I think businesses have to be much more inclusive today and to reach out. It is not about reaching out for the sake of reaching out or that it is a good charitable thing to do. There has to be depth and meaning in that reaching out.
I belong to one of the biggest corporates in the world, the church, and we have had some brilliant examples of the church not reaching out and suddenly one man comes along, the new Pope, and changes that very rapidly. It is a good example of how leadership can change things and include people.
Niall Gleeson
If you look at the history of industry, it has almost come full circle. Early industry learned that they had to look after their employees. If you look at the old coal mines or companies like Guinness, they built houses and looked after the employees' healthcare needs. With increased globalisation, business perhaps lost contact with local communities.
CSR disappeared. Certainly in the early part of my career, the businesses I worked for had no interest in the local community. It is very interesting to see it coming back again. It is very hard for senior people to decide what to do. They can say: "Here is a budget for CSR, now go away and spend it." To bring it down to the local community level and get our own employees involved is much more effective.
How do you engage customers through the CSR approach?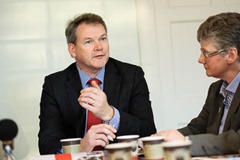 Niall Gleeson
Certain companies are very consumer-focused and they seem to be taking the lead on CSR. Companies like ourselves that are one step back from the consumer have been slower to the party but we are getting there.
Elaine Sloan
I agree. I do not think CSR is there yet. People are primarily focused on selling their products and services and, yes, we have to do that responsibly but we are not yet thinking about CSR first and foremost.
Brian Brennan
As operator of the Luas, Transdev has a customer interface. Engaging with customers is what we do. We need to offer them safe and seamless travel and we do this by managing all aspects of the Luas operation efficiently and responsibly.
We meet the customers' needs of safety, punctuality and reliability. We support local business and local communities and through customer feedback and employee engagement, we address ever-changing needs.
You have to work hard at issues that can impact your business. For instance, we have 23 nationalities represented within Transdev. One of our internal challenges is addressing diversity. We are happy to promote diversity within the workplace and support, by way of advertising, Dublin City Council and others in their anti-racism and anti-discrimination campaigns.
Mary Rose Burke
It comes from the company's leadership and their belief if it is core to the way they do business or not. If that is the case, it does translate through the business and you get that level of engagement. Equally, it has to be a commitment – that is the way we do business around here. They have to see the long-term benefits of CSR.
How do you engage employees around CSR?
Sister Ann O'Donoghue
As a leader, you have to motivate people and bring them with you. It is about looking for all the talents in your organisation. As a leader, it is about finding those talents in people, praising their work and encouraging them and it is about finding new ideas.
Brian mentioned earlier the number of nationalities working in Transdev. We have equally the same number of nationalities in our school. One of the things we got involved with in the last year was the Yellow Flag programme – the Irish Travellers' programme. We are the first school in Tallaght to have received a yellow flag and I'm really proud of that. But it took a lot of work. It meant trying to get parents, students and teachers engaged – it is all about getting unity and diversity and that is the same for any company. It doesn't happen overnight. It takes a lot of hard work.
Do issues self-select? Do businesses choose safer and less challenging issues to support?
Brian Brennan
One major issue for us is racism. Last year, we got involved with other transport providers in Dublin around a programme called 'Dublin Transport Links, Racism Divides', which achieved very positive results. Another challenging campaign we ran was an 'anti-spitting' campaign. This is not a pleasant topic to bring up in a customer-facing environment. It was not universally approved of within our own organisation but it had to be addressed. It is about tackling some of the most difficult issues and that is hard.
Anne-Laure Saluden
It is also about identifying issues which will help deliver your business objectives. Over the past few years, one of the main concerns for Transdev has been to tackle anti-social behaviour on the Luas system. It was identified as compromising passenger satisfaction and it is not an easy issue to address as it is a city-scale problem.
For us, for instance, it has meant looking at how we deal with people with drug addiction problems and find new and innovative ways to support whilst not compromising safety, security or satisfaction. In brief, it is about looking at what is the right thing to do, not what is the easiest, and getting that to dovetail with our business objectives.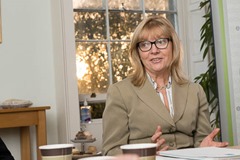 Tina Roche
I think the anti-racism programme for the Luas was excellent. I heard Brian speak at an event and he said that it was "everyone's Luas". Drug addicts have the right to use the Luas. It is about how you behave and I thought that was really powerful.
There are several organisations dealing with youth metal health. That is a really difficult topic and yet several businesses have taken it on. Other companies support rape crisis centres and those dealing with domestic violence. I do not think Irish companies shy away from hard issues.
Mary Rose Burke
I agree but it does make sense to find something that aligns with your own core competency so that you have the skill set to engage with the issue properly and that the issue has a relevance to your brand.
Brian Brennan
If you don't, it is very difficult to measure progress.
Tina Roche
And it can be difficult to sustain it.
The environment is one issue that is common to many CSR programmes. Have you come across any good examples?
Tina Roche
There are lots of good examples. If you take Glanbia, they have a new plant that is the best in Europe in terms of sustainable development.
Niall Gleeson
In Ireland, we have taken things like water for granted. The recent water shortage in south Dublin was phenomenal. Things like that teach us we have to appreciate our environment much more. In Alstom's product lines, we can build you a CO2 emitting coal plant or a zero emissions renewable energy plant. Governments have to make difficult decisions as we cannot drive these changes on our own.
There has been much improvement in waste management across industry, particularly in recycling. Most people only see what happens in their own homes but changes in industry have made a huge reduction in what goes to landfill.
Tina Roche
The amount of companies that have zero waste to landfill policies is fantastic. That is an achievement we haven't heard much about.
There has been much discussion on engaging communities and licence to operate. How should the energy infrastructure companies build community support?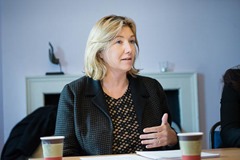 Mary Rose Burke
It is firstly seeking what are the concerns and what can be addressed by sharing information. Some of the concerns are really about trust. Some people really do not believe what they are being told. It is about understanding why the mistrust is there and what you can do to address that. It is not about logic. It is about understanding people's concerns and fears, and addressing them in a way that engages them.
Tina Roche
I think it is about engaging and you have to have people at a local level listening to what the issues are. The issue for a lot of utility companies is about scale. Some people use emotive words like "pylons marching across the Midlands" but the pylons are already in the Midlands. When you are trying to talk to people and have a mature debate, sometimes they can get emotional and instead of understanding they cease to listen. It is about repeating your message and trying to understand what people are telling you.
Mary Rose Burke
There has to be a sense of shared value. I think everyone gets it that we need EirGrid's pylons for the greater good from an energy point of view. But if it is going to be in my space, it has to be of some local social good. The benefits have to be shared with the local community.
Niall Gleeson
I think that is key. If you get a new road or rail line, at least you get access to that road or rail. With pylons, you get the negatives with no benefits. It is a tricky one but I do feel the local people should get something out of those pylons, perhaps a rental fee for the community.
Sister Ann O'Donoghue
It is all about dialogue and working together and sometimes we forget that. They are two very simple things. Dialogue is about communicating with people, inviting and allowing them to feel included. Sometimes when we leave people out in the margins that is when they get angry with companies or certain elements of society.
Elaine Sloan
We have just finished a stakeholder dialogue report, where we spoke to several companies about best practice and what they found helped. They said that it was about dialogue and trying to really listen to people – and dialogue in the early stages.
Has the economic downturn impacted on CSR activities?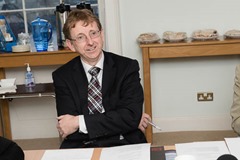 Brian Brennan
If anything, CSR represents an opportunity. If I can save anything in terms of electricity or waste management costs, I will. We are stronger on the environment now than we were five years ago.
Elaine Sloan
We are also stronger on community. You see that in all organisations, such as the GAA or Supervalu giving the local community leftover food. Community is now huge and I think we forgot that for years.
Tina Roche
I do think environment has taken a back seat. Climate change is now hardly ever discussed and it makes people uncomfortable. We now have few global leaders on climate change. Consumers want guilt-free consumption. They are saying: "Give me a product that has no child labour or isn't hurting the environment and I will pay a bit more for that."
Niall Gleeson
We have to put that to the test. Will people pay more for that?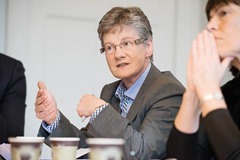 Sister Ann O'Donoghue
Where I work is part of a designated disadvantaged area. Our school is a designated DEIS [Delivering Equality of Opportunity in Schools] school. In the area where I work, I encounter disadvantage. About 100 students come for breakfast each morning. Some families just survive. People are really struggling, so paying extra for Fair Trade and environmentally friendly products will not be happening.
Brian Brennan
Some businesses have started to change their agenda. For example there have been some companies that have relocated near a Luas line and they have given employees a free Luas pass rather than providing a car parking space.
There are other issues that have changed with time. Safety and security is one. We are part of Dublin city and we don't see ourselves in isolation at all: there are the same social problems in areas not served by Luas. To tackle this, we have increased the security levels on Luas.
In 2009, we had no security and we now have 16 people working during Luas operating hours. That is important because people need to feel safe. We also work with the gardaí and the agencies tasked with public safety. We share intelligence and CCTV footage. If there is anything we can do we do it because what you put in you get back.
Anne-Laure Saluden
Within the framework of CSR, we have learned we are not alone in dealing with such issues. Involving all our stakeholders has proved very worthwhile and this is how we will achieve mutually beneficial objectives.
What one area should managers focus on to make CSR happen in their organisation?
Niall Gleeson
That is difficult to answer as CSR has grown to cover a very wide remit. I would say we have good morale and good staff retention rates but we do not always put that down to CSR. For me, CSR is more about community engagement, both locally and in the wider sense. It is also about leadership from the corporate side but also from government. For example, if there is a tender for infrastructure that has no scoring for CSR then companies will only pay lip service to it.
Sister Ann O'Donoghue
It is about how we can be of service in the best value sense of the word. I don't mean it in the sense of a 'Holy Joe' but service in the best wholesome way. For whatever organisation, it should be about fairness and inclusiveness – that will make a huge difference.
Elaine Sloan
It is about leadership and it has to be, in some measure, government-led. The whole idea of integrating CSR into very decision we make is a huge challenge. It has to come from the top. If you start to engage employees around CSR, they will become empowered around sustainability and supporting their community, which will be good for the business.
Brian Brennan
It is ultimately about trust. It is also not just about community. I see employee engagement as a huge part of CSR. It is about being aware there needs to be balance and it is not just about taking, you have to make things work for everyone.
It is a topic at each of our board meetings. We have appointed Anne-Laure into a full-time post and she is coming up with ideas that are pushing us throughout the business. Once you get the employees on board, it is then about building momentum and getting it embedded across the business.
Tina Roche
It is about trust and also about values and purpose – what your company is about. What contribution does it make to society? It is that basic. It is about making the best it can be rather than the smallest it can be. For senior managers, it is all about embedding behaviours.
Mary Rose Burke
CSR is about integrity. Both in the more literal sense of it being integral to everything you do in the business and also in the sense of having integrity in leadership. It is not about just giving lip service to CSR but it is about being part of the way you do business and how you communicate that – we are doing it because it is the right thing to do and it also makes business sense.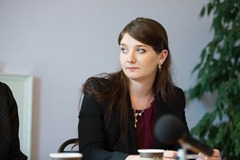 Anne-Laure Saluden
First of all, it is about leadership. Inspiring employees in CSR is key. CSR is now a necessity because the world is changing. The financial model we used to have is changing and by acting responsibly, you are adapting your business to face the future.
Tina Roche
It has more to do with being a value-based organisation. For companies that have embraced CSR at all levels, it is not about charity or about the CSR budget. It is about how we make a decision. For example, if they are developing a new consumer product they will look to see how it is recycled, if it uses resources locally and sustainably.
It is about taking decisions that may take a little longer but in the longer term are much better. Ten years ago, companies would have been talking about the 'charity budget'. Nowadays they talk about: "How do we engage with our customers?" Many companies now look for suppliers that have the same ethos and values – which is really to do with reputation. They want to work with companies they can trust.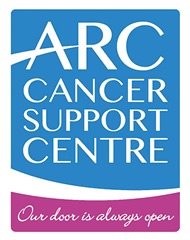 ARC Cancer Support Centre
A special thank you to ARC for the hospitality in hosting the round table discussion in ARC House, Eccles Street, Dublin. ARC is a haven offering professional personal support to men and women affected by cancer and those who care for them. The support is holistic and complements medical treatment with counselling, psychological support, complementary treatments and care. Founded in 1994, ARC is a registered charity.
The Participants
Brian Brennan
Brian has been Managing Director of Transdev Ireland since 2008. He is involved in Transdev's contribution to the school mentoring programme with St Aidan's Community School.
Mary Rose Burke
Mary Rose is Director of Business Representation with Ibec. She was previously Director of Pharmacy with Boots Ireland.
Niall Gleeson
Niall is Managing Director of Alstom in Ireland, supplier of trams to the Luas and power generation plants. He is Treasurer of the Ireland-France Chamber of Commerce.
Sister Ann O'Donoghue
Ann is Principal of St Aidan's Community School, Brookfield, in the heart of West Tallaght. She is a member of the Loreto Sisters congregation.
Tina Roche
Tina is CEO of Business in the Community Ireland and has served on the executive board of Amnesty International in Ireland.
Anne-Laure Saluden
Anne-Laure Saluden was appointed as Transdev's CSR Manager at the start of 2013. She has worked in journalism, marketing and an international press freedom NGO.
Elaine Sloan
Elaine Sloan is a Director and shareholder in Behaviour & Attitudes. She recently completed the Marketing Institute Digital Marketing Executive Programme.