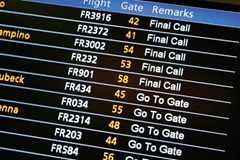 Aviation enables most of Ireland's trade and tourism, employs 36,000 people and contributes €4.1 billion to Irish GDP. eolas summarises the main points of the Government's draft aviation policy for this vital sector.
Safety is naturally the first priority in aviation policy and standards in this area are set internationally. Ireland's independent Air Accident Investigation Unit is required to investigate accidents and other incidents in Irish airspace and also those involving Irish-registered and operated aircraft abroad.
The State will continue to take part in international discussions on safety, including how to regulate the growing use of remotely piloted aviation systems (drones). Irish authorities will also implement the European safety management system, which will seek to identify risks in advance rather than reacting after an incident occurs.
The Irish Aviation Authority ensures that the aviation sector complies with international security standards.
An 'outcome-focussed risk-based' approach is preferred i.e. identify risks, require particular outcomes from companies, and allow companies to decide how they meet those standards. This does not mean a reduction in security but instead the State will encourage the sector to innovate and come up with better processes. Research priorities include cyber, landside and air traffic management security, as well as a possible 'trusted traveller' programme.
Business
Dublin Airport Authority operates Dublin and Cork airports while Shannon has operated under its own authority since January 2013. Dublin is regarded as critical to the State as it handles 80 per cent of passengers and 85 per cent of air freight.
Shannon's single terminal is convenient for transit passengers. Both Shannon and Cork are obvious gateways to major tourist attractions. The three State airports will remain in public ownership but their legal mandates will be reviewed in 2019 and regularly thereafter.
Global air traffic is expected to double over the next 15 years and reviews of each State airport's capacity are envisaged every five years. A second runway at Dublin Airport could help to reach some of the emerging cities in the Asia-Pacific region.
The State also supports four regional airports – Donegal, Kerry, Knock and Waterford – but their importance has declined as motorway and rail links have improved. The Government recognises that these airports are increasingly attracting international flights and wants them to be self-sufficient by 2024. Local government could increasingly support regional airports.
Aer Lingus and Ryanair provide 80 per cent of seat capacity in the Irish market. The Government and the European Commission want to see more competition and have consistently opposed Ryanair's bids to takeover Aer Lingus. The State's 25 per cent share in Aer Lingus may be sold when market conditions are favourable.
Ireland hosts the only US preclearance facilities in Europe – a significant national advantage – and wants to see more business jets taking up this service. The Government also plans to produce a dedicated air freight policy in 2015.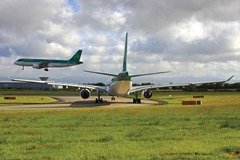 Non-EU airlines often want to obtain 'fifth freedom' rights in Ireland i.e. the ability to pick up or drop off passengers while en route to other destinations. The Irish aviation sector generally supports these rights, on economic grounds, but some commentators warn that this may result in unfair competition. The Government will take both viewpoints into account when discussing fifth freedom rights.
Dublin Airport is the only Irish airport subject to regulation due to its dominant position. The Government plans to commission an independent review of aviation regulation as the current system has been in place since 2001.
State airport board members are reminded to give due regard to government policy in their decision-making. All new and re-appointed chairs will be required to appear before the Oireachtas before being confirmed in post. The State expects to receive a 30 per cent dividend from after-tax profits although this may be increased or decreased depending on the airport's circumstances.
Employment conditions within airlines can be complex as their workforce usually lives in a variety of countries. The Government will lobby for better regulation with a focus on protecting the rights of employees.
Ireland is a global hub for aircraft leasing and maintenance, repair and overhaul (MRO) operations but will face increasing competition from Asia. Government support will include continued tax incentives, improved insolvency arrangements, and setting up an 'international aviation services centre' at Shannon.
General aviation covers all civil aviation activities apart from scheduled and charter airlines. The Irish Aviation Authority will set up a register of executive jets and also consider how to improve qualifications for ground crew.
Aviation accounts for around 2 per cent of global greenhouse gas emissions but the volume of flight-related emissions may rise by 70 per cent between 2005 and 2020. Since 2012, the EU emissions trading system has applied to flights within the European Economic Area – i.e. the EU member states plus Norway and Iceland.
However, flights to and from other destinations have been exempted until 2016 pending a global agreement. Ireland will implement international agreements and also encourage indigenous R&D into clean engine technologies and sustainable fuels.
What next?
The draft policy was published by the Department of Transport, Tourism and Sport on 21 May and consultation closed on 31 July. A final version is due to be published later this year and progress will be monitored by a new national aviation forum. The State has a strong voice in EU policy-making due to its position on trans-Atlantic routes. Ireland's next term on the International Civil Aviation Organisation (ICAO) Council is scheduled for 2016-2019.