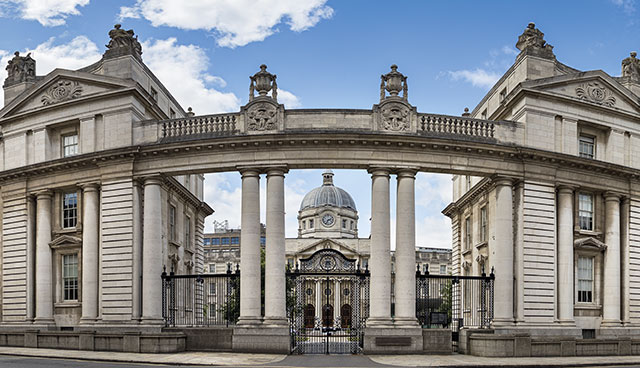 Three of the Dáil's five largest parties recently held ard fheiseanna, with Sinn Féin signalling its intent to take power in Leinster House, the Green Party defending its record in government and Labour laying out its conditions for returning to government.
Sinn Féin: Is the South next?
With the party topping polls north and south of the border, the Sinn Féin leader Mary Lou McDonald TD told the party's 2021 ard fheis that a Sinn Féin government in Dublin would put workers and families first.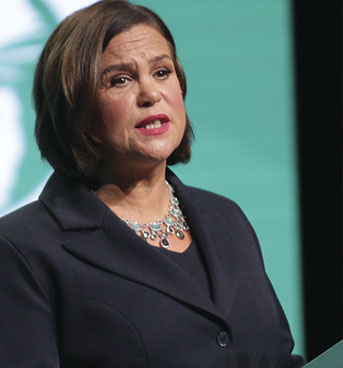 "The pandemic exposed the broken system in a partitioned Ireland, politics for the few at the expense of the many that brought a housing crisis, rip-off rents, overcrowded hospitals, record waiting lists, and a crushing cost of living," the Sinn Féin President said in her speech. "The writing is on the wall for Fianna Fáil and Fine Gael. They have been in government for far too long. Things were bad enough when these parties pretended to oppose each other, but by god things have gone to the dogs since the boys clubbed together."
McDonald also took aim at the DUP, dubbing their recent refusal to attend meetings of the North-South Ministerial Council and their anti-Protocol movements and rhetoric "electioneering and showboating" and "attempts to block the change so many people from all communities demand".
Pointing to Stormont Communities Minister Deirdre Hargey MLA's "biggest transformational housing plan in a generation", McDonald pledged that a Sinn Féin government will "build public and affordable housing on a massive scale", expand Magee University in Derry to supply more healthcare workers in Ireland, restore the right to retire at 65, and tackle "large corporate polluters".
With Sinn Féin simultaneously topping the polls on both sides of the border, the possibility of the party having both the Taoiseach in Dublin and the First Minister in Stormont now seems real. On political unionism's threats to withdraw from Stormont in the event of a Sinn Féin First Minister, both McDonald and party Vice President and deputy First Minister Michelle O'Neill MLA utilised similar rhetoric. "If Sinn Féin emerges as the largest party, we will nominate Michelle O'Neill as First Minister," McDonald said. "The days of 'Fenians need not apply' are over."
O'Neill said: "The DUP has declared that a Sinn Féin First Minister after the next election would give unionism a real problem. Well, let me be crystal clear: the days of nationalists need not apply are gone. The days of denying abortion rights to women, to LGBT citizens, and Irish language speakers are gone. It is for the people to decide the next First Minister, not the DUP. Sinn Féin is aiming to return as the biggest party, not for the sake of it, but to deliver change."
---
Green Party: Transition to green economy 'inevitable'
Green Party leader and Minister for the Environment, Climate and Communications and Transport Eamon Ryan TD told his party's national conference in November that the transition to a green economy is now "inevitable" and that the Government commitment to the halving of greenhouse gas emissions by 2030 is non-negotiable.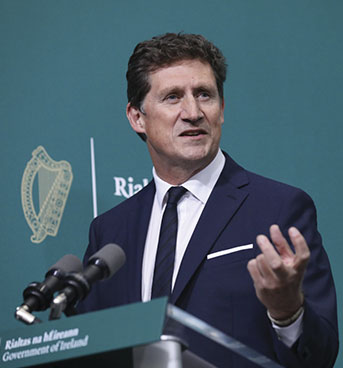 "That is what the science says we must do, if we are to avoid runaway climate change," Ryan said. "It is the ambition at the centre of our Programme for Government. The risk isn't from taking action; the real risk is from standing back and doing nothing at all.
"It is an inevitable transition because under business as usual, the world will simply burn. The only question is: Do we want to change now, or do we want to wait to try and catch up later when it will cost us much, much more?"
The Green Party received 7.1 per cent of the vote in the 2020 general election, a 4.4 per cent increase that delivered a nine-seat increase that allowed the party to re-enter government with Fianna Fáil and Fine Gael, with the Programme for Government agreed in June 2020. Since the agreement of the Government formation, the Green Party's polling figures have suffered; of the 41 recognised polls between July 2020 and the end of November 2021, only one, the Ipsos MRBI/Irish Times poll published on 5 October 2021, has shown it returning as high as 7 per cent.
Party deputy leader and Minister for Tourism, Culture, Arts, Gaeltacht, Sport and Media Catherine Martin TD defended the decision to go into coalition: "Together we are a green team that understands the hard graft and activism it takes to make change happen, not to just talk about what might or could be some time in the future, nor to stay politically safer on opposition benches.
"We are exactly where we need to be in this green decade of change. Our time is now."
---
Labour: A fairer and kinder Ireland
Labour Party leader Alan Kelly TD used his first address as party leader to take aim at parties who are 'telling lies' and to call for the making of a "fairer, kinder, better" Ireland at Labour's national conference.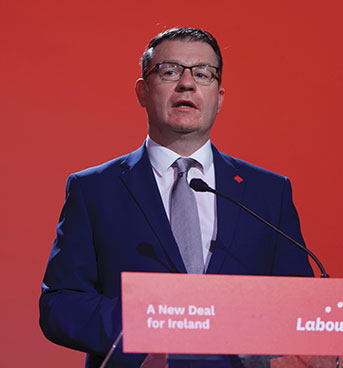 Stating that the party is "passionate about delivering a real alternative for our people", Kelly stated that they would only enter government under two conditions: "Firstly, will our core policies be implemented? And secondly, can we trust the moral compass of those who aspire to govern with us?"
Without naming names, Kelly made it clear that his trust of other parties is circumspect at best when discussing taxation and public spending: "At every Budget, Labour puts forward our alternative fully costed proposals and we're upfront about how we would pay for it: by taxing wealth, not work, and by closing loopholes. Too many parties are peddling the myth that we can have both tax cuts and public spending.
"It's a con job. It's total lies. They are lying to the Irish people, pure and simple. Populist nonsense that all Labour Party representatives will always call out."