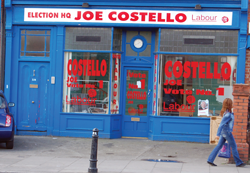 From their parents' front rooms to pubs and park benches, Meadhbh Monahan speaks to politicians about the importance of having a constituency office or not.
"I have never had a constituency office," Kildare North TD Bernard Durkan tells eolas. While his wife answers phone calls to his home in Maynooth, Durkan is usually on the road, making sure he meets constituents.
"I run a very intensive string of clinics on weekdays which are well established now," he explains. "When I'm not in the Dáil, I usually meet people in pubs, sometimes in community centres; wherever is convenient for them."
While he has cut back on advertising because "we live in difficult times", he publicises his clinics in local GAA programmes, musical society leaflets, by sponsoring a charity to place an add in a local newsletter, or "through word of mouth."
A typical day, when he is not in the Dáil, could see him arrive in Celbridge at 11.30am, Leixlip at 3pm, Maynooth at 5pm, Naas at 7pm and, finally, Kilcock at 9pm. Durkan also has a specific rota for each Monday, Thursday and Friday in the month, covering the rest of the constituency.
He came under pressure by the local arm of Fine Gael to open a constituency office. He reveals: "[Constituency offices] might suit some people, but I felt that, in the present climate, where it can cost €10,000 to set up an office and €8,500 per year to run it, we all have problems and a job of work to do, which is to put our shoulders to the wheel and ensure we survive as a society."
Meanwhile, newly elected Labour TD Ciara Conway finds her constituency office "hugely significant", particularly since she had to work out of her parents' front sitting room for a few months after getting elected.
"Our job is to represent the constituency and I'm away from it most of the time," she reflects. Therefore, "it's hugely important to have somewhere for people to access help."
While she commutes to Dublin, her staff are based in Waterford. Conway sees her constituency office as "a very significant point of contact between me and my contacts on the local authorities in Waterford and the public, if they have any concerns."
She acknowledges that inner-city and other urban TDs may not feel the need for an office. They have the "huge advantage" of being able to meet constituents in Dublin or have them come to Kildare Street. "I don't have that luxury," Conway points out.
A single mother, she adds that if she didn't have her staff in Waterford, she would spend all her time catching up with her constituents' problems, to the detriment of her daughter.
Conway runs clinics in Waterford city and Tramore, which are well attended. Constituents also contact her via private messages on facebook and twitter and she replies or phones them back.
Across the water, London MP Meg Hillier has decided that she doesn't need a constituency office. It takes 45 minutes to walk across her constituency of Hackney South and Shoreditch. A room with one desk near Westminster can cost from £5,000 per annum. Hillier's four part-time staff are based in the Houses of Parliament, three miles from her constituency. "That works for me," she contends. If she has to do some work and her Westminster office is full, she finds a café or a park bench. "I'm out where the people are. You are behind a desk in Westminster enough," Hillier tells eolas.
Bernard Durkan reflects: "It is more effective and efficient to have my staff with me in the Dáil and to direct things from there. If there is field work to do, I do it myself."
Avid social media user, Conway, concludes: "The combination of a constituency office and social media allows me to keep the work-life balance that's required for longevity in this business."