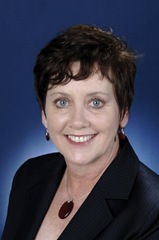 Irish-born Australian Senator Ursula Stephens talks to Meadhbh Monahan about how her Irish roots influence her politics.
An emphasis on "hard work, loyalty, justice and sharing your fortune with those less well-off" was honed into Ursula Stephens "at the kitchen table" as she grew up.
Immigrating to Australia from Wicklow at an early age also defined Stephens' future political career and she now chairs the Australian Irish Parliamentary Friendship Group.
While her parents did not know whether they and their seven children would be able to return to Ireland in the future, times have now changed and you can "jump on a plane and be there at the weekend," Stephens reflects.
Elected to the Australian Senate for New South Wales in 2001 and re-elected in 2007, Stephens served as Parliamentary Secretary for Social Inclusion and the Voluntary Sector in Kevin Rudd's previous Labour government where she was responsible for not-for-profit reform (from December 2007 – September 2010).
"In Australia we still don't have a charities commission. We have a very cumbersome management system. This has been a big issue for us in Australia and we have been working very hard to streamline that," she tells eolas.
For 25 years, Stephens' main policy interests have been the environment, adult and community education, adult literacy and community development and she has sat on various advisory councils and boards. The catalyst for her entrance into politics, and the Labour Party in particular, was the 1975 constitutional crisis where Labour Prime Minister Gough Whitlam was sacked by the Governor-General, Sir John Kerr.
"It was so outrageous at the time that I came to Canberra to be part of the protest," Stephens recalls. That "defining moment" lit her political fire.
She is one of a number of migrant politicians who have held significant positions in government. The current Prime Minister, Julia Gillard, was born in Wales, former Finance Minister Margaret Guilfoyle was born in Belfast, former Prime Minister Kevin Rudd has traced his roots to Tipperary and Leader of the Opposition Tony Abbott was born in London.
"There's a saying in Australia: 'most of the people who aren't Irish want to be,'" Stephens quips.
She also points out that the former and current Premier of New South Wales have very Irish-sounding names: Kristina Keneally and Barry O'Farrell.
Rural roots
Being a member of an Irish Catholic family meant that it would be "a bit hard" to join any party other than Labour.
"My parents would turn in their graves if I voted any other way!" she laughs.
While she is the first member of her family to officially join a political party, they were "small-p political" in that they fought for the underdog and were involved in community organisations. "We were all encouraged to do the same thing," Stephens explains.
She retains strong memories of her childhood on the rural coast of Wicklow and her farming cousins. When her family moved to Australia they retained that rural lifestyle. Her father was a mechanic specialising in farming machinery therefore he "knew how devastating a delay in threshing the wheat or getting the sugar cane cut could be on farming families and he understood the vagaries of the weather."
This meant, for Stephens, "it has always been about the fresh air and the countryside." She now lives near Goulburn in New South Wales with her husband and children.
Family links to the 1798 Rebellion and the 1916 Easter Rising are hinted at. When a forge belonging to her mother's uncle was being re-roofed, pikes were found in the thatch.
"Uncle Matt was a known crony of the famous Father Murphy so why wouldn't you claim a link?" she states. In addition, her father's family were called Clarke, possibly related to Tom Clarke, member of the IRB and one of the organisers of the 1916 Rising.
She is pleased with her role in the Australian Irish Parliamentary Friendship Group which, with 70 members, is the largest of these groups in the Australian Parliament. Stephens hopes to arrange a trip to Ireland at the beginning of next year with that group.
Close relationship
"The Irish influence is everywhere in Australia," according to Stephens who points to an exhibition in Canberra's National Museum, which ran from March to July this year, called 'Not just Ned: A true history of the Irish in Australia'. That "brilliant" exhibition showed the influence of the Irish in Australia, from the arrival of the First Fleet in 1788, to the continuing influx of young Irish backpackers today, looking at politics, religion, industry, art, music and dance.
The outgoing Irish Ambassador Martin O'Fannin said that Australia is the most Irish country in the world outside of Ireland. Stephens puts that down to the two nations being "so very comfortable with each other."
She adds: "It's a blessing to have two worlds which are known to each other. The really important thing that [emigrants] don't have to feel torn between two countries or cultures."
In terms of business, she would like to see advances in global IT and science partnerships.
While the global financial crisis has impacted Australia it has been accompanied by a mining boom which, in turn, has led to a skills shortage. The intake of skilled migrants, particularly in construction and IT, is "really making a difference."
Stephens adds: "We've been very conscious that the wave of emigration from Ireland can benefit us but at the same time benefit Ireland in terms of us looking after your working population; your young people. Keeping them engaged in their professions is such a critical issue."
Mental health is another issue close to her heart and in 2004 she set up the Parliamentary Friends of Schizophrenia group to help educate people about mental illness. During a 2009 visit to Ireland she had the opportunity to speak to Oireachtas members about the schizophrenia group and a similar friendship group (Inspire Ireland) was subsequently set up.
"It's particularly focused on young people and I know that sense of desperation and hopelessness that captures young people has been a big issue in Ireland and something that I have been very mindful of."
Both Australia and Ireland have recently faced the challenge of forming a new government and Stephens believes that Australia can learn from Ireland's experience of "negotiating its way through a very tough period." She notes more optimism in Ireland following the election of the new Government and welcomes the country's newfound sense of "hope."
Senator Ursula Stephens
Australian Labour Party
Member of: Parliamentary Friends of Schizophrenia
Parliamentary Friends of the MDGs (millennium development goals)
Parliamentary UNICEF Association of Australian Parliamentarians
Parliamentary Support Group for Vision 2020
Parliamentary Friends for Diabetes
Career: Teacher in Sydney and Goulburn.
Ran a small private business for five years
Born: 7 July 1954, Wicklow
Qualifications: Doctor of Public Administration (University of Canberra)
DipT (Goulburn Teacher's College)
BEd (South Australian College of Advanced Education)