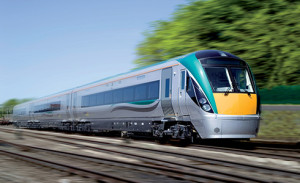 Iarnród Éireann has been working through a challenging economic period to protect existing services. However, with an improving economy and growing demand, it is ambitious for the future role of rail in meeting transport needs in Ireland, writes Director of Train Operations Jim Meade.
Every week, Iarnród Éireann operates over 4,300 train services, ranging from busy commuter trains to long distance Intercity, and freight flows from ports and mines.
Almost 750,000 journeys are made each week, on 638 carriages, across 2,200 kilometres of network calling at 144 stations. Our goal is to provide these services in a safe, customer-focused and sustainable manner, which benefits the economy and the communities and customers we serve.
The economic crisis of recent years has posed challenges in meeting that goal of course, but we have addressed these challenges. Despite a reduction in Exchequer funding of 38 per cent – almost four times the percentage reduction in Health Service funding for example – we have maintained service levels for our customers. This has been achieved through reducing annual operating costs by €73 million, and with a workforce reduced by 22 per cent to its lowest ever level despite an expanded network.
Our fuel and energy costs have been reduced by €19 million through a range of efficiency measures and all cost areas have been targeted for savings.
Encouragingly, growth is now returning across passenger, freight and our Rosslare Europort businesses. Over
1 million extra passenger journeys were made in 2014, and this increase is accelerating this year also.
However, while revenue growth and cost control are crucial, we are significantly underfunded for the network and services we are contracted to provide according to the Department of Transport, Tourism and Sport. We are working with the National Transport Authority and the department to address this.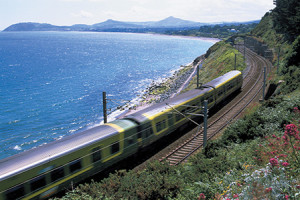 Furthermore, the Minister for Transport, Paschal Donohoe, is to launch a rail policy review this summer. This is a hugely important process which will allow consideration of the strengths of rail in our national investment decisions, and we hope see rail development firmly aligned with other policies, notably in the area of planning and the environment, for the good of our economy and society.
Overview
Let's look at some of our major national policies which have been the official guiding principles for our decisions for some time.
• Smarter Travel – our current national transport policy – targets reduction in car-based commuting from 65 per cent to 45 per cent;
• on combating climate change, Ireland must meet emission reduction targets by 2020 under EU law or face financial penalties (over 19 per cent of emissions come from transport but only 1 per cent of these are generated by rail);
• the National Spatial Strategy details how land use, planning and transport should go hand in hand; and
• the European Union prioritises sustainable rail development, including speed improvements and electrification on TEN-T lines (Belfast-Dublin-Cork) and also favours heavy rail links to major national airports.
Notwithstanding these policy imperatives, we have as a country continued to plan our transport needs around road and develop in a pattern which favours dependency on the private car, the least sustainable form of transport. As the Department of Transport, Tourism and Sport's Strategic Framework on Investment in Land Transport acknowledged, other Western European countries invest more than twice as much as Ireland on average in rail as a proportion of overall land transport spend.
Strengths
The document also states that the fact that no spatial constraints were put in place on residential development and a lack of demand management undermined the policy imperatives of encouraging a switch to more sustainable travel patterns. This is where rail can and must play a greater role in future investment decisions. Playing to rail's strengths ensures an economic return for the State, and benefit for commuters and communities. Those strengths include:
• meeting travel demand within Ireland's largest urban areas through high capacity rail services (with road congestion already surpassing boom levels, increased use of rail can reduce emissions, reduce congestion, reduce accidents, and increase productivity);
• likewise providing inter-urban links between Dublin and key cities and regional towns yield similar benefits;
• effective high capacity public transport like rail facilitates employment and economic activity; and
• rail also provides high levels of accessibility to support social inclusion and social mobility.
Therefore, with land use and planning which maximises the usage of high capacity public transport modes like rail, we can prioritise investment which will boost our economy. We in Iarnród Éireann have identified a number of major projects which will generate that economic and societal return, such as:
• Intercity speed improvements, prioritising a Dublin-Cork journey time of under two hours and a Dublin-Belfast journey time of under 90 minutes;
• DART Expansion, including DART Underground – a programme of investment which will integrate all rail modes (DART, Commuter, Intercity and Luas) to form a cohesive network, with more frequency and capacity of rail services on all lines in the Greater Dublin area (the project is recognised by transport analysts as being the most significant in terms of achieving a modal shift to more sustainable transport modes);
• DART to the Airport: a 7.5km extension of the DART from Clongriffin to Dublin Airport (this low-cost option would give direct Dublin Airport to city centre DART services, as well as allowing for future services from right across the national rail network to the country's major gateway airport. Together with light rail to Swords, this is currently being studied by the National Transport Authority as an option in its North Dublin study).
These major strategic projects are in addition to ongoing developments in enhancing our rail services. Iarnród Éireann is currently investing in:
• Customer First, a major investment in systems and service for our customer, to make our services easier to buy, easier to use and to improve how we interact with customers;
• a range of safety investment initiatives, including level crossings and train protection;
• re-signalling of the city centre area to allow increased train frequency;
• upgrading of the Belfast Enterprise fleet; and
• investment in the Phoenix Park Tunnel to allow Kildare to Grand Canal Dock services to operate.
In conclusion, Iarnród Éireann while addressing unprecedented financial challenges, remains ambitious for the future role of rail for the benefit of our economy and our environment. We are committed to delivering quality, safe, customer-focused, sustainable services which benefit our economy, communities and the customers we serve.
Passenger and freight growth are returning, while efficiencies continue to be targeted. Investment in Intercity speeds and DART Expansion will deliver real economic return for Ireland. This will aid in the process of ensuring our network and services are sustainably funded into the future.
Iarnród Éireann Irish Rail
Connolly Station, Dublin 1
Tel: 1850 366 222
Web: www.irishrail.ie