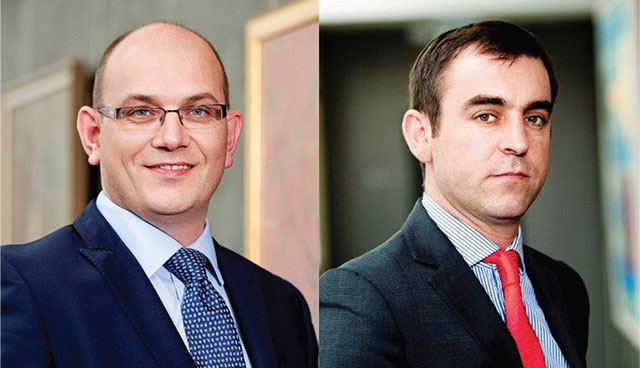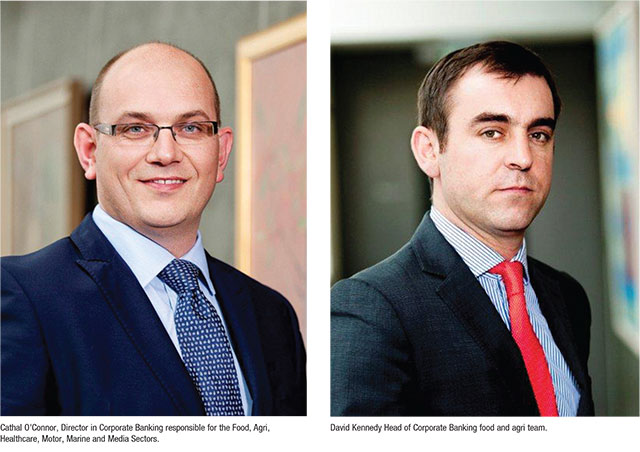 AIB's history is rooted in the agri-food sector. With over 40 years' experience in the sector the Bank has seen industry cycles and has partnered with customers through the many changes and challenges.
From the earliest community branch-based structure, AIB has recognised the importance of this industry as the bedrock of local towns and communities throughout Ireland. In the intervening decades the sector has changed. Ireland is now home to some of the most progressive and efficient farmers in the world and to some leading agri-food companies who have firmly established themselves as innovators operating on a global scale. AIB is proud to have supported the industry over the decades and to have developed a truly 'farm to fork' presence in the sector.
According to Cathal O'Connor, Director in AIB Corporate Banking, AIB's approach is focused on developing strategic partnerships with customers. "At AIB we work hard to hold our customers at the heart of everything we do, turning business relationships into unique partnerships adding that extra value that makes the difference for our customers. From mid-size domestic companies to large international PLCs, we have serviced our clients with bespoke solutions in acquisition finance, capex and expansion funding, asset finance, trade finance and foreign exchange products. We support our customers' growth ambitions. Whether the business is focused on operations and markets at home, an export oriented household name or a leading player in a competitive global market place, AIB is here to help."
AIB Corporate Banking offers each customer a committed Relationship Management Team which acts as a 'one stop shop'. This team is supported by a wealth of product specialists across different areas of the Bank.
David Kennedy outlines the sectoral focus of the AIB Corporate Banking team. "Over the years we have built a team with a wealth of knowledge and experience across the agri-food sector including dairy processing, meat processing, food ingredients, consumer foods and ancillary businesses. The AIB relationship model invests the time to truly understand the business of our customers. Through our end-to-end involvement we understand the uniqueness of the agri-food sector, its market changes, seasonality, production/working capital cycles and consumer demands."
"Agriculture has always been a key sector for AIB. We have been a leading bank to the sector over many decades and remain committed to supporting the future development of Irish agriculture."
Anne Finnegan, Head of Agri Sector Strategy for AIB, notes: "In AIB we have a depth of knowledge and experience in dealing with all sectors of primary agriculture production and have worked with the sector through various income and production cycles over decades. We have a dedicated regional Agri Advisor team in place since the 1970's to ensure that we can meet the ongoing needs of the sector. The past decade has seen significant change in Irish agriculture as the sector responded to the global opportunities and challenges. We remain focussed on supporting resilient Irish farmers to grow their business and to face the many challenges in the years ahead. Agriculture has always been a key sector for AIB. We have been a leading bank to the sector over many decades and remain committed to supporting the future development of Irish agriculture."
AIB's Treasury division also has a team of specialists available to help protect customers from uncertain, adverse foreign exchange and interest rate movements.
Stuart Banks Senior Dealer AIB treasury: "We offer an extensive range of solutions from 'vanilla' standard hedging products to bespoke solutions. The AIB Treasury team takes the time to gain an understanding of our customer's risk profile and key business objectives. We help to review the underlying exposures, so that customers can prepare and implement a treasury risk management policy appropriate for their business. Finally, we combine these insights with our specialist market expertise in explaining the alternatives that can be customised to meet these needs."
A key area of focus for the Bank over the coming months will be the impact of Brexit on customers. The Corporate Banking team in conjunction with AIB's Treasury division will work with customers to review the possible implications of a hard Brexit and appropriate strategies to mitigate some of the risks associated with such an outcome.
Cathal O'Connor notes: "Given strong trade links with the UK, the agri-food sector is likely to face multiple challenges and considerations and also potential opportunities as Brexit implications become clear. AIB is here to support our customers around potential negative impacts from Brexit such as tariffs being applied on the agri-food sector and assist in opening new markets or opportunities."
According to Oliver Mangan, Chief Economist for AIB, Irish businesses should prepare for the possibility a of 'hard' Brexit, given that free trade with the UK could end in early 2019 if it can't agree on new trading arrangements with the EU post Brexit. The UK Prime Minister has indicated that it could opt for no deal at the end of the exit negotiations on the basis that "no deal is better than a bad deal". In such circumstances, the UK would have to fall back on World Trade Organisation (WTO) rules, which would involve tariffs, as well as customs controls. Those importing from the UK could be faced with increased administrative costs, tariffs and customs checks. Irish exports to the UK, most notably in the food sector, could be hit with significant tariffs and face increased competition from third countries in the UK market.
Oliver Mangan continued: "We will have to await the outcome of the Brexit negotiations, probably in late 2018, to see whether the UK manages to retain relatively unfettered access to EU markets or, instead, has to fall back on WTO rules. The outcome of these talks will be hugely important for the Irish food industry as the UK takes about 40 per cent of the sector's exports."
Cathal O'Connor concluded by saying the agri-food sector is a key sector for AIB. "We are keen to continue our long tradition of support for this sector as it navigates the challenges of Brexit, whilst also playing a role in helping our customers achieve their growth ambitions.''
Allied Irish Banks, P.L.C. is regulated by the Central Bank of Ireland.
Contact:
David Kennedy
Email: david.kennedy@aib.ie
Tel: +353 (0)1 64 12018