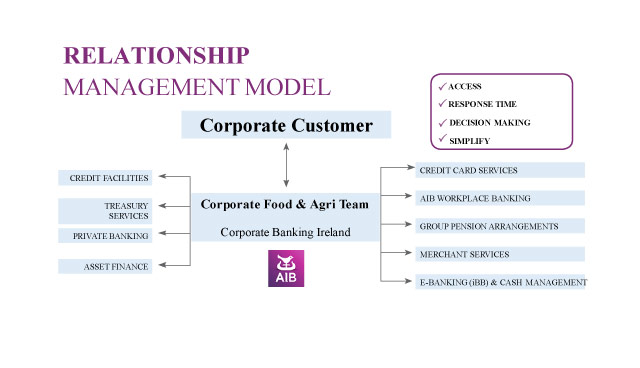 From the earliest community branch-based structure, AIB has recognised the importance of the agri-food industry as the bedrock of local towns and communities throughout Ireland. In the intervening decades the sector has changed considerably. Ireland is now home to some of the most progressive and efficient farmers in the world and to some leading agri-food companies who have firmly established themselves as innovators operating on a global scale. AIB is proud to have supported the industry over the decades and to have developed a truly farm to fork presence in the sector.
AIB Corporate Banking provides customer-focused solutions across private and public markets to some of the largest companies across the Irish agri-food industry. According to Cathal O'Connor, director in AIB Corporate Banking, AIB's approach is focussed on developing strategic partnerships with customers: "At AIB we hold our customers at the heart of everything we do. From mid-size domestic companies to international PLCs, we continuously strive to add value and help our customers achieve their growth ambitions. Whether businesses are focused on local operations and markets in Ireland, an export-oriented household name or a leading player in a competitive global market place, AIB is here to help."
Central to the team's approach with customers is a sector focussed, relationship management model. Tony Murphy, head of customer relationships and new business origination on the corporate food and agri team explains that the team partners with customers across a number of sub-sectors including dairy, meat and consumer foods and institutional customers: "This structure ensures that each customer has a specific relationship management team assigned to them, who understands the industry in which they operate, the key drivers of growth, challenges, regulations and potential opportunities. This sectoral expertise is key in an industry where seasonality, cyclicality and changing consumer demands are inherent features and helps us foster long term partnerships with customers over many years."
The relationship management team works seamlessly with the bank's product specialists to provide customised financial products and services to companies in the agri-food sector. The team provides a comprehensive range of services and a full suite of banking products to customers, with pricing being based on the overall relationship. This includes the provision of credit facilities such as overdrafts, revolving credit facilities, term loans and asset finance as well as products that help customers with their day-to-day banking requirements. Louise Ward, head of credit management and operations on the corporate food and agri team explains that the demand for various types of banking products within the sector is driven by a number of trends, such as long-term capital investment as customers look to diversify and expand capacity: "We aim to tailor our debt structuring approach and provide bespoke solutions to suit the requirements of individual customers. Working capital, in particular, is a key requirement on the food and agri sector and the team is continuously looking at innovative ways of providing working capital funding to our corporate customers."
The corporate banking team works closely with the AIB Treasury team to help protect customers against uncertainty in foreign exchange markets and movement in interest rates. Stuart Banks, Senior Dealer in AIB Treasury, notes that the AIB treasury team "invests time in understanding customers' risk profile and business objectives. These insights, combined with markets expertise, helps to provide customers with bespoke hedging solutions." Given strong trade links with the UK, movement in Sterling exchange rates are always a key area of focus for agri-food customers. According to Banks, the outlook for Brexit continues to dictate Sterling's performance on fx markets ahead of the UK's scheduled exit from the EU on 29 March. At the time of writing, a recent Bloomberg survey suggests that there is a less than 20 per cent chance of the UK leaving the EU without an agreement. With this being the case, the pound has strengthened steadily against the euro since mid-February to trade at 0.85p, a favourable move for exporters when compared against a post-Brexit referendum average of close to 0.88p.       
The AIB treasury team also includes an economic research unit, which produces daily, weekly, monthly and quarterly economic and market publications. They provide valuable support to both the corporate banking team and its customers and host regular economic update events to help inform customers on important topics such as fx volatility, interest rate environment and economic growth outlook.
Cathal O'Connor concludes by saying that the agri-food sector is a key sector for AIB: "We have a long and proud association with the agri-food sector, and we are keen to continue our long support of the sector as it navigates various challenges and opportunities, whilst also playing a role in helping our customers achieve their growth ambitions."
FY19 Economic outlook – AIB Treasury Economic Research Unit
The latest CSO data on the Irish labour market, which are for the final quarter of 2018, show further solid jobs growth. Total employment increased by 2.3 per cent year-on-year to 2.28 million. Employment rose by 2.9 per cent in 2018 as a whole, with particularly strong increases in construction and a range of service sectors. Meanwhile, the unemployment rate fell to a 5.6-5.7 per cent range in the closing months of the year.
The labour market data is in line with the strong growth seen across the Irish economy last year. Exports continued to perform very well in 2018, rising by over 9 per cent year-on-year in the first three quarters of the year. The value of goods exports rose by 15 per cent in 2018 to €141 billion, led by very strong growth in exports of organic chemicals, medical and pharmaceutical products.
Last year also saw strong growth in all the main components of domestic demand. Consumer spending was up by 3 per cent in the first three quarters of 2018. Core retail sales (i.e. excluding the motor trade) rose by close to 4 per cent in the full year. Meanwhile, there was particularly strong growth in government spending, which rose by 5 per cent in the first three quarters of the year.
Investment also grew strongly last year. Construction output was up by 17 per cent in the first three quarters of 2018. There was particularly strong growth in house building, with completions for the year rising by 25 per cent to over 18,000 units. Business investment, which can be volatile, rebounded, having declined in 2017, according to CSO data.
After six years of very robust growth, though, there are signs that while still performing strongly, the Irish economy will lose some momentum this year. This is hardly surprising for a very open economy like Ireland, given that the rate of growth in the global economy has been slowing since last summer.
Indeed, some data for 2018 suggests that the Irish economy may have slowed somewhat over the course of last year. In particular, employment growth slowed in the second half of the year. Other indicators such as the PMIs for the services, manufacturing and construction sectors have been on a softening trend since the summer. They weakened further in January 2019. It is important to note, though, that all three PMIs are still at levels consistent with strong growth by the economy, while the PMIs for the manufacturing and service sectors did recover some ground in February.
On the consumer side, confidence has also slipped back from its highs of last summer, and it fell sharply to a four-year low in February on mounting concerns about Brexit. Meanwhile, there was a marked decline of over 11 per cent in new car sales in the first two months of 2019. Tax receipts have also slowed in the opening two months of the year, with both income tax and VAT running behind target.
Nonetheless, growth this year should be underpinned by continuing very low interest rates, rising employment and incomes, the on-going rebound in construction activity, as well as a more expansive stance to fiscal policy. As a result, most recent forecasts are for the Irish economy to grow by 4 per cent or slightly above this year, provided a no-deal hard Brexit is avoided and the slowdown in the global economy does not morph into a deep downturn.
Contact
T: 01 641 4221
E: tony.j.murphy@aib.ie
W: www.aib.ie